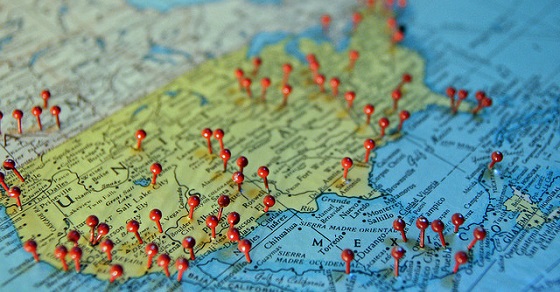 The internet is consumed with list-mania! It seems that top ten lists (or twelve, or twenty, or…) are the magic formula to attract viewer traffic. Some web sites are comprised of nothing but top ten lists, and some major news web sites publish lists frequently as well.
There are now dozens, if not hundreds, of "Best Places to Retire" lists on the internet.
Can you trust them?
With so many contradictory lists, how are you to make sense of it all?
Why are lists so popular?
One possible explanation is that David Letterman, who has featured a top ten list as part of his opening segment in every show since 1985, has conditioned a generation of viewers to find them funny and enjoyable. This popular feature, by the way, originated as a parody of People magazine's "Best Ten" or "Worst Ten" lists, which Letterman found to be quite annoying.
Another explanation is that they give busy or short-attention-span web surfers just enough snackable content to enjoy before they move on to the next article.
Many blogging web sites and courses also insist that large list posts are a traffic goldmine – and the bigger, the better.
"Best Places to Live" (or retire) lists have a long history as well. I have subscribed to Money magazine for much of my adult life, and they have published a "Best Places to Live" list annually for as long as I can remember. At least half of the cities named leave me scratching my head and thinking, "I wouldn't want to live there!"
What intrigues me as much as the winners themselves is how much the lists change from year to year. Regional booms and recessions will certainly impact any city over time, but could things really change that much in one year?
The explanation, of course, is the selection criteria and the relative weighting placed on the various factors the list creators consider.
You don't have to tweak the criteria or the weighting very much for the list to change significantly.
An excellent case in point is the Milken Institute's "Best Cities for Successful Aging" report released in late 2014. Their lists of the 20 best large cities and 20 best small cities are curious, at best. Most cities that top both lists are in the center of the country, while most sunny, warm places that are traditional retiree favorites came out at the bottom of their rankings.
Their top five large cities: Madison, WI; Omaha, NE; Provo, UT; Boston, MA; and Salt Lake City, UT.
Their top five small cities: Iowa City, IA; Sioux Falls, SD; Columbia, MO; Bismarck, ND; and Rapid City, SD.
Really? Then why do so many seniors retire to warmer climates? Are we, collectively, that stupid?
What makes these results most curious is that the Milken Institute's rankings are based on crunching a large amount of data across many categories. This isn't the result of opinion polls. Their methodology and their results are thoroughly presented. This is undoubtedly the most research-oriented, fact-based, statistically valid study on this topic I have ever seen. How can the results seem so wacky?
The results all depend on what factors are considered and how they are weighted, and that's how this report ends up with such questionable rankings. Many factors they consider have very little to do with quality of retirement life, such as number of banks, percentage of adults who drink soda, and college enrollment. All of these factors crowd out some of the more important ones; weather counts for just 4.5% of the total weight, and house prices and rentals count for just 2.7%.
International Living recently releases an annual "World's Best Places to Retire" list. Their methodology takes into account many criteria, such as cost of buying and renting, overall cost of living, quality of health care, and climate. Still, much of their input comes from their correspondents located in these countries and is subjective. And while IL does provide a lot of valuable information and interesting reading, my perception is that they view the expat world through rose-colored glasses. Their articles wax eloquent about how beautiful and inexpensive a featured country is, yet they rarely mention any drawbacks to living there.
Would you decide to move to a city or a foreign country just because it ranked highly on one or more lists?
Of course not. So why are these lists so popular? Do they have any value or are they completely useless?
I think these lists offer some value, for several reasons:
They may suggest places you haven't thought of, which may be very good options for you.
They stimulate curiosity and fantasy. Is the grass really greener in an intriguing new place? Is there really a retirement utopia out there somewhere?
They offer a sanity-check for places you may be considering. The immense amount of data in the Milken study, in particular, allows you to gain information about a potential retirement destination that you might not otherwise discover until you have lived there for several months. Information about factors such as tax rates, quality of medical care, senior services available, and many other criteria may serve to disqualify a place you're considering or verify that you're making a good choice.
They're fun, even if it's just for their "WTF" factor.
Searching for a potential place to live is a lot like choosing a mate. It's a good idea to write down all of the qualities that are most important to you, both the must-haves and the nice-to-haves, so that you don't get swept away by the initial beauty and intrigue you experience – whether it's the euphoria you feel after a great first date or an awe-inspiring visit to a new place while you're on vacation. But ultimately, you're going to choose the mate, and the place to live, that truly makes your heart sing.
~~~~~ continued below ~~~~~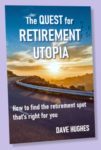 How to find the best place to retire is covered in greater depth in my book The Quest for Retirement Utopia. This book will suggest new possibilities for where and how you might retire. It will help you clarify what factors are most important to you. It will help you evaluate each place realistically and dissuade you from making a poor choice. And it will provide you with the resources you need to make the most informed choice.
The Quest for Retirement Utopia will help you find the retirement spot that's right for you!
Here, for your edification and enjoyment, is a veritable plethora of "Best Places to Retire" lists. The methodologies used vary widely. Often, the lists are heavily focused on one criterion (for example, low taxes) to the exclusion of many others. I suspect that a few are composed on the fly by reporters with a deadline.
TopRetirements: 10 Great Year-Round Places to Retire
TopRetirements.com – January 14 & 28, 2014
Taos, NM (for cold climate)

Long Beach, CA (for warm climate)

Franklin, TN (for year-round climate, east)

Yakima, WA (for year-round climate, west)

Kynsna, South Africa (for international)

Austin, TX (for year-round excitement)

Fairhope, AL (for charming)

Tulsa, OK (for work and volunteering)

Albuquerque, NM (for recreation)

Atlanta, GA (for diversity)
U.S. News: Top 10 Tax-Friendly Towns
U.S. News – November 28, 2008
Billings, MT

Cheyenne, WY

Doral, FL

Henderson, NV

Juneau, AK

Manchester, NH

Nashville, TN

Sioux Falls, SD

Spokane, WA

Stafford, TX
TopRetirements: Worst States for Retirement – 2014
TopRetirements.com – March 11, 2014
New Jersey

Illinois

Wisconsin

Nebraska

Michigan

Vermont

Ohio

Connecticut

Rhode Island

New York
TopRetirements: Best States for Retirement – 2014
TopRetirements.com – April 8, 2014
This list considers taxes on retirees, property taxes, cost of living, weather, and variety of interesting places to live. The article first rates states that excel in each category, then totals how many of these categories a state appears in. Texas comes out on top because it appears in the most categories.
Texas

(tie) Alabama, Arizona. California, Florida, South Carolina, Tennessee

(tie)Mississippi, Nevada, Georgia, New Mexico
TopRetirements: Worst Retirement States for Taxes
TopRetirements.com – September 6, 2011
This list considers many different taxes, some of which impact retirees more than the general population. Factors include income tax, sales tax, property tax, inheritance/estate tax, as well as taxes on retirement income, Social Security, and military income.
Minnesota

Montana

Missouri

Utah

Nebraska

West Virginia

Rhode Island

Vermont

Kansas

Colorado
Wall St. Cheat Sheet: Top Ten Retirement Hot Spots in the U.S.
http://wallstcheatsheet.com/life/top-10-retirement-hot-spots-in-the-u-s.html/
Winchester, VA

Raleigh, NC

Portland, ME

Pocatello, ID

Lexington, KY

Daytona Beach, FL

Gainesville, GA

Greenville, SC

Petersburg, FL

Tulsa, OK
WalletHub: 2014′s Best and Worst Places to Retire
http://wallethub.com/edu/best-places-to-retire/6165/
Tampa, FL

Grand Prairie, TX

Orlando, FL

Petersburg, FL

Scottsdale, AZ

Overland Park, KS

Port St. Lucie, FL

Cape Coral, FL

Plano, TX

Peoria, AZ
Visit the web site for the complete list and 14 top-five lists for a variety of sub-categories.
Forbes: The 25 Best Places to Retire in 2014
http://www.forbes.com/pictures/mjh45mijf/moving-on-in-life-2/
In alphabetical order:
Abilene, TX

Auburn, AL

Austin, TX

Bellingham, WA

Blacksburg, VA

Bluffton, SC

Boise, ID

Bowling Green, KY

Brevard, NC

Cape Coral, FL

Charleston, SC

Clemson, SC

Fargo, ND

Fredericksburg, TX

Las Cruces, NM

Morgantown, WV

Ogden, UT

Oklahoma City, OK

Pittsburgh, PA

Port St. Lucie, FL

Salt Lake City, UT

San Angelo, TX

State College, PA

Tucson, AZ

Venice, FL
Time/Money: 9 Great Places to Retire
http://time.com/money/collection/best-places-to-retire/

Best Places to Keep Costs Low:
Bella Vista, AR

Sioux Falls, SD

Morgantown, WV
Best Places for an Encore Career:
Iowa City, IA

Boseman, MT

Casper, WY
Best Places for a Well-rounded Retirement:
Northfield, MN

Bellingham, WA

Manchester, NH
AARP: Best Places to Live
http://www.aarp.org/home-family/livable-communities/best-places-to-live/

Grand Rapids, MI

Bangor, ME

Deltona/Daytona, FL

Greenville, SC

Pocatello, ID
This AARP web page offers 11 lists of Great Places to Retire that I won't reproduce here:
10 Cities to Retire and Enjoy the Good Life for Less
10 Great Sunny Spots to Retire
10 Terrific Cities for Singles
Huffington Post: The 10 Best Cities for Empty Nesters In 2015
http://www.huffingtonpost.com/2015/01/08/best-cities-for-empty-nesters_n_6436858.html

(Apparently these are for empty nesters with a lot of money.)
Fremont, CA

Colorado Springs, CO

Huntington Beach, CA

Scottsdale, AZ

Riverside, CA

Irvine, CA

Torrance, CA

Manchester, NH

Henderson, NV

Chandler, AZ
Huffington Post: 10 Foodie Havens That Double As Great Places to Retire
http://www.huffingtonpost.com/moira-mcgarvey-/best-foodie-towns_b_6184202.html

Las Vegas, NV

Eugene, OR

Boulder, CO

Asheville, NC

Traverse City, MI

Ann Arbor, MI

Portland, ME

Port Townsend, WA

Savannah, GA

Houston, TX
(Who knew Traverse City, Michigan was a foodie haven?)
Huffington Post/Grandparents.com: 6 Up-And-Coming Retirement Spots You've Probably Never Considered
http://www.huffingtonpost.com/2014/12/08/best-places-to-retire_n_6194576.html

Huntsville, AL

Mount Dora, FL

Sequim, WA

Dahlonega, Georgia

Chattanooga, TN

Bluffton, SC
Livability.com: 2014 Best Places to Retire
http://livability.com/top-10/retirement/best-places-retire/2014

Springfield, MO

Knoxville, TN

Belleview, WA

Largo, FL

Wheat Ridge, CO

Honolulu, HI

Albuquerque, NM

Tucson, AZ

Missoula, MT

Coeur d'Alene, ID
Bankrate.com: 10 Best States for Retirement
http://www.bankrate.com/finance/retirement/best-states-for-retirement-1.aspx

South Dakota

Colorado

Utah

North Dakota

Wyoming

Nebraska

Montana

Idaho

Iowa

Virginia
Bankrate.com: 10 Worst States for Retirement
http://www.bankrate.com/finance/retirement/worst-states-for-retirement-1.aspx

New York

West Virginia

Alaska

Arkansas

Hawaii

Alabama

Louisiana

Oklahoma

Maryland

Kentucky
© 2015 Dave Hughes. All rights reserved.
Photo credit: Marc Levin. Some rights reserved.