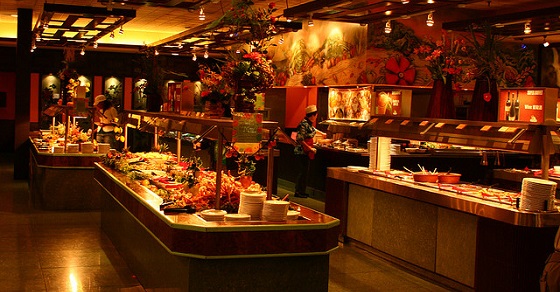 There's a buffet restaurant a few miles from our home called Pacific Seafood Buffet.  Most of the food is Asian, and the primary draw for us is all the sushi we care to eat for one price.  Of course, there are a lot of other good dishes there too:  tempura vegetables, shrimp, crab cakes, and many things you typically find at Asian buffets.  And there's green tea ice cream for dessert!
The lunch price is very reasonable, so we go every couple of months.  (If we went more often, we would be huge.)  Overall, I stay away from buffets because they are invitations to overeat.  Our visits to Pacific Seafood Buffet are no exception; often, on the drive home, we realize that we have probably eaten too much.
What does this have to do with retirement?
At a buffet, there's so much to choose from that you can't possibly eat everything.  You may enjoy many of the foods on the buffet, but if you overeat you end up feeling so stuffed that you feel sick or uncomfortable.  That diminishes the enjoyment from what was supposed to be a pleasurable experience.
The solution, of course, is to accept the fact that you won't be able to eat everything you want today.  You'll have to leave some things for another day.  But that's okay – you can come back another day and eat different things.  There will always be buffets.
Perhaps you worry that your retirement years will be boring and you will have nothing to do.
I have just the opposite problem.  I have so many things I want to do, and not nearly enough time to do them all.  My days are often so full that I wonder how I ever managed to keep up while I was still working.
While that is frustrating at times, overall it's a great problem to have.  I always tell people I'm busier now than ever, but at least I'm busy with the things I want to do.  (Well, apart from my husband's "honey-do" list.)
Having too many things to do is a good problem to have.  It beats having nothing to do hands-down.
Here are some of the "dishes" on the buffet that is my life:
I want to spend more time working on Retire Fabulously!  I don't post nearly as many articles as I would like, I still haven't finished my book, and I want to update the web site.
I'm also a wedding officiant.  I've been very busy with weddings during April and May, and I have more things I need to do to keep that business moving forward.
I'm also a trombonist.  Ideally, I should practice every day (or at least most days), and I would like to write some arrangements.  I have had several performances during the past few weeks, with a few more coming up.
I have a long list of things to do around the house – some of which I need to do, some of which I just want to do because they will bring me pleasure.  I want to go through all of the junk I've accumulated over the years and get rid of most of it.  I want to migrate my large music collection to a new computer and create playlists.  I have books I want to read and other topics I want to write about.  I want to spend more time with my husband and my friends.  I need to get more exercise.
There's more and I won't bore you by continuing on, but you get the idea.
Often, at the buffet that is my life, I feel like I'm trying to eat some of everything rather than choosing just a few things that I will truly enjoy.
Then there are others (in addition to my husband) who offer me things to do.  I should run for office in my Toastmasters club.  I should run for the Board of Directors for my community band.  I should volunteer for this and that.  There's always a networking mixer or lunch coming up.
Throughout much of my life, it's been hard for me to say no.  I wasn't a popular kid, so if somebody else wants me to do something, it's because they like me or they think I would be good at it, right?  Maybe, but I'm learning to say no.  I weigh every option that comes along against what is really important for me to do and what fits in with my design for how I want my retired life (my renaissance) to look.
Rationally, I know that I'm better off to forego some of those delicious-looking dishes on the buffet.
Don't allow things you don't really want to do to crowd out the things you do want to do.  You don't have a boss anymore.  You're the boss.
~~~~~ continued below ~~~~~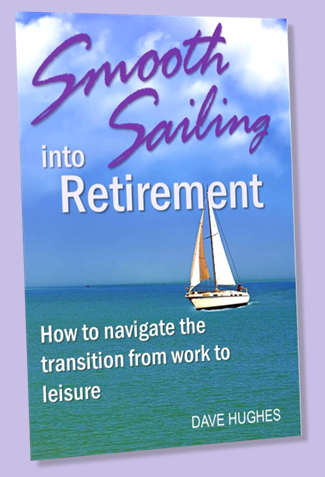 This topic is explored in greater depth in the book Smooth Sailing into Retirement. This book will guide you from your last few months of work through your first year of retirement. It identifies the many ways your life will change and prepares you for the emotions you may experience along the way. At each step, you will receive strategies for dealing with these changes. Click here to learn more.
Whenever I start feeling overwhelmed by it all, it helps me to realize that, aside from weddings and musical performances, most of these things don't have real deadlines.  I answer only to myself (and for some things, my husband) if I don't get some things done.  If something gets postponed to next week, next month, or next year, there is no real consequence.  No one else in the world will notice.
I'm 58 now, and thanks to a good family history for health and longevity, I can easily expect to live for another 30 years.  I will have plenty of time to get some of these other things done.  I should probably save a few things for my later years.
Wouldn't it be awful to knock myself out for a few years to get everything done, only to arrive at a point where I would have nothing else to do?  That might provide that momentary satisfaction you get when you check off every item on your daily to-do list, but in the long term I would have to deal with boredom or having no further purpose in life.
It's great to create long lists of things you would like to do after you retire.  There's no need to try to do them all in the first year.
Sometimes, at the end of the day I will look back on what I did during the day.  It seems like I've been busy the entire time, but sometimes I'm hard-pressed to identify very much that I actually got done.
The reality is, of course, that life expands to fit the time allotted.
Sometimes when the afternoon is beautiful and I want to get out of the house and enjoy some fresh air, I grab a book or magazine I've wanted to read, fix myself a refreshing cocktail, and sit out on the back patio.  I may read, I may ponder life, I may let my mind wander where it will, and I may even nod off for a few minutes.  But it's one of the most rewarding, relaxing things I do.
But again, most things in my life don't have real deadlines.  I answer only to myself.  If something gets postponed to next week, next month, or next year, there is no real consequence.
If you feel like spending the afternoon relaxing or doing something recreational or spending time with a friend – do it.  Each day is a gift.  Most of those things on your list can be pushed back a little bit.  You're the boss.
It's like saving room for the dessert on the buffet.
Life is like a buffet, and that is certainly true in retirement.  Will you starve?  Will you stuff yourself to the point of discomfort?  Or will you enjoy each dish in moderation, always leaving something new to try tomorrow?
©2015 Dave Hughes.  All rights reserved.
Image credits:
Buffet:  松林 L.  Some rights reserved.
"Life is Like a Buffet" quote:  embellishedminds.com