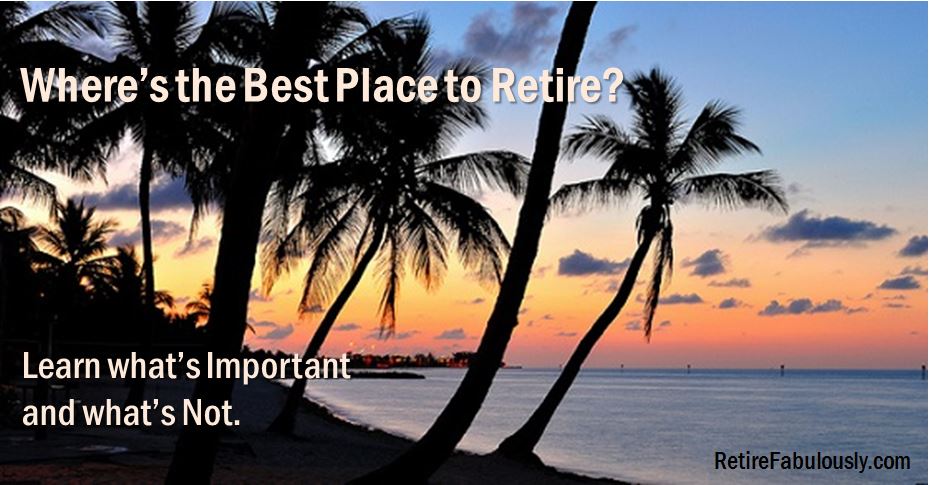 [Editor's Note: An updated version of this article appears here.]
Do you ever daydream about where you'd most like to live after you retire?
When you visit beautiful places on vacation, do you ever think, "Wow… It sure would be great to retire here!"?
Do you ever think that surely there must be some place out there that's just right for you?
It's fun to think about where you want to retire! After all, once you no longer have your job tying you to a particular area, there's no reason not to move to a place that's more to your liking if you want to. Perhaps you want to move someplace warmer, someplace where the cost of living is lower or someplace closer to the water.
But once you start to think more seriously about where you want to live, it becomes more complicated and perplexing than fun. There are so many factors to consider: cost of living, weather, taxes, how close you want to be to your friends and family, whether an area has the amenities you desire… It can get overwhelming fast!
With so many factors to consider, which ones are truly important?
Over the past year, I've surveyed readers of this website to gain some insight into what factors are most important to the majority of my readers. I think you'll find the results interesting and useful.
Here are the results: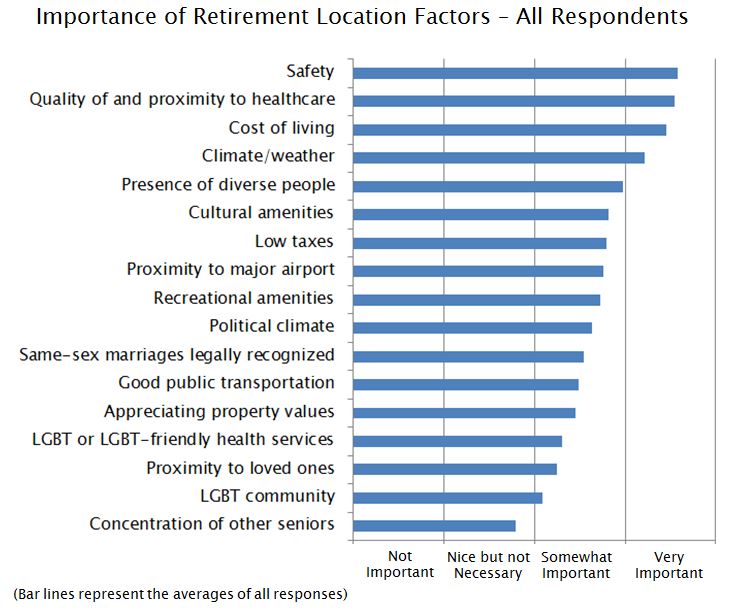 (Note that these responses were collected before the Supreme Court's ruling in favor of nationwide marriage equality in June.)
Of course, we're all different, so the ideal retirement spot is going to be different for each of us. And that's a good thing; if there was one true retirement utopia, millions of people would move there and it would cease to be utopic.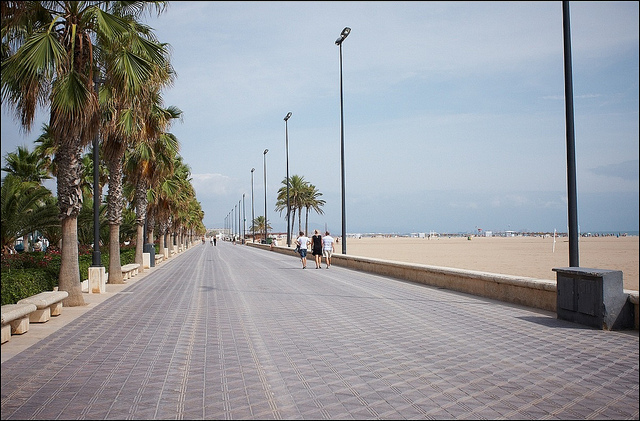 Choosing a place to live is a lot like choosing your spouse. You can make lists of requirements (must-haves and nice-to-haves) and analyze information all you want, but you will probably end up in the place where you feel the strongest emotional connection.
It's been repeatedly proven that we humans make decisions based on emotion first, and then we select the facts that support our decision and reject the others. Nowhere is this truer than choosing a place to retire.
Do priorities differ depending on whether you're gay or straight?
One of the goals of this blog is to identify and address the retirement considerations of the Lesbian, Gay, Bisexual, and Transgender (LGBT) community, as well as issues that concern everyone. Actually, most retirement lifestyle considerations are the same regardless of orientation, but some notable differences did emerge from the survey data.
Here are the priorities of the self-identified LGBT respondents: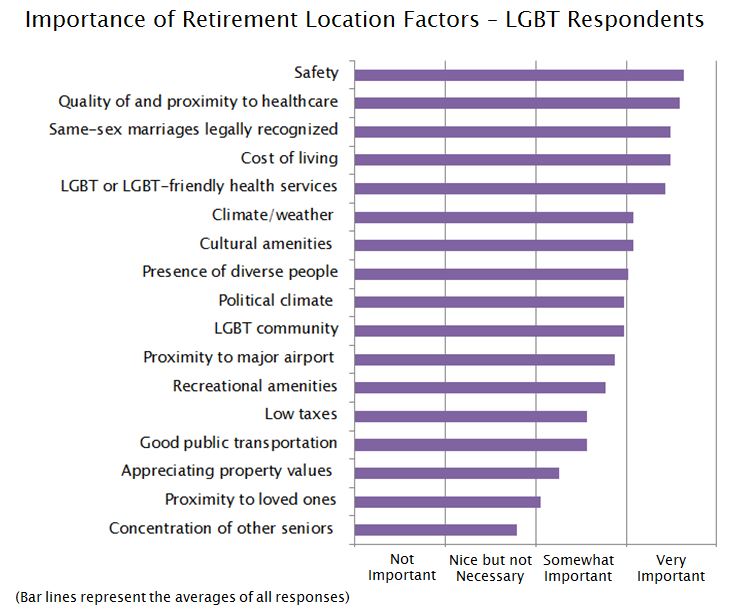 Here are the priorities of the self-identified straight respondents: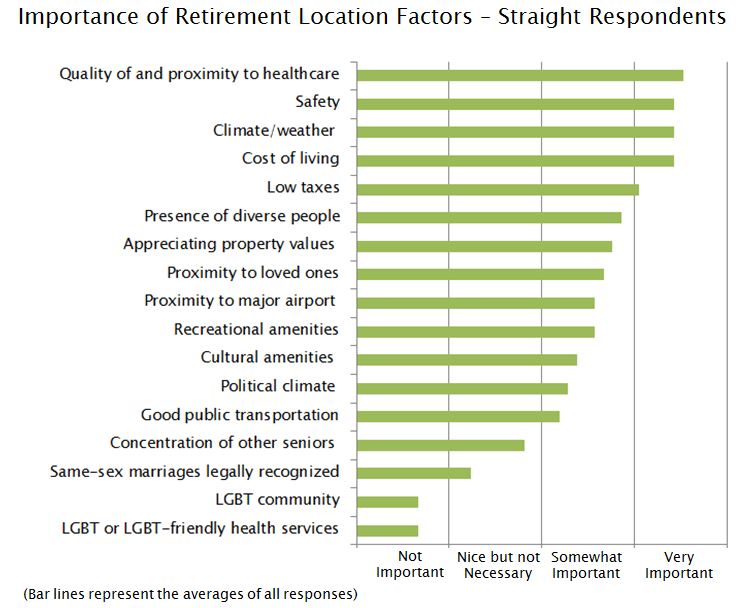 Not surprisingly, same-sex marriage, LGBT or LGBT-friendly health services and LGBT community were significantly more important for LGBT respondents than for straight people. Cultural amenities also scored higher for the LGBT community.
Factors that were noticeably more valued by straight respondents were low taxes, appreciating property values and proximity to loved ones. Climate/weather scored somewhat higher for straight respondents as well.
The difference in the weighting for proximity to loved ones is probably lower for LGBT people, since they are less likely to have children, and may in some cases be estranged from or less close to their biological families due to disapproval of their orientation.
The fact that LGBT people place less emphasis on taxes and appreciating property values is interesting, too. One possible explanation also stems from the fact that LGBT people are less likely to have children; therefore they may have more funds to save for retirement, making monetary issues less of a concern.
What types of places do people most want to retire to?
The survey also asked respondents to rate the types of places they would want to live. Here are the results: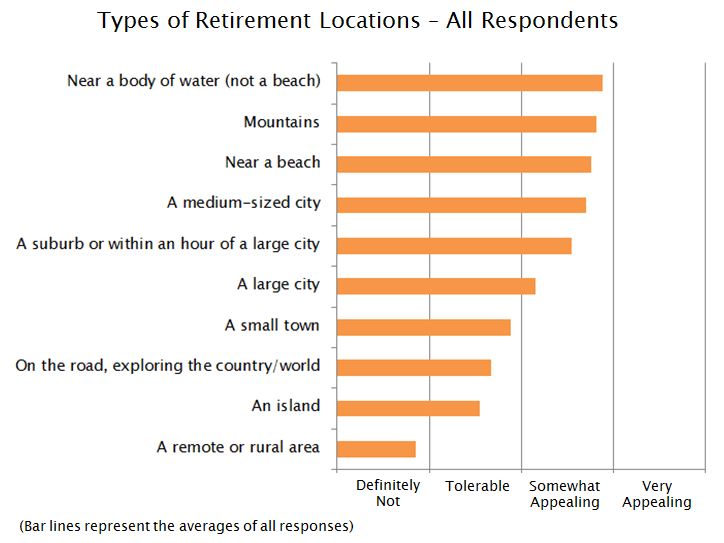 I'm somewhat surprised that mountains and beaches landed so high on the list. This may be because people often envision retiring to a place they enjoy traveling to for their vacations.
This isn't always a good idea. Mountains and beaches are attractive as short-term getaways because they provide a welcome change from your day-to-day life. But if you were to move there permanently and the factors that were once alluring become commonplace, you may discover that many of the other amenities you value in your daily life might not be as readily available.
One of my college buddies took his first job in El Segundo, one of the beach communities just south of Los Angeles. He rented an apartment just half a block from the ocean. When I met with him on a business trip, I marveled aloud at how great it must be to live so close to the beach. But his response was just to shrug and say, "Eh… the novelty wore off quickly. After a little while, the ocean is just there."
The beach or mountain destination you like may be popular with tourists, but as a full-time resident you might tire of the tourist traffic quickly.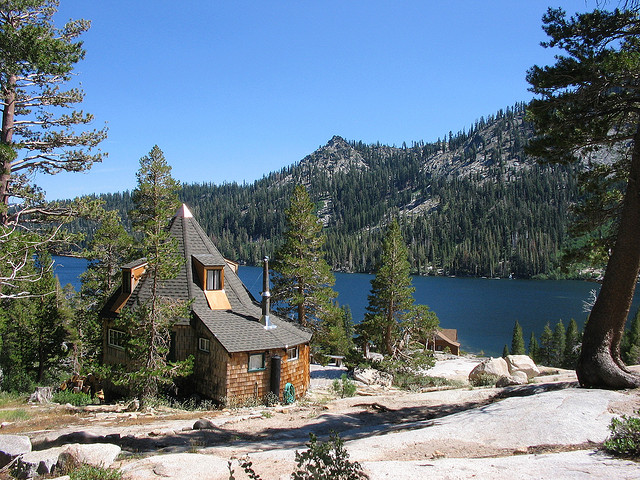 Small towns, islands, and remote or rural areas were the least desirable places to live for most people, for good reasons. After you retire and you are no longer surrounded by people at work, socialization becomes even more important. Plus, as you get older, you are going to need more medical care and that will not be as readily available if you live in an area with low population. Other support services might not be available, either.
LGBT and straight responses lined up similarly, although LGBT people rated large cities and beaches higher and straight people rated suburbs and small towns higher. Given that LGBT people tend to value LGBT communities and resources more highly, it's no surprise that they will gravitate to larger cities.
How important is each of these factors to you?
While the survey data is interesting, what really matters is what's important to you!
If you are married, do you and your spouse have similar preferences or are there some differences?
The Retirement Visualization Guide (free download) offers you the opportunity to rate many of the same categories. It's a useful exercise to help you gain clarity on your preferences and priorities, and those of your spouse.
What else is important to you?
What elements of your everyday life would you miss if they weren't present in your new location?
For example, what stores would you miss? I read a comment on another blog in which a reader stated that his wife didn't want to move anywhere that there isn't a Wegman's grocery store. (Wegman's is a chain in the northeast and mid-Atlantic areas of the U.S. that enjoys high customer satisfaction and loyalty.) I don't think I'd want to live where there's not a Costco nearby.
If you enjoy dining out, is there a decent selection of restaurants to meet your tastes? Or will you be limited to McDonald's, Taco Bell, and Applebee's?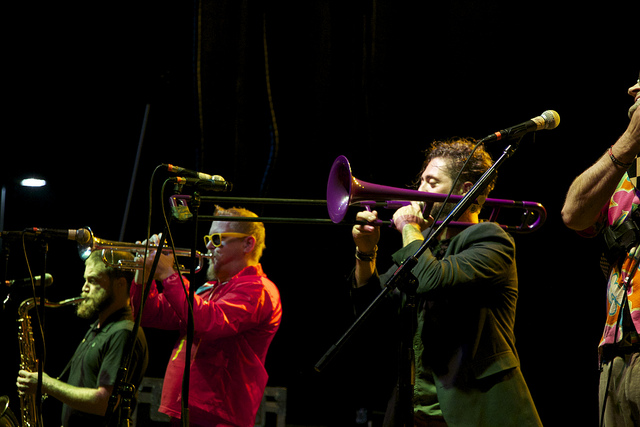 If you're a music fan, are your favorite musicians are likely to perform near you when they're on tour?
If you're a sports fan, how important is it to you to see live games?
Good hiking trails, golf courses, proximity to water, proximity to mountains… these are just a few things that might be important parts of a retirement lifestyle that you will enjoy.
What's most important to you? Please share your thoughts in the comments!
© 2015 Dave Hughes. All rights reserved.
Photo credits:
Sunset and palm trees: Ratul Malti. Some rights reserved.
Beach walk: Peter. Some rights reserved.
Mountain house on lake: Junald Dawud. Some rights reserved.
Horn section: Chad Cooper. Some rights reserved.