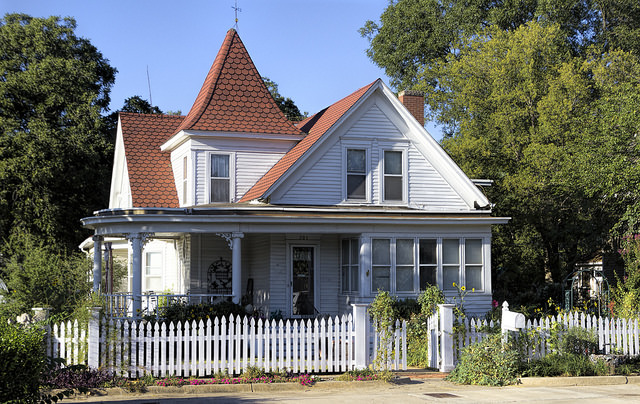 Are you planning to move after you retire?  While top ten lists of retirement havens are a staple of today's list-happy internet, there are still many people who plan to retire right where they are.
My 2014 reader survey indicates that over 60% of respondents are considering moving or have already moved.  Only 15% say they aren't planning to move, and the rest are unsure.
On the other hand, a recent article on CNN Money claims that 63% of Baby Boomers plan to stay in their own homes when they retire.  In the October, 2014 issue of Consumer Reports, 65% of retirees surveyed had not moved.
Of course, you can find statistics to prove anything.  Regardless of what some percentage of people is planning to do, what really matters is what you want and what makes the most sensible choice for you.
As I've written previously, there are several reasons that motivate people to move after they retire, including:
Cheaper cost of living
More desirable climate
Living in an area that's more to your liking
Closer proximity to loved ones
A new adventure
Once you're no longer tied to an area by your job, you have the freedom to choose a place that offers the climate, cultural and recreational amenities, ambiance, and social opportunities you want to have in your life.
But the reasons to stay put are just as compelling:
You love your current home and don't want to move
You have limited resources and may not be able to afford to move
You live in a high-cost area but you are sufficiently affluent to stay where you are
You have a strong network of family, friends, and support structures, and you don't want to start over with making new friends, learning a new area, and finding new doctors, dentist, bank, grocery stores, church, etc.
You are planning to start a business and you will need the network you have built up over many years
Moving can be much harder for single people than for couples.
Of course, you can remain in your current city and still downsize to a smaller home.  That way, you'll retain your familiarity with the area and your proximity to local family and friends, your social network, your medical professionals.
If you want to remain in your current home for the rest of your life, I suggest that you consider the following factors:
Does your current community have good infrastructure for supporting seniors?  This includes good public transportation (or perhaps the availability of city-sponsored transport vans), good health care, and a strong senior center that provides activities as well as support services.
Is your house adaptable to meet your needs as you grow older?  A one-story floor plan, or at least a floor plan with a bedroom and all necessary facilities all on the first floor, will make it easier if you should require a walker or wheelchair.  You might need to make other adjustments, such as adding ramps and retrofitting your bathroom with handrails.
Are your house and your yard small enough to maintain as you get older?  Alternatively, do you have nearby family members or can you afford to hire people to help you with cleaning and maintenance?  Keep in mind that family members may move.
Is your current house in good condition and energy efficient?  Depending on its age, will it cost a lot to repair or replace an aging furnace, air conditioner, roof, carpet, appliances, etc.?
Are most things you need available within a short distance?  Driving clear across town and driving on high-traffic freeways will become more challenging as you get older.
Does your area have good assisted living or nursing homes that you would want to live in?  It may be decades before you need them, and a lot may change over the course of those years.  When you reach the age where you will need to move into such a facility, your search will probably be limited to your current area.
You will probably experience three phases of your retirement:  your "go-go" years, your "slow-go" years, and your "no-go" years.  They won't be equal, and each phase will be different for each of us.
When you think about where you want to live when you retire, don't think only of your "go-go" years.  While it's fine to pick an area that has mountains to hike or a lake for water recreation or other amenities for physical activities, make sure the area you pick will also provide the services you will need during your "slow-go" and "no-go" years.  It will be much more difficult and unsettling to move again at that time.
Many people who move to senior "active living" communities tend to stay there for ten to fifteen years, then move back home when they enter their "slow-go" years and need more care.
My parents were determined to remain in the home that my dad owned in Ohio since 1945 for as long as they lived.  (He married my mother in 1955.)  Fortunately, it was a small yet comfortable home.  They didn't need to downsize, since they never upsized!  Nevertheless, during the last twenty years, they became more lax with cleaning and maintenance, and they never divested themselves of any of their possessions.
My dad got his wish – he died in January, 2000 in his own bed.  Being 8½ years older, it was probable that he would pass away first.  It was his vision that after he passed, my mother would move to Arizona, where I live, and live in an assisted living home.  Apparently, he didn't consult with my mother on this matter.
After my dad died, I brought my mother out to Phoenix for a visit, during which we toured a nice assisted living home.  It became immediately apparent that moving her out here would be a terrible mistake.  Aside from the fact that my mother also wanted to live in her home until she died, it was obvious that she would have extreme difficulty adapting to a strange new environment.  For over 45 years, she had attended the same church, shopped in the same grocery store, had the same friends and relatives (although some preceded her in death), and knew the streets like the back of her hand.  Aside from her dislike of Phoenix summers, she would have to completely start over in a new environment at age 82.  To make matters worse, she was already suffering from Alzheimer's, but it would have been difficult for her even with a sharp mind.
Finally, after a small kitchen fire and a couple other incidents, it became clear that my mother couldn't stay in her home, and I had to force her to move to a local assisted living facility.  It was a nice local facility, only a few miles from her home, and we had toured it on several occasions.  It was the worst day of her life.  She never got completely oriented to her new surroundings.  Even worse, she had it in her mind that facilities such as this were places where they sent people to die.  Six months later, she was gone.
My parents did several things right.  They never upsized into a larger home, and were able to devote the money they didn't spend on a larger mortgage to saving for retirement and taking many nice trips during their "go-go" years.  They stayed in a community where they had the support of relatives and a good senior-support infrastructure.
On the other hand, they did little to anticipate the day when one or both of them would need to move to an assisted living home.  They didn't communicate well about their needs and desires after either of them passed.  They let the house decline rather than seeking help with maintenance.  And even though they didn't need to downsize their home, they didn't downsize a lifetime accumulation of possessions, leaving that all to my sister and me.
It's difficult for us to face our own mortality.  I understand that, and I also understand that life can end at any moment, not just when we naturally expire of old age.  Still, I have resolved to be more mindful of making choices about where and how I live that will allow me to enjoy my "go-go" years while still being prepared for my "slow-go" and "no-go" years.  I encourage you to do the same.
Since I have no children (and even if I did), I don't want to leave a mess behind for someone else to clean up.  As childless people, we need to be even more mindful of the support structures  we will need later in life and make choices accordingly.

© 2014, 2015 Dave Hughes. All rights reserved.
Photo credit:  Kool Cats Photography.  Some rights reserved.