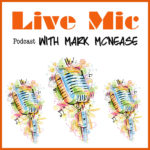 Earlier today I had the pleasure of catching up with my friend Mark McNease on his podcast, "Live Mic with Mark McNease."
Mark and I discuss his recent transition from working in the corporate world to following his own passions and pursuits (he's says he's not ready to retire just yet), the fact that many retirees (or post-employment folks) still need to generate some income, and recent positive developments on both of our journeys.
Mark is an author, journalist and publisher who now has six gay murder-mysteries and several short stories published. He runs the website lgbrSr.org, and he has been an invaluable supporter and promoter of Retire Fabulously! I was honored to have Mark edit my first book, Design Your Dream Retirement.
Grab your headphones and your favorite beverage and have a listen!