Here are some books and other web sites you may find useful.
BOOKS
Note:  If you purchase these books from the links on this page (new or used, at any price), I will receive a small affiliate commission.  This does not increase the price you pay.  This will help defray the expenses of keeping this web site running.  Thank you!
Design Your Dream Retirement:
How to Envision, Plan For, and Enjoy the Best Retirement Possible
by Dave Hughes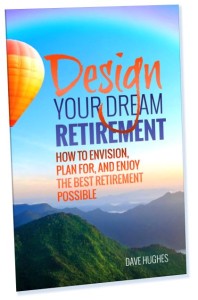 Design Your Dream Retirement will show you how to visualize your retirement in an optimistic, possibility-filled light, and provide you with the knowledge and tools to help you create a plan for achieving your retirement dreams.
You will be inspired to rediscover and reinvent the real you – the you that has probably been buried by years of adapting to the demands of your career.
While there's no question that saving and financial planning will make it easier for you to enjoy your retirement, you know that money alone does not buy happiness.
You will learn how to fill your life with a balance of activities and pursuits to keep you happy, healthy, and fulfilled.
This book will help you envision, plan for, and ultimately enjoy the best retirement possible.
Available now in paperback or Kindle! Click here to buy it now!
---
 The Couple's Retirement Puzzle, by Roberta K. Taylor and Dorian Mintzer
This is the best book I have found that covers the issues couples should be talking about as they examine their values, identify and compare their dreams for the future, and plan their retirement. This easy-to-read book is loaded with stories and case studies, and it's full of practical advice.
Related article:  8 Conversations Every Couple Needs to Have
---
How to Retire Happy, Wild, and Free, by Ernie Zelinski
Ernie Zelinski is arguably the leader in retirement lifestyle books and philosophy.  Ernie has great advice on topics such as how to find your true purpose, make the best use of your leisure time, pitfalls to avoid, traveling, learning, and overall life happiness.  The book is subtitled "Retirement wisdom that you won't get from your financial advisor," and I can believe it.  Some of his case studies and reader stories do leave me wondering how people financially support themselves doing some of the things they do.  But that aside, the book is full of wisdom, good humor, and refreshing new ways to look at retirement and leisure time.
---
WEB SITES
National Resource Center on LGBT Aging  |  Fact Sheet on Federal Fair Housing Laws (U.S.)
So You Are Leaving The States:  What You Need To Know About Moving Abroad That The Guide Books Won't Tell You – a wealth of great information by Scott Bidstrup