Where do you ultimately want to live during the active, independent years of your retirement?
Aside from choosing a city, state, and country that best suits your needs, there's another dimension to this question.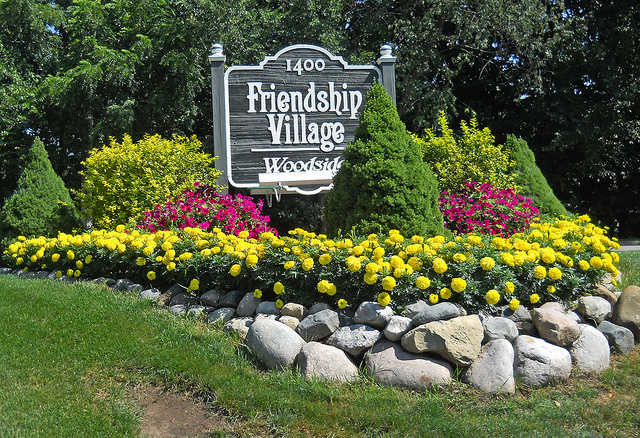 Do you want to live in a senior community or stay in the community at large? 
To be clear, I'm not talking about assisted living facilities or nursing homes.  I'm talking about active-living, 55+ communities that range from mobile home parks to huge subdivisions with hundreds or even thousands of homes and amenities such as golf, tennis, swimming, activity centers, and even on-site restaurants and retail outlets.
My financial advisor once told me that your retirement years can be divided into three (not necessarily equal) chapters:  your go-go years, your slow-go years, and your no-go years.  I'm talking about where you'll live during your go-go years, and perhaps some of your slow-go years.
My husband and I live in the Phoenix area.  We have no shortage of these communities in our area.  Northwest of Phoenix, there's Youngtown (the oldest master-planned retirement community in the U.S.), Sun City, Sun City West, and Sun City Grand.  There's also Sun Lakes south of Chandler and a large Leisure World complex in Mesa.  There are senior-only mobile home parks in many areas.
We're not intending to move to any of them.  We will probably downsize to a smaller home in five to ten years, when we reach the point where we want to have less house and yard to take care of.  When we've talked in general terms about this, we've never mentioned moving to a senior community.
At least at this stage of our lives, the people in the organizations we belong to and the friends we have range from their 20s through their 60s.  We enjoy being around a wide range of people, and the younger ones help keep us young at heart and somewhat tied in to modern culture.  Similarly, the cultural events we attend and the restaurants we like to visit are located all over town and cater to an age-diverse population.
Of course, we could still participate in these activities and then return home to our senior community.  But since these communities are all located on the outskirts of town, we would be increasing our drive substantially.  We don't play golf or tennis, so we probably wouldn't be interested in most of the amenities and activities that the larger senior villages offer.  We would be subsidizing these features with higher monthly community fees.
Maybe senior communities are better suited for people who prefer tennis and golf and who don't tend to go out on the town much.  Clearly, they have been meeting the needs of seniors for several decades, or there wouldn't be so many of them.
LGBT people have another dimension of this debate to deal with.  Should we move to an LGBT senior community?
There are currently several such communities in the United States. Some are communities of free-standing homes, others are LGBT apartment buildings.  Most of the former are located in fairly remote, rural areas. Most of the latter are low-income facilities that are government-subsidized.
While researching the existing communities, I've seen interviews with residents who claim that they love living there, and they enjoy a level of safety and security that they haven't enjoyed earlier in their lives.  Yet most of the existing communities have vacancies or are undersold.  Many other planned communities have died on the drawing board over the past decade for various reasons.
As LGBT people gain more acceptance in the mainstream community, will there be less need for anything LGBT-focused – social clubs, bands, choruses, sports teams, churches, bars, restaurants, publications, pride parades and festivals, etc.?   Of course, the level of LGBT acceptance varies considerably in different areas of the country.
This was the topic of discussion at a dinner party we recently enjoyed with a few of our friends.  Everyone in this group was in the 55-65 range, and most were retired.  The prevailing opinion was that it was good that LGBT senior communities exist for those who want them, but nobody at the table expressed any intention of moving to one.
How about you?
Regardless of whether there are existing communities in an area where you want to live, would you want to live in a community that's comprised entirely of people 55 and over?
If you're LGBT, would you want to live in a community that's comprised entirely of LGBT people?
Please share your thoughts in the comments!

© 2014, 2015 Dave Hughes.  All rights reserved.
Photo credits:
Friendship Village:  Doug Brown.  Some rights reserved.
Sun City:  Jack Miller.  Some rights reserved.
Related articles