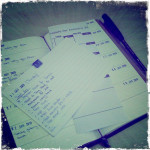 I recently received a comment from a reader who wrote, "Most people look forward to not having a schedule when they retire. I like structure, I take comfort in schedules. That is my concern about retiring."
The issue of how tightly I want (or need) to schedule my time has been something I've been wrestling with since I've been retired. It's also a topic that Jeff and I have different opinions on.
There is not a "one size fits all" answer to this question. It all has to do with what kinds of activities you wish to fill your day with, and what goals you have for how you want your retirement to play out. A lot also depends upon your personality type.
The short answer is: If you will enjoy your life more with a schedule, have one! (Share on Twitter)