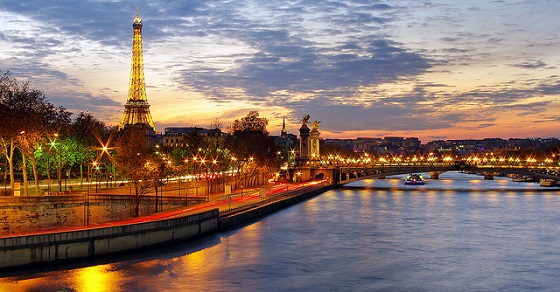 Most "places to retire" web sites and articles include France at or near the top of their lists.
It's easy to see why: the scenery is beautiful, the country is rich in culture and full of things to see and do, and the cuisine and wine are among the best in the world. Although the country is geographically diverse, most areas of the country enjoy a very pleasant climate throughout most of the year.
France's health care system has been rated the best in the world.
French medical schools are among the best in the world, hence so are French doctors. France has one of the highest ratios of doctors to patients in the world, and most French doctors are fluent in English. Office visits are fixed at 23 euros, and most procedures are almost fully covered, with only a tiny co-pay. Of course, out-of-pocket costs are so low because the rest is covered by taxes, which are fairly high (totaling as much as 40%).
If you are a property owner in France, you qualify to participate in their health care system. Otherwise, you will have to have private health medical insurance when you retire there, which costs about $1500 per person, per year. You can look into reducing costs by buying insurance as a member of a larger group or association, which can reduce the premiums by as much as 50 percent.
It's easy for retirees to immigrate.
You'll need to fill out some forms, and provide documentation of your income, assets, and police record.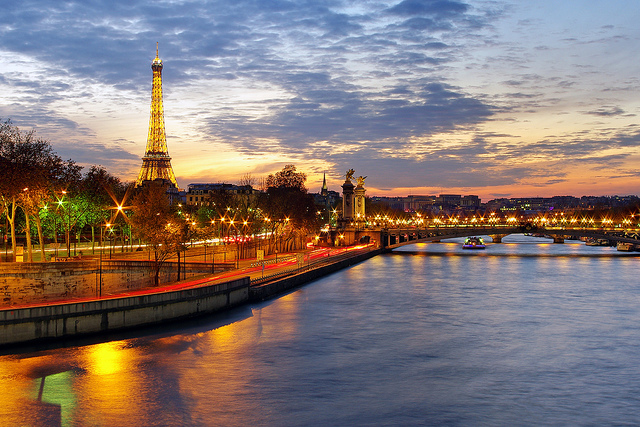 Paris Skyline at Sunset
Of course, when you think of France, you think of Paris. It's truly a world-class city, full of things to experience and explore. It's also the most expensive place to live in the country, but if you are relatively well-off and thrive on big city living, it might be the place for you.
The cost of living varies widely around the country.
Renting or purchasing property in Paris or along the Cote d'Azur can be very expensive, but in other countryside regions (even a few kilometers inland from the Mediterranean) it is quite reasonable. In Paris, it can cost $2000-$3000 a month to rent a downtown apartment. Rents in other areas start at around $700.
Montpellier tops the list of affordable French cities.
The cost of living there is 14% higher than the average U.S. city. Following that, we have Marseille (24% higher), Bordeaux (28%), Lyon (42%), Nice (56%), and Paris (83%). Your mileage may vary, based on your spending patterns. *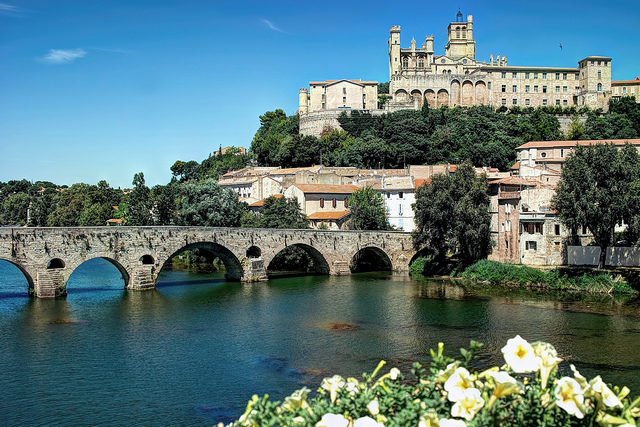 Cathedral on River (in Beziers)
The Languedoc-Roussillon region is the western part of the south of France that hugs the curve of the Mediterranean coastline. The Languedoc offers the same beauty, charm and balmy weather as the more famous and fashionable Marseille or Nice to the east, but with fewer crowds, less gloss and at half the price. Whereas the ritzy resorts of the Cote d'Azur attract the wealthy and famous, Languedoc has charming little hotels, long sandy beaches and Roman aqueducts and is home to artists and writers. From Montpellier, the region's largest city, you can travel to Paris, Barcelona, or Marseille in less than three hours. Real estate is still very affordable, especially if you move inland from the coast just a short distance. The area boasts 300 days of sunshine a year, mild winters, and hot (but not oppressive) summers.
Bordeaux is beautiful with its green rolling hills, and it's probably the region best known for wine. This comes at a price, though – the region is overcast and rainier than the Mediterranean. We visited the towns of Cognac (namesake of the famous liqueur) and Saintes in 2011, and found them to be relaxing, charming, and surprisingly affordable.
France is one of the most gay-friendly countries in the world.
A recent Pew Research poll of forty countries found France (and Canada) to have the highest percentage of people who say being gay isn't a moral issue (50%), and the third-lowest percentage of people who feel that it is morally unacceptable (14%). Marriage equality came to France in 2013, although the nation had civil union-like "pacts" since 1999, laws prohibiting discrimination on the basis of sexual orientation and gender identity have been enacted since 1985, and sodomy laws were repealed in 1791 (that's not a typo!).
In Paris, the Marais neighborhood close to the City Hall (Hotel de Ville) has blossomed into the city's gay center. There you'll find countless gay bars and restaurants, gay-oriented shops and hotels, and throngs of gay people from all over the world. On the Mediterranean coast, Nice and Montpellier are the major gay cities.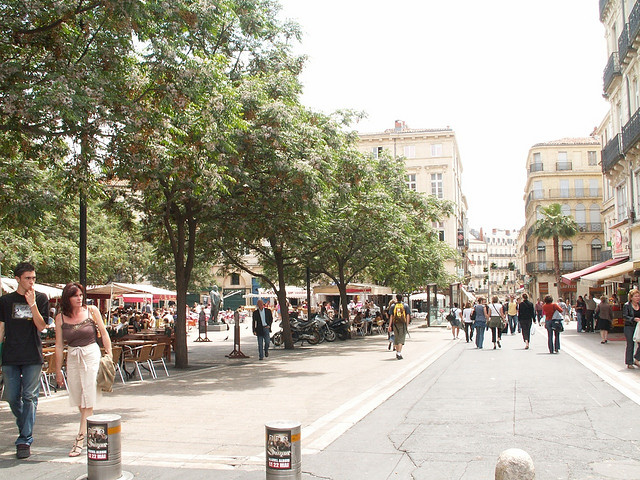 Montpellier
Montpellier is often called "the second gay city of France," after Paris. You'll find the people far friendlier and laid-back in this part of France, closer in spirit to Italy or Spain than to Paris. Other interesting French gay centers are found in the southwest (Toulouse, Biarritz), the Alps (Grenoble, Annecy), Brittany (Nantes) and Provence (Avignon). All in all, gay life in "the provinces" is becoming more and more visible and open.
---
* For calculating and comparing cost of living, the best web site I have found to date is numbeo.com. Its calculations do not include health insurance (which will be considerably lower than the U.S.) or taxes (which will be higher), but otherwise it's a pretty thorough and useful tool. Also, note that sales tax in France (as in most of the world) is included in the price of an item, not added on at the register, which skews side-by-side price comparisons. For the U.S. benchmark, I used Phoenix, Arizona as the "average U.S. city" because Phoenix is close to the center point for cost of living among U.S. cities. You can compare your city to various French cities on Numbeo, but the relative costs among French cities will remain the same.
For more information about the cost of living in France:
For more information on places within France:
For more information about LGBT topics of interest in France:
©2014 Dave Hughes. All rights reserved.
Photo credits:
Beach in Languedoc-Roussillon: Jens. Some rights reserved.
Paris Skyline at Sunset: James Whitesmith Some rights reserved.
Cathedral on River (in Beziers): Steve Taylor Some rights reserved.
Montpellier: David Kohler Some rights reserved.