Most Best Places to Retire websites and articles include France at or near the top of their lists.
It's easy to see why: the scenery is beautiful, the country is rich in culture and full of things to see and do, and the cuisine and wine are among the best in the world. Although the country is geographically diverse, most areas of the country enjoy a very pleasant climate throughout most of the year.
France is not one of those places you're likely to consider if you are seeking a substantially lower cost of living, although you will save a lot of money on healthcare. You are more likely to find France appealing if you are looking for quality of life, history, culture, and delicious food and wine.
France's health care system has been rated the best in the world.
French medical schools are among the best in the world, hence so are the doctors. France has one of the highest ratios of doctors to patients, and most doctors are fluent in English. Office visits are inexpensive, and most procedures are almost fully covered with only a tiny co-pay. Of course, out-of-pocket costs are so low because the rest is covered by taxes, which can total as much as 40 percent.
If you are a property owner in France, you qualify to participate in their healthcare system. Otherwise, you will need private health medical insurance when you retire there, which costs about $1,500 per person, per year. You can look into reducing costs by buying insurance as a member of a larger group or association, which can reduce the premiums by as much as 50 percent.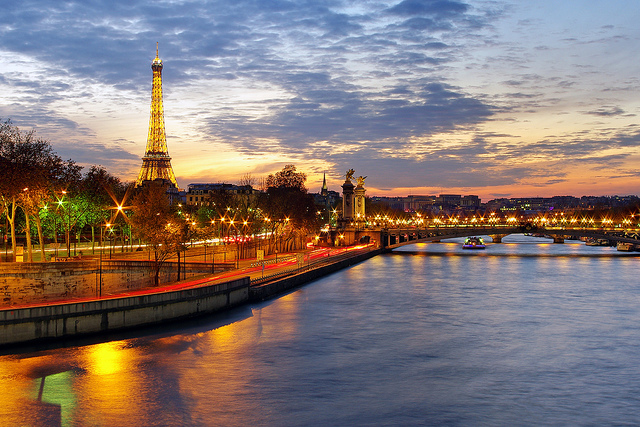 Paris Skyline at Sunset
Of course, when you think of France, you think of Paris. It's truly a world-class city, full of things to experience and explore. It's also the most expensive place to live in France, but if you are relatively well-off and thrive on big city living, it might be the place for you. You can still live there affordably if you find a place away from the most popular areas. You won't need a car in Paris, since public transportation can take you almost anywhere.
The cost of living varies widely around the country.
Renting or purchasing property in Paris or along the Cote d'Azur can be very expensive, but in other countryside regions (even a few kilometers inland from the Mediterranean) it is quite reasonable.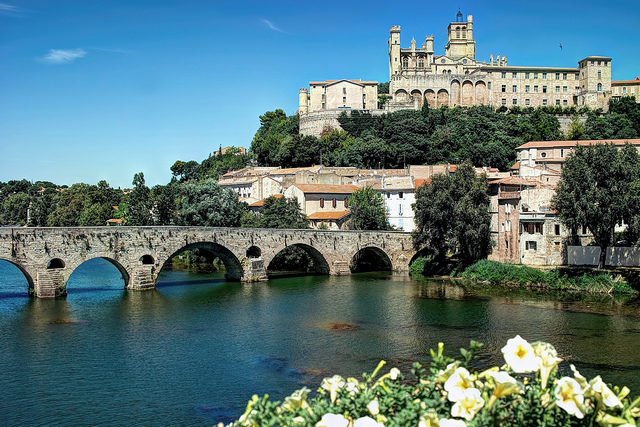 Cathedral on River (in Beziers)
The Languedoc-Roussillon region hugs the curve of the Mediterranean coastline, closer to Spain. Languedoc offers the same beauty, charm, and balmy weather as the more famous and fashionable Marseille or Nice to the east, but with fewer crowds, less gloss, and at half the price. Whereas the ritzy resorts of the Cote d'Azur attract the wealthy and famous, Languedoc has charming little hotels, long sandy beaches, Roman aqueducts, and is home to artists and writers. From Montpellier, the region's largest city, you can travel to Paris, Barcelona, or Marseille in less than three hours. Real estate is still very affordable, especially if you move inland from the coast. The area boasts 300 days of sunshine a year, mild winters, and hot but not oppressive summers.
Bordeaux offers warmer summers and winters, so it is more likely to rain than snow. It's a popular expat destination where you'll find immigrants from Spain, Portugal, North Africa, the UK, Ireland, and the Netherlands. As such, you're more likely to find English speakers here. Provence is another area that is popular with expats.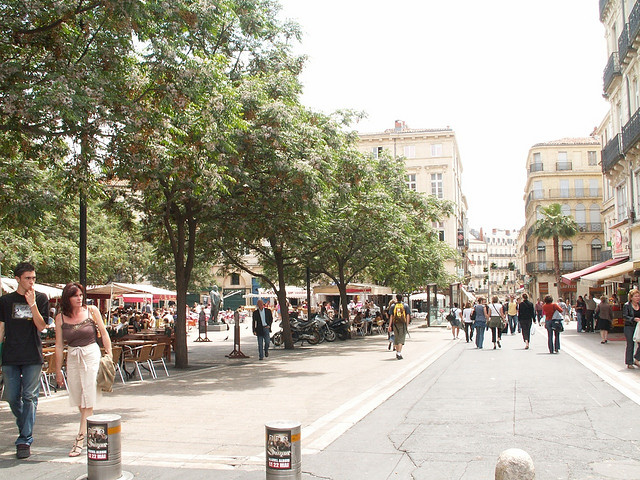 Montpellier
---
For calculating and comparing cost of living, the best web site I have found to date is numbeo.com. Its calculations do not include health insurance (which will be considerably lower than the U.S.) or taxes (which will be higher), but otherwise it's a pretty thorough and useful tool. Also, note that sales tax in France (as in most of the world) is included in the price of an item, not added on at the register, which skews side-by-side price comparisons. 
For more information about the cost of living in France:
For more information about LGBT topics of interest in France:
Other articles you will enjoy:
Fabulous Places to Retire: Spain
Fabulous Places to Retire: Portugal
Fabulous Places to Retire: Uruguay
Fabulous Places to Retire: Colombia
Fabulous Places to Retire: Malta
Share on Pinterest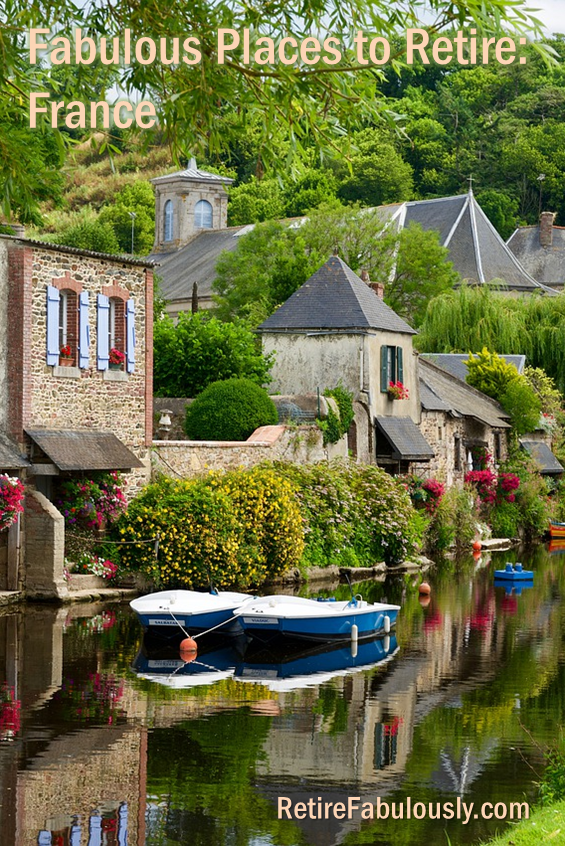 ©2014 Dave Hughes. All rights reserved. 
Updated January 7, 2020.
Photo credits:
Beach in Languedoc-Roussillon: Jens.  Some rights reserved.
Paris Skyline at Sunset: James Whitesmith  Some rights reserved.
Cathedral on River (in Beziers): Steve Taylor  Some rights reserved.
Montpellier: David Kohler  Some rights reserved.
Village on canal (Pinterest image): Paul Henri Degrande.