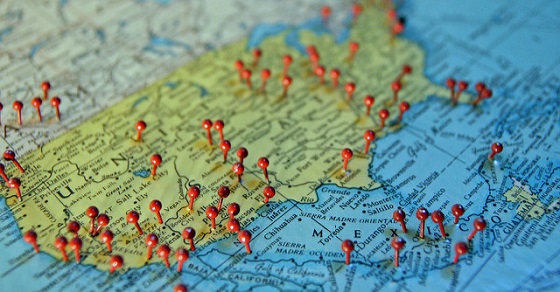 It's fun to think about where you want to retire. Once you no longer have your job tying you to a particular area, there's no reason not to relocate to a place that's more to your liking. Perhaps you want to move someplace warmer, closer to the water or where the cost of living is lower. But with so many factors to consider, choosing a place that's right for you can quickly become overwhelming.
In a poll of readers of this website, these ten factors emerged as the top criteria for choosing a good retirement location.
1. Safety
Safety concerns can become a higher priority as you grow older and feel more vulnerable. Take a look at the crime statistics and economic data for places you are considering. Keep in mind that crime rates vary widely in different areas of a city. The local police department may be able to give you more specific information about a locale you are considering.
2. Proximity to health care
This factor may not seem as important during your earlier retirement years when you are still healthy, active and have little need for medical services beyond routine doctor visits. But you should consider the quality of and proximity to good health care when selecting a place to live so that you won't need to move again when you reach the point where you need it. You should also check out the retirement homes and senior services that are nearby, even though you may not need to use them until years later.
3. Cost of living
The local cost of living plays a big role in the lifestyle you can afford in retirement. Remember to consider your anticipated living situation when examining this data, such as whether you will buy or rent or whether you plan to own cars or rely upon public transportation.
4. Climate and weather
Many people choose to move to warmer climates after they retire. While there are nice cities in colder climates that offer excellent amenities for retirees, the fact remains that wintry weather conditions present a greater challenge as you age. Shoveling snow will become more physically demanding, and the potential for injury if you slip on an icy surface is greater.
5. Presence of diverse people
Workplaces across the United States have become more diverse over the past few decades, and you have probably grown to appreciate interacting with a wide variety of people, as well as enjoying a broad range of restaurants and cultural offerings. Baby boomers who are reaching retirement age are inclined to surround themselves with people of varying ages and demographics, rather than settling into communities in which everyone else looks just like them.
~~~~~ continued below ~~~~~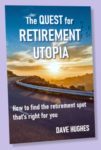 How to find the best place to retire is covered in greater depth in my book The Quest for Retirement Utopia. This book will suggest new possibilities for where and how you might retire. It will help you clarify what factors are most important to you. It will help you evaluate each place realistically and dissuade you from making a poor choice. And it will provide you with the resources you need to make the most informed choice.
The Quest for Retirement Utopia will help you find the retirement spot that's right for you!
6. Cultural amenities
If you enjoy art, theater, concerts or other forms of culture, you will want to choose a place where those opportunities will be readily available. Colleges and universities are good sources for the performing arts. The performances are usually free or inexpensive, and the students will appreciate having an audience.
7. Low taxes
When you consider the tax burden of a place you are considering moving to, be sure to look at the overall picture. While some states may have no income tax or no sales tax, other taxes will be higher in those places. States need to collect their revenue one way or another. Your income sources and spending patterns will factor into how a state's tax structure will impact you.
8. Proximity to a major airport.
If traveling is part of the retirement lifestyle you are looking forward to, you will appreciate being close to a major airport. The same convenience will benefit your friends and relatives who will come visit you.
9. Recreational amenities
The recreational activities you plan to enjoy during your retirement will inform your choice of retirement destination. You should consider not only whether the facilities for your favorite activities exist, but also how much of the year you will be able to enjoy them.
10. Political climate
Regardless of where your views fall on the political spectrum, you should consider whether you will be comfortable if you move to an environment where the majority of people are of a different political persuasion. You should also consider whether the state and local governments are likely to enact legislation that you would agree with.
Of course, no place is the ideal retirement spot for everybody. It's a good idea to visit any areas you are seriously considering relocating to several different times throughout the year in order to experience your potential new home in a variety of seasonal conditions. You may also want to rent before you buy. This will allow you more time to discover neighborhoods and available homes in different parts of town, and it will be easier to move again if your choice doesn't turn out as well as you hoped.
Keep in mind that vacation destinations you have enjoyed visiting rarely make good choices for permanent retirement destinations. Beaches and mountains are attractive as short-term getaways because they provide a welcome change from your day-to-day life. But once you move there permanently and the factors that were once alluring become commonplace, you may discover that your vacation hotspot comes up short.
What criteria are most important to you? Please share in the comments!
---
Reprinted from my blog on U.S. News – On Retirement.
© 2016 Dave Hughes. All rights reserved.
Photo credits:
Pushpins in a map: Marc Levin. Some rights reserved.
Manly Beach, Sydney: Henry Burrows. Some rights reserved.