One of the greatest benefits that retirement provides is the opportunity to choose where you want to live.
Once you no longer have your job tying you to a particular area, there's no reason not to relocate to a place that's more to your liking. Perhaps you want to move someplace warmer, closer to the water, or where the cost of living is lower. 
Many of the criteria you will use to select your ideal retirement location are obvious, such as the cost of living, taxes, safety, and climate. However, there are many other important criteria to consider that might be less apparent.
With so many factors to consider, choosing a place that's right for you can quickly become overwhelming.
Here are 12 important qualities you should evaluate when you are looking at potential retirement destinations, so that you will be able to enjoy your retirement to its fullest.
1. Safety
Safety concerns can become a higher priority as you grow older and feel more vulnerable. Take a look at the crime statistics and economic data for places you are considering. Keep in mind that crime rates vary widely in different areas of a city.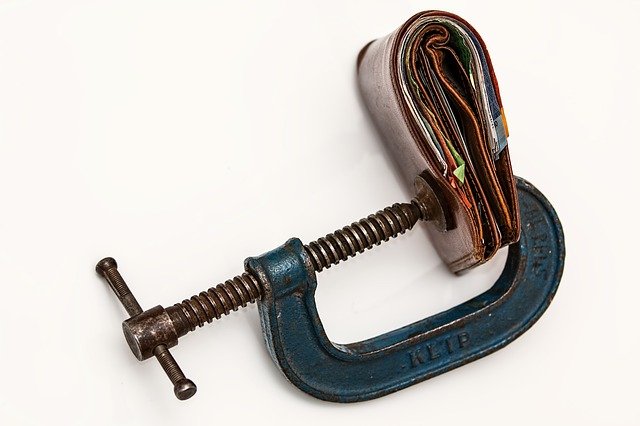 2. Cost of living
The local cost of living plays a big role in the lifestyle you can afford in retirement. Remember to consider your anticipated living situation when examining this data, such as whether you will buy or rent, and whether you plan to own cars, use ridesharing services, or rely upon public transportation.
If you are planning to live in a 55+ active adult community or a condominium, learn about the monthly fees.
3. Climate and weather
Many people choose to move to warmer climates after they retire. While there are nice cities in colder climates that offer excellent amenities for retirees, the fact remains that wintry weather conditions present a greater challenge as you age. Shoveling snow will become more physically demanding, and the potential for injury if you slip on an icy surface is greater.

4. Quality of healthcare, assisted living and nursing facilities, and senior services
During your earlier retirement years when you are still healthy and active, you'll probably have little need for medical services beyond routine doctor visits.
But in your later years, the availability of good doctors, quality hospitals, and decent, affordable assisted living facilities and nursing homes will become crucial. When you're older, it will be more difficult to relocate to another area to find better healthcare options. It makes sense to investigate the services that are available in the area you are considering.
The COVID-19 pandemic illustrated the importance of evaluating not the just availability and quality of medical services, but also the competence of the local and state governments' response to the crisis. 
As with doctors, hospitals, and retirement facilities, it's good to know what kind of senior activity centers, clubs, organizations, home care providers, and transportation for people with mobility challenges are available in the community you are considering.
While a lot may change in the future, the availability of good medical services today is a good indicator of what should be available in the future.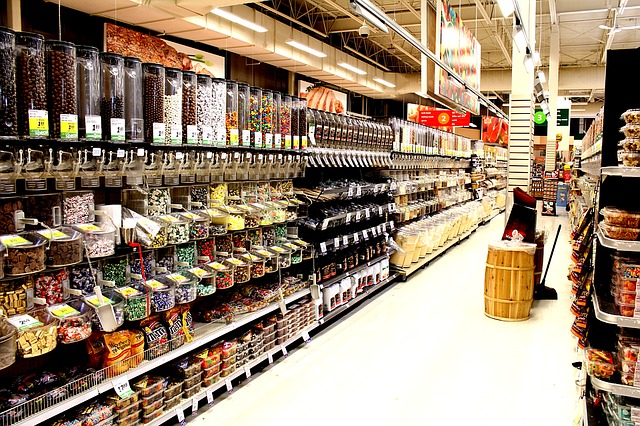 5. Things you value in your everyday life
If you are accustomed to shopping in particular stores, you may miss those places if they are not available in your new location. For example, if you are used to having a Costco or a Trader Joe's nearby, ask yourself if you could be happy in an area where these stores aren't present.
The same applies to things like art house movie theaters, farmers' markets, your favorite types of restaurant, a church of your denomination, and so on.
Sometimes the smallest, most mundane things make a big difference.

6. Amenities to support your desired lifestyle
Think about the activities you plan to participate in as you enjoy your retirement, then investigate whether each area you are considering offers the amenities that will support your interests.
For example, if you are an artist, see if there are art supply stores, galleries, and places that offer art classes. If you plan to play a musical instrument, find out if there are bands or orchestras you can join and opportunities to perform. If you enjoy fine dining or international cuisine, look at what the local restaurant scene offers.
The same applies for adult education classes, museums, theaters, live music, hiking trails, golf courses, and more.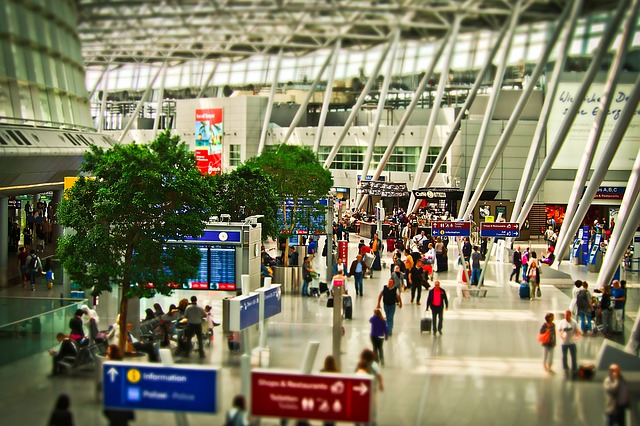 7. Proximity to a major airport
If you plan to travel during retirement, you'll appreciate living within a reasonable distance of an airport that offers regular flights to many destinations.
Having to drive several hours in addition to the time spent on an airplane will make your travel more tedious. It will be more costly to take a cab or shuttle and more difficult to have friends take you to the airport.
Similarly, if you expect to entertain visiting friends and family members, living closer to an airport will make transportation easier for them.
8. Low taxes
When you consider the tax burden of a place you are considering moving to, be sure to look at the overall picture. While some states may have no income tax or no sales tax, other taxes will be higher in those places. States need to collect their revenue one way or another. Your income sources and spending patterns will factor into how a state's tax structure will impact you.
9. Signs of future prosperity or decline
The town or neighborhood you are considering might look good now, but try to envision how well it will hold up over time.
A lot may change over the years, but there are several signs you can look for. If the local economy is strong and the major employers are in industries with a promising future, such as technology and medical research, that bodes well for a city's future. On the other hand, a heavy concentration of aging manufacturing plants is less promising.
State capitals and university towns are more likely to remain stable over time.
You can research population growth and employment rate trends online. When you visit, you can observe whether there is a lot of new building and revitalization of existing neighborhoods or if homes are falling into disrepair and shopping centers have a plethora of vacant stores.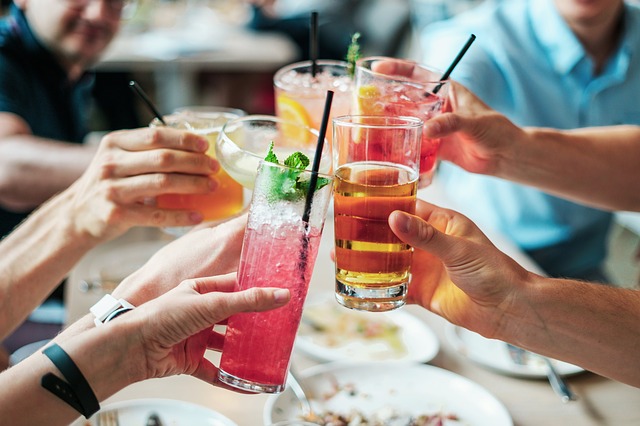 10. Opportunities for socialization
An engaging social life is one of the most important components of a happy retirement.
If you prefer to socialize with other retirees, you may want to move to a 55+ active adult community or live in a city that has a larger senior population.
If you prefer to socialize with people of various ages who have similar interests to yours, you can look into Meetup groups and read local publications to get a feel for what social opportunities are available.
11. Presence of diverse people
Workplaces across the United States have become more diverse over the past few decades, and you have probably grown to appreciate interacting with a wide variety of people, as well as enjoying a broad range of restaurants and cultural offerings. You should consider whether you prefer to surround yourself with people of varying ages and demographics or if you would feel more comfortable living in a community in which everyone else is similar to you, then you can evaluate whether communities you are considering offer what you're looking for.
12. Political climate
Regardless of where your views fall on the political spectrum, you should consider whether you will be comfortable if you move to an environment where the majority of people are of a different political persuasion. Politics are bound to come up in social conversations, especially during presidential election years.
You should also consider whether the state and local governments are likely to enact legislation that you would agree with.
Of course, no place is the ideal retirement spot for everybody and no place is perfect.
Try to visit any areas you are seriously considering relocating to several times throughout the year in order to experience your potential new home in a variety of seasonal conditions.
It's a good idea to rent before you buy. This will allow you more time to discover neighborhoods and available homes in different parts of town, and it will be easier to move again if your choice doesn't turn out as well as you hoped.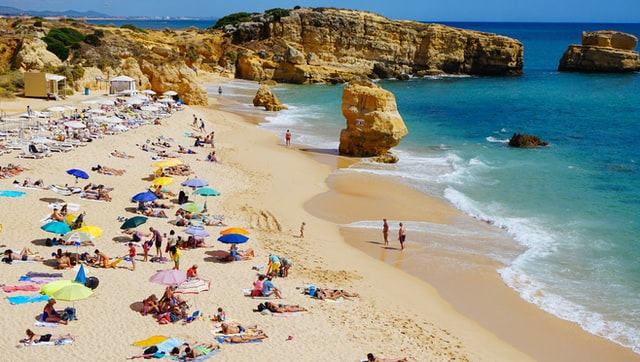 Keep in mind that vacation destinations you have enjoyed visiting rarely make good choices for permanent retirement living. Beaches and mountains are attractive as short-term getaways because they provide a welcome change from your day-to-day life. But once you move there permanently and the factors that were once alluring become commonplace, you may discover that your favorite vacation spot comes up short.
Moving to a new place after you retire is an exciting, possibility-filled event. It can be the beginning of a rewarding new chapter of your life. It's also a decision that requires extensive research and a clear vision of what you want your retirement to be like so that you can be sure you are making the best choice.
What criteria are most important to you? Please share in the comments below!
Share on social media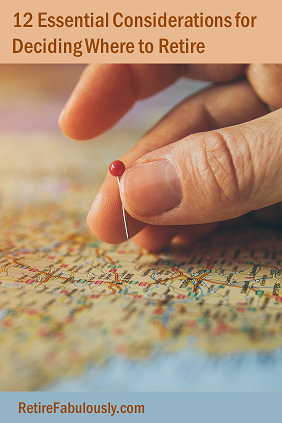 © 2021 Dave Hughes. All rights reserved.
Photo credits:
Pushpin and map: piviso
Wallet in clamp: Steve Buissinne
Nurse pushing woman in wheelchair: sasint
Grocery store: Tariq786
Band: 4997826
Airport terminal: Michael Gaida
Abandoned mall: Kamil Dzledzina. Some rights reserved.
Cocktails: bridgesward
"I Voted" stickers: Element5 Digital
Beach (Praia de São Rafael, Albufeira, Portugal): Dan Gold