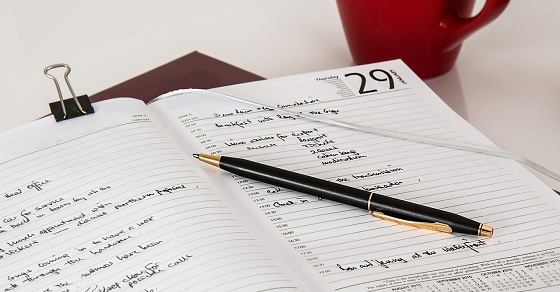 After you retire, what will you do with all of your new-found time?
Are you concerned that you'll be bored?
I'm always bewildered when I hear people say that they think retirement will be boring. I've heard many people say they don't want to retire and they would rather keep working, because they have no idea what they would do with all that leisure time.
This is totally foreign to me. I never seem to find enough time to do everything I want to do.
In my Retirement Visualization Guide, I ask you to list things you really enjoy doing, things you have enjoyed doing in the past, and new things you want to try. If you have undertaken this exercise, chances are that there are more things you just haven't thought of – yet.
The list below will stimulate you to come up with some more possibilities for activities you might pursue after you retire. It is by no means a complete list, but it should provide some good starting points for brainstorming and possibility thinking.
I firmly believe that in order to be truly happy and healthy in retirement, your life should contain a mix of activities that provide physical activity, mental simulation, socialization, and fulfillment.
That fulfillment may come from realizing lifelong dreams, satisfying your sense of purpose, or helping others. Or maybe they just make you happy in the moment! There are plenty of items on this list that will cover all of these categories.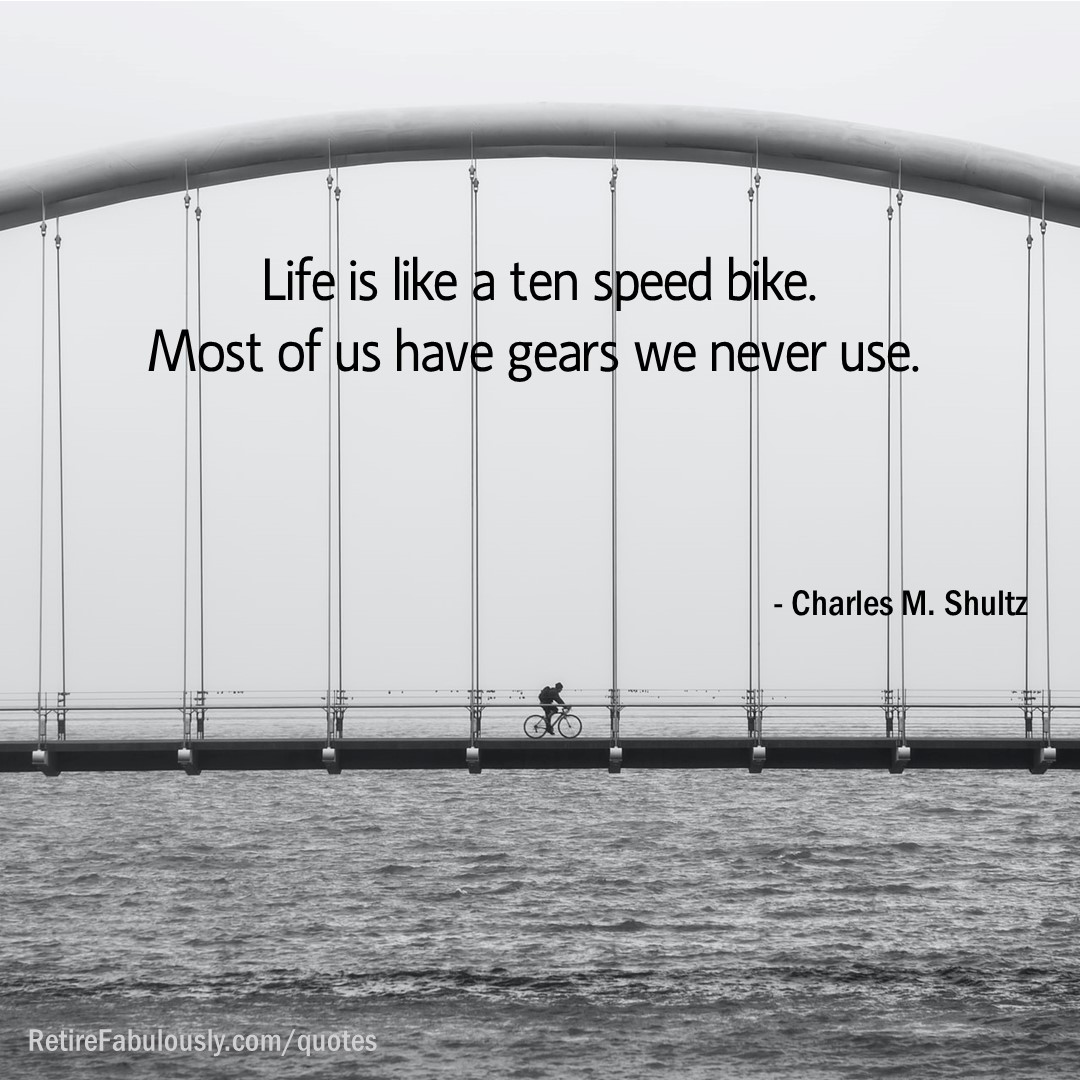 This list can help you visualize everything that your retirement can be, and convince you to look forward to your retirement more positively, which should motivate you to plan and save more. If you're already retired, this should re-energize you.
But there's another reason to consider a list like this.
One of the most important decisions to make concerning your retirement is where you would most like to live.
The internet and magazine articles are full of lists of ideal retirement locations. Amazingly, they are all different! I discuss this more here, but one of the most important considerations to take into account when you think about the places that are best suited for you to live is whether a locale offers the amenities that are most important to you.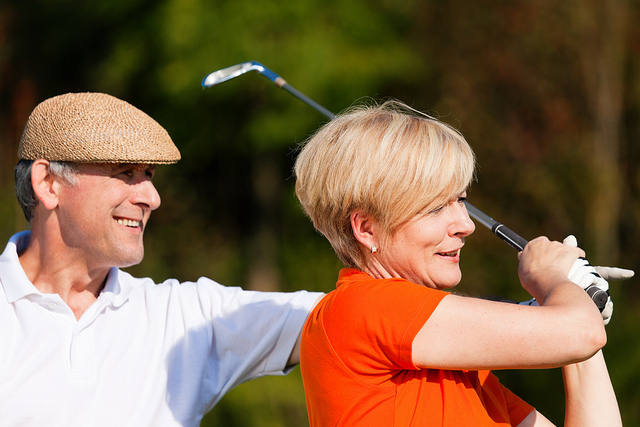 If you're an avid golfer, does a given area offer good golf courses and a climate that will allow you to play for most of the year?
If you enjoy attending concerts, are the performers that you enjoy likely to stop in your city when they're on tour? Are there local performers who can deliver concerts that you'll want to attend?
Here are 100 potential things you can do after you retire:
Take art classes

Join a community band or chorus

Learn a new instrument, or rediscover an instrument you used to play

Visit art museums

Attend theatre

Participate in community theatre

Play golf

Play tennis

Go for long walks

Ride your bicycle

Attend concerts

Play card games

Play board games

Volunteer as an usher

Volunteer as a museum docent

Become a tour guide

Sew or knit clothing

Take up photography

Learn a new language

Organize tours for seniors

Volunteer for Meals on Wheels

Volunteer for a non-profit agency

Create crafts

Go to flea markets

Operate a flea market booth

Join a book club – or start one

Join an investment club – or start one

Go to movies

Host movie nights

Write a novel

Take adult education classes

Host wine tasting parties

Practice yoga

Volunteer for political campaigns

Join a local service club (Lions, Kiwanis, etc.)

Start a website or blog

Visit local restaurants and review them

Join a discussion group – or start one

Volunteer to teach English as a second language

Research and document your family tree

Research and document the history of your town

Take cooking classes

Visit or write to your friends on a regular basis

Invent a new game

Write poetry

Attend poetry readings – or participate in them

Restore old furniture
~~~~~ continued below ~~~~~
Listen to everything in your music collection and create playlists

Attend sporting events

Compose music – or write funny lyrics to existing music

Go fishing

Get a pilot's license

Compile a collection of jokes or funny stories

Record a CD

Learn mixology

Make your own beer or wine

Compile a collection of your favorite quotes or bits of wisdom

Work crossword puzzles

Plan day trips to nearby places, and take photos and write about them

Learn some magic tricks

Create a performance (music, poetry, magic, ethnic dance, one-act plays, etc.) and perform at area nursing homes or anywhere else

Invent things

Start a new charity

Go to concerts at local schools or colleges

Take bird-watching trips (near or far)

Watch art films

Be a secret shopper

Visit local tourist sites

Start an internet radio station

Join Toastmasters

Create a comic strip

Become a wedding officiant

Take ballroom dancing lessons

Go camping

Learn how to sew, or how to sew new things

Learn more about investing

Learn, or get better at, woodworking

Mentor someone

Play bingo

Visit people who are confined to their homes, or who live in nursing homes

Learn calligraphy

Update Wikipedia with things you know about

Take a pottery class

Find something you can make that you can give to others or sell

Become a wedding or party planner

Write a play

Volunteer at a food bank

Serve on a board (HOA, non-profit, school board, church, etc.)

Go to monster truck rallies
What things on this list appeal to you?
What things that you would like to do should I add to the list? Please share in the comments below!

Share on social media!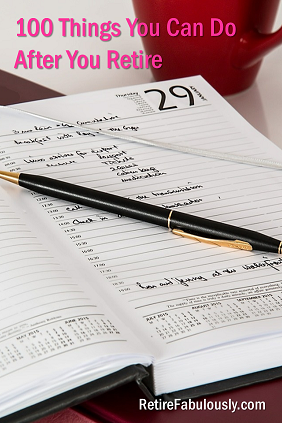 © 2014 Dave Hughes. All rights reserved.
Photo credits:
Couple playing golf: SalFalko. Some rights reserved.
Appointment book: Steve Buissinne