Each year, over a million people migrate from colder regions of the United States and Canada to sunny locations in Florida, Arizona, and other Sunbelt states. To these snowbirds, seasonal migration offers the best of both worlds – an opportunity to maintain ties to family, friends, and familiar places, while also enjoying a change of scenery and an escape from cold, wintry weather.
Cold weather can be harder to endure as we get older. A slip on the ice could be more likely to result in injury for older folks, and shoveling show can become too physically taxing. 
Besides, with no job to keep you tied down, why not enjoy nicer weather? For outdoor enthusiasts, it offers the opportunity to stay healthier with more physical activity such as golf, tennis, and walking.
While there are many advantages to being a snowbird, there are also challenges and additional expenses to consider before you start packing.
1. Cost
Your winter location can be a smaller house, a condo, a mobile home, or a manufactured home (including its smaller cousin, the park model). In addition to the cost of buying a second home, you need to budget for the cost of appliances, dishes, and furniture. You'll need to insure both homes, and insurance rates may increase considerably for a home that you leave empty for extended periods of time.
You can rent a home or apartment for several months. This affords you the opportunity to spend your winter in a different place each year. However, rentals are in high demand in many areas, so you'll need to book up to a year in advance.
Regardless of whether you buy or rent, don't forget to budget for travel costs, especially if you might fly back home occasionally for a special occasion or emergency. If you plan to fly to your sunny destination, you'll probably need to rent a car or have your car shipped by a car shipping service.
You can own a recreational vehicle (RV), which makes it easier to transport your clothing, pets, and other possessions. You will also have the freedom to stay in different places, and you can use your RV for other travel throughout the year. RVs run the gamut from half-million-dollar mansions on wheels (like the touring buses of the rock stars) to small travel trailers. If you opt for a travel trailer, you will need a vehicle that is muscular enough to tow it. There's also the cost of a campsite or a space rented in an RV park.
An RV also presents another consideration – local transportation. Once you have reached your destination, it will be unwieldy to drive your RV everywhere you want to go. You'll be leaving your site vacant, you'll have trouble parking in some places, and you'll get poor gas mileage. You can address this by either towing your car behind your RV, as many people do, or hiring a car shipping service to ship your car to your destination.
2. Taxes
You may pay more in taxes. If you own your snowbird home, you will need to pay property taxes in both places. Depending on how much time you reside in your new state, you may end up paying income taxes in two states. States have different rules on residency and on estate and inheritance taxes.
If you don't plan to return home before April 15, you'll need to find some way to receive your tax documentation at your snowbird location. Which leads nicely into…
3. Mail
You can use email and auto-pay for most of your communication and bill-paying needs, but there will still be a few items you will receive via traditional mail.
There are several options for forwarding mail, including USPS forwarding, third-party mail forwarding services, and having a neighbor or relative forward mail to you in batches. None of these are perfect. The best option for you depends upon whether you will be staying at the same destination or moving from place to place. Some RV parks will not accept mail intended for temporary visitors, in which case you will need to use a post office General Delivery address.
4. Utilities
You may not want to pay for cable, internet, and phone service during the months you don't live in your primary residence or your snowbird residence, but stopping and starting service can be tricky. Ask your utilities if they have a hibernation option.
~~~~~ continued below ~~~~~
5. Home maintenance
If you can find someone you trust to housesit for you or at least stop by and check on your house regularly, you can avoid many problems. But there are others you will still need to consider.
If you live in an area that gets very cold in winter, you need to keep your heat on at a reduced temperature to keep your pipes from freezing and bursting, or hire a plumber to drain all your pipes and turn the water off at the source. Unplug every appliance you can, which may mean emptying your refrigerator and freezer.
If your community or your home owners' association requires you to shovel snow, you'll have to arrange for someone to do that. Similarly, you may need to arrange for people to mow grass, maintain pool chemicals, water plants, and control weeds.
6. Pets
You can probably take your dogs or cats with you, although that may limit the selection of places you can rent. If you have other pets such as birds, fish, or turtles, you will need to have someone visit your home often or find people who are willing to take them and provide foster care while you're gone.
7. Newspapers
You should discontinue your newspaper delivery while you're gone, but you will need to ask a neighbor to remove those unwanted flyers and free community papers that get stuck on your door or tossed onto your driveway whether you want them or not.
8. Medical care
If you are over 65 and on Medicare, you should be able to obtain medical care wherever you go within the United States. If you use private health insurance, you will need to research whether there are doctors and hospitals at your destination that will be covered by your health care network. You'll need to take your full medical records with you, including prescriptions you take, or see if your primary physician will share your medical records with a doctor at your snowbird destination. Think about how you will obtain prescription refills, especially if you use a mail-order pharmacy that ships three-month supplies automatically.
If you are planning to buy a second home, rent for at least one season first. You'll probably want to try renting in several different locations before you settle on which one you want to commit to. This is especially true if you're thinking that your snowbird home might someday become your permanent home, and you'll sell what is now your primary residence.
There are plenty of web sites that will assist you in finding rentals such as VRBO.com and AirBnB.com, and search engines can be useful, too. Large active adult communities such as the Villages and On Top of the World in Florida have community bulletin boards and real estate agents that serve the rental market.
You will have better luck finding longer-term rentals (three months or more), and the earlier you start looking, the better. Many people line up their winter rental as early as January of the previous winter.
There's nothing on this list that isn't do-able, especially in today's electronically connected world. Over a million people migrate seasonally and have done so for many years. But enjoying a successful snowbird lifestyle is much more complicated than simply going on a long vacation.
If you're thinking about snowbirding (or if you already do), where would you want to spend your winters or summers? For those who are currently snowbirds, what are your biggest challenges, and how do you address them? Let us know in the comments below!
Share on social media!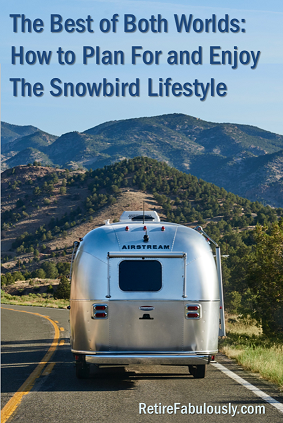 © 2021 Dave Hughes. All rights reserved.
Photo credits:
Airstream: Airstream, Inc.
RV Park:  Jared and Corln.  Some rights reserved.
Homes at The Villages, Florida:  Jon Worth.  Some rights reserved.