Dating at any age can be complicated. It can be an emotional roller coaster ride of optimism, disappointment, anticipation, uncertainty, elation, agony, and futility.
While some people reach retirement age having been single all their lives, others find themselves newly single as a result of death or divorce. Even if you're married now, consider that at some point in the future, one of you will probably pass away before the other, and the surviving spouse will suddenly be single again.
Some people are content to remain single for the rest of their lives, surrounded by friends and family members who can provide companionship. But many who find themselves single later in life head back into the dating pool.
I recently asked readers of Retire Fabulously! for their advice on dating over 50. In addition to advice, I asked for input on how dating is different when you're older, as well as what concerns readers have. I received a wide variety of responses and plenty of good advice and insight. Thanks to everyone who contributed!
Statements from readers are italicized and in quotes.
Dating is Different Now
If you haven't dated for decades, you may be surprised by how much the scene has changed. There are now dating websites and apps. There's much more searchable information available online about potential dates and mates. Email, texting, and social media have all changed the way we communicate with each other during the dating process – for better and for worse.
Aside from all that, we have changed too. You will find that the qualities you look for in a potential mate at this stage in your life are much different than they were when you were young. Quite a few readers expressed this viewpoint.
"In early years there is more emphasis on the outside, the fun, the sex, and being successful. Later the focus is on what really matters: finding a true soulmate."
"When you are in your 20s, you look for romance. In my 50s, I was looking for common interests and backgrounds, stability, common religious beliefs, closeness in age, wellness, similar retirement goals, and similar income level and spending habits. No family drama. And romance is a good thing too, of course."
"Dating over 50 is different in that you don't want to play games. We are who we are, baggage and all. It's not about waiting to call or agonizing over days without speaking. Texting has definitely made keeping in touch simpler and less intimidating. It's also different because your partner may have adult children who can be an issue. I was lucky; my husband's children have welcomed me from day one."
"I am less interested in 'arm candy' and more interested in someone who shares the same values and interests – someone who wants to be together, and wants to spend time doing life side by side."
"We all have a lot more baggage. I don't really want to hear about the evils or pluses of ex-mates, for example. On the other hand, we have a lifetime of interesting things from our careers, time and opportunities to pursue interests, and more to offer prospective partners."
"As you mature, you realize that kindness and loving genuine people are all that matters. Laughter is a tonic and personal good looks are in the eye of the beholder."

What Are You Looking For?
The type of relationship you are hoping to find has probably changed, too. A 2012 survey conducted by AARP revealed that more than 48% of people over 50 turn to online dating for a serious relationship, 26% for friendship, and 14% for casual dating. The percentages are probably similar for people who approach dating via offline avenues.
It's fine to date for any of these reasons. Just be clear in your own mind what type of relationship you're looking for, and be sure to communicate that clearly in any dating profiles you create and during early conversations with people you meet.
"Companionship is very high on the list for me as an older man. I wasn't looking for hot sex. I wasn't looking for a business partner or someone whose career trajectory mirrored mine. I just wanted to meet a good man who would get old with me. And I did!"
Even people who find a new permanent partner may or may not opt to get legally married, for a variety of reasons.
"I know there are couples who choose not to marry, simply for financial reasons. We wanted to get married and for us, I believe we're actually better off financially. If I were to consider marrying again, I'm not sure what I would do."
"I would love to find a compatible guy who I could have fun with and maybe travel with. I am not looking for another marriage. Having children is far behind me, so a relationship now would be different. I am now free to do what I want when I want to and am looking more for companionship."

Attitude is Everything
It's important to approach dating with an open mind and a positive attitude.
That may seem obvious, but some of the responses I received contained a lot of negativity in the form of pessimism, disappointment, futility, and distrust. After several decades of adulthood, many of us have endured plenty of relationship problems and dating disasters. It's easy to become jaded, but that will greatly limit your chances for successful dating.
Here is an amalgamation of several comments I received on this topic:
"Dating is often a ruse for sex and other predatory behavior including criminal intentions. Some may pretend to have good intentions, while others may be out for how they can benefit with no true love. I have become jaded in my older years, and I really wonder if I can trust again. If you meet someone over 50 that seems too good to be true, you have to ask yourself, 'why are they single?'"
Meanwhile, another reader offered this:
"All the ladies now believe that the man is out to scam them. They are so guarded. That's all you hear when you go on a date. An hour into the date, I'm looking for an exit strategy."
There's no question that there are a few shady characters out there. You have to be mindful and use common sense. For example, you should be suspicious if someone asks for too much personal information up front, wants to get together right away, or gives you vague information that can't be verified.
However, most people on the dating scene are good people. They might not be good matches for you, but they're decent people.
Be willing to start with the expectation that a potential date is a decent person. Engage in plenty of email and phone contact with the person prior to meeting them in person, so that when you get to the point of going out on a date, you feel good about them. If you still aren't comfortable, don't meet them. When you do agree to meet, start with a brief meeting for coffee or ice cream. That way, if it becomes clear that there's no chemistry or something seems amiss, you can end the meeting quickly.
We constantly give cues to other people we meet as to how we expect to be treated. This applies not just in dating, but in any scenario. We do this with our facial expressions, vocal inflections, posture, and many other indicators. If you're not in a positive place, you're not going to give off positive cues.
Good relationships are built on trust. If you begin the dating process projecting suspicion and mistrust, that message will come through to the other person and it's unlikely that your date will work out well.
Even if you don't feel distrustful towards your date, an overall pessimistic attitude will be a turn-off. On the other hand, a positive outlook and a sense of humor go a long way.
"My Uncle Larry found a new love in his 80s after Aunt Katie died. They'd been living in The Villages in Florida. I think Larry got lucky because he's a very outgoing, affable personality who asks lots of questions, listens well, has a great sense of humor (he was a salesman in his career), and genuinely likes people! His new girlfriend has many interests and appreciates what my uncle brings to the party." 
"Life is precious and there is no time for negativity or worries. Just do what feels right and just go with it and be happy!"

Be Flexible and Just Have Fun
     "I met my husband Frank at a dating event almost 13 years ago. I was 47+ then, he was a year older. I'd gone to this event before but had expectations and the resultant disappointment. This time I went to have fun. If I was a match with anyone, great. If not, so what? I had a good time and I met the man I've now been with for 13 years.
     "Be very, very flexible. I used to hear about 'non-negotiables.' Can't smoke, can't drink, must like reruns of The Golden Girls. Whatever. My response: don't be surprised if your non-negotiables leave you with no one to negotiate with. The only definition I had when I went on that dating event was that I wanted to meet someone to enjoy the ride with. That was all.
     "I think the biggest obstacle to meeting someone is inflexibility. One of the things I've always heard from older people is how 'set in our ways' we are. Well, good luck with that. If you're set in your ways, why are you looking for someone who is inevitably going to challenge some of those ways? I never imagined the life I'm living now with Frank, and it's happened because I allowed it to happen. If I'd insisted on maintaining the world I knew, that's the world I would still be living in. Remain flexible. Allow the ways you define your life to be open to interpretation!"
Dress for Success
It's quite possible that you will meet your next partner when you're not in dating mode, in other words, when you are just going about your daily life.
"Be mindful of the need to look nice in public. Any outing may the outing when you meet 'him' [or 'her'], so dress for success."
That doesn't mean you need to be constantly dressed up or made up, just look decent and not sloppy.
"If it's been a while since you've taken a good hard look at yourself, now might be the time to start including more exercise in the daily/weekly routine."
It's Okay to Be Single
You don't have to date, and you don't have to have a partner. Often, you'll have the most success with dating when you truly get comfortable with the notion that you'll be fine on your own.
"My concern is that not meeting someone will be taken as some kind of failure. It's not. Let it be, or not be. I will be adamant that I believe life is fabulous for single people, and had I never met anyone, I would be complete and happy. I don't like the cultural pressure to meet that special someone, or the implication that life alone is somehow less-than."
"If I were in a position to date again at my age, I'm not sure I would. It's not that I wouldn't want to find someone again. It's more that I don't want to do the work to find someone. I lived alone for almost 30 years and I can do it again. Sure, I'd be lonely at times, but it's better than settling for a relationship simply to avoid being alone. I would live my life and if I met someone, great. If not, that's great too. I have wonderful friends, family, and hobbies to keep me busy. "
"One good thing is that I don't need a guy to be happy. I am used to being alone and have been content. However, my life could be enriched if I could find a nice man or maybe men friends to do things with."
How Do You Meet New People?
Not surprisingly, that was one of the most frequently mentioned concerns among readers who responded. Suggestions and experiences varied widely, especially with regard to dating websites and apps.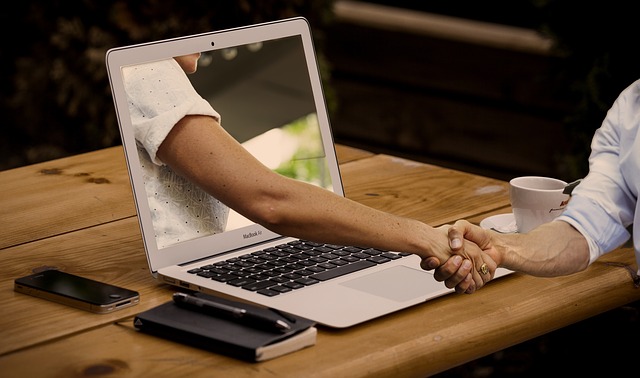 Dating Websites
Online dating has its pluses and minuses, and it's clearly not for everybody.
"Being an introvert, I am not one to join groups, especially if the primary reason is to meet someone. I finally resorted to Match.com which was mostly a bust for me. I know some have been successful with that, but I wasn't happy with the guys out there. It seemed like they were either trying to come across as the elite athlete or overly sensitive. Neither seemed genuine and were not appealing to me. It's funny, though, that Match.com ultimately led me to my husband – just not directly. I ended up reconnecting with someone I had known when we were young after he saw my picture out there. I have other examples of people who have gone to a class reunion and rekindled an old flame or saw someone through different eyes and ended up together."
Relationship-oriented websites do work for some people. In addition to writing for Retire Fabulously!, I am also a wedding officiant. During the course of talking with many couples, I have learned that quite a few of them met online.
I met my husband online.
Here are some tips for improving your chances of success on dating websites.
Choose a good picture – or a few, depending on what the site allows. In today's world, where almost everyone has a smartphone or a decent digital camera, there is no excuse for not having a good, recent picture to use. Your picture should feature only you, not you among other people. Don't wear dark sunglasses, a hat, or a ski mask . Avoid photos taken from a distance, where your face can barely be seen. And most important, smile!
When you compose your profile, write with a conversational style that reflects your personality. Be genuine! Your profile should communicate your values, what you're looking for and what you have to offer, not just a checklist of activities you enjoy. Everyone likes walks on the beach and snuggling by the fire, and this doesn't really say anything about who you are. A sprinkling of good humor goes a long way. And by all means, double-check your spelling and grammar!
"Choose your internet dating site wisely. I found the free ones led to guys looking for internet pen pals, chat buddies, or hook-ups."
There are many dating websites to choose from. Some are geared towards romance and relationship, others are focused more on finding hook-ups, and some span the continuum between these two extremes. There's nothing wrong with either type, but it helps to be clear about what you're looking for and only use websites or apps where most of the other people seem to be looking for the same thing.
Don't expect to find a relationship on apps such as Tinder or Grindr. That seems obvious, but I know people who don't seem to be able to make that distinction.
Here are four dating websites that seem to work well for relationship-oriented people in our age bracket. All four websites offer opposite-sex and same-sex searching.
Match.com is the granddaddy of them all. This site has been around since 1993 and is still going strong, with an estimated 37.9 million visits per month. While people of all ages use Match.com, it has the largest user base of people over 50, and their user base is evenly balanced with 49% men and 51% women.
EliteSingles.com caters to highly educated single men and women, and it claims to use an advanced Fraud Detection System to make sure everyone is who they say they are. About 82% of its users hold a bachelor's, master's, doctorate, or other higher education degree. This site receives 2 million visits per month. Its user base is 44% men, 56% women.
OurTime.com is exclusively for 50+ singles. It receives 8.9 million visits per month, 48% men and 52% women.
SilverSingles.com is also exclusively for 50+ singles. It's smaller, at 800,000 visits per month, with 41% men and 59% women.
There are many others. I do not endorse or guarantee results on any of these websites.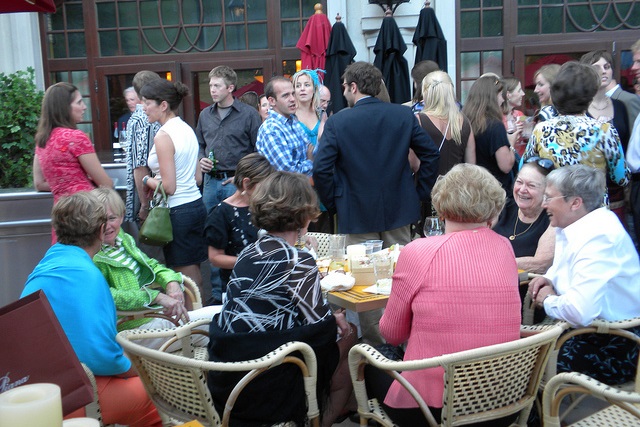 Groups
Many people suggest finding some new groups to join so that you'll meet people with common interests in an environment that is not overtly oriented towards dating. That's fine, but as numerous comments throughout this article have mentioned, not everyone has success with this approach.
On the other hand, you're not going to meet anyone sitting in front of your television.
"[I] seek out social activities where I will enjoy meeting people and would enjoy or be satisfied with just the social aspects of the activity, regardless of meeting someone [to date]."
When you try out a new group, try not to spend your time at the meetings scanning the other attendees for who might make a good potential date. That seems paradoxical because you know you're trying out the group in order to meet people whom you could potentially date, but try your best to stay focused on having a good time with no expectations. Hopefully, you'll make a few new friends, and who knows who they might know? If you truly don't enjoy any of the people, don't go back. Nothing ventured, nothing gained.
Friends
The idea of leveraging friends to introduce you to new people received conflicting viewpoints.
"I would prefer to meet someone through someone that I know, so that there is some level of familiarity about the person that is available from a trusted source."
"I would not rely on friends. I thought that would work but they don't really know that many single people."
"I wonder what ever happened to friends helping others find their significant other? It would seem to be a challenge that I would not choose to go through without a second opinion from a friend."
Personally, back when I was single I had very mixed results with people that friends tried to set me up with. It made me wonder what my friends really thought of me! I found that going to parties with friends or participating in activities with them was fine, because I could meet people when they were more likely to just be themselves, without any pressure or pretense of meeting someone special. A date or dinner party that was clearly set up in the context of "I have this great person I want you to meet" was more awkward, especially when it became clear immediately that there was no spark or connection.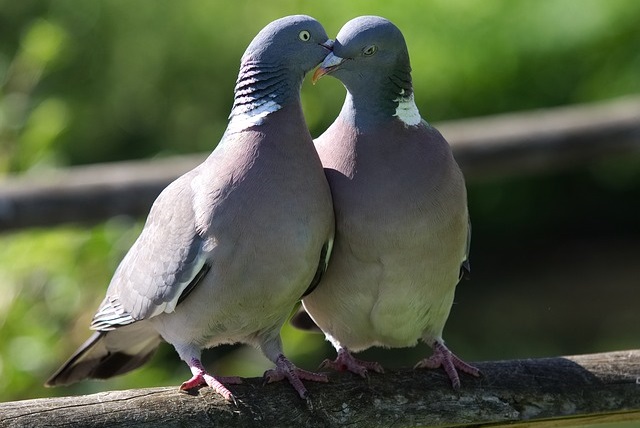 Random Advice
"Be sure you have lots in common, especially spiritually. The way finances are handled is important, too. Find a hobby you both enjoy doing together."
"Never pay attention to what other people think or say, especially those who might have been friends with your ex."
"People do change so don't dismiss someone that you once knew because you don't think they're right for you. Life has a way of mellowing us out and old friends could become the 'right one' at this stage of life."
"I was widowed at age 49 and it was my hope that if I was lucky enough to be in another relationship it would be with someone around my age. I wanted someone with similar energy and experience. My advice is to find age appropriate partners. You know, someone who knows who Joni Mitchell is ."
"Just go into it with your eyes wide open. It won't be a fairy tale but it can be very special."
I hope this collection of wisdom, experience, and advice from Retire Fabulously! readers (and me) is helpful.
Please feel welcome to contribute your advice in the comments below.

Share on Pinterest!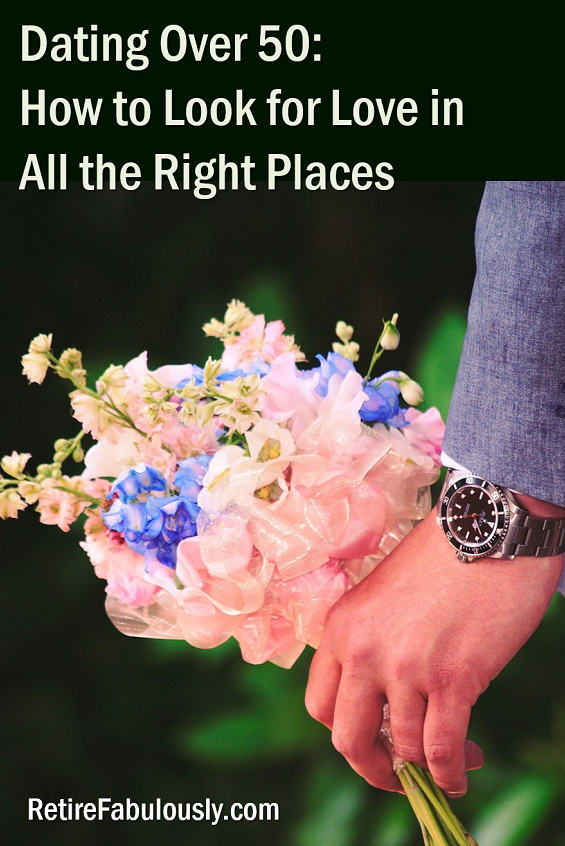 © 2019 Dave Hughes. All rights reserved.
Photo credits:
Man holding bouquet: Free-Photos
Couple under tree: StockSnap
Woman holding coffee cup: Rachel Scott
Two men: Elvert Barnes. Some rights reserved.
Handshake from laptop screem: Gerd Altmann
Outdoor gathering: Mandy Kjellstrom. Some rights reserved.
Birds: Andrew Martin