If you like the articles on Retire Fabulously!, you will love this book!
Design Your Dream Retirement:
How to Envision, Plan For, and Enjoy the Best Retirement Possible
by Dave Hughes
Design Your Dream Retirement will show you how to visualize your retirement in an optimistic, possibility-filled light, and provide you with the knowledge and tools to help you create a plan for achieving your retirement dreams.
You will be inspired to rediscover and reinvent the real you – the you that has probably been buried by years of adapting to the demands of your career.
While there's no question that saving and financial planning will make it easier for you to enjoy your retirement, you know that money alone does not buy happiness.
You will learn how to fill your life with a balance of activities and pursuits to keep you happy, healthy, and fulfilled.
This book will help you envision, plan for, and ultimately enjoy the best retirement possible.

BUY IT NOW!
Paperback

eBook

Buy Direct & Save


(Kindle, eBook & PDF)


Other Vendors
BUY IN BULK!
Financial advisers and retirement workshop leaders, this book would be an excellent and much-appreciated gift to your clients! Click here to learn more.
Review comments from readers
"I've been reading Dave Hughes's columns at RetireFabulously.com for the last year or so and I tell everyone these are the best columns on the realities of retiring you're likely to find. Having them distilled into a book, with bonus information and his first-hand experiences, first with anticipating his 'Renaissance' (a word I love and much prefer) and then living it, provides an invaluable resource for those who've reached that milestone and those of us starting to plan for it. I'll be telling everyone to read this, including my spouse!"
"This is a excellent book. While not lengthy- and that in itself is a recommendation, as the book is written in a clear, succinct style- it is full of thought provoking questions and scenarios about the concept of retirement, or renaissance. The author challenges you to consider and envision what your retirement will look like. His position … is that we will have the kind of retirement we think we will have, good or bad. … The author guides through the thought process of envisioning what kind of retirement we want, in a well laid out map, with personal observations, things to consider, and challenging questions – many of which I had never considered myself. But I'm thinking of them now, and that is how all plans begin. Recommend this book for anyone who wants to retire."
"The book is very well-written and takes into account the social and emotional aspects of planning a successful retirement. Many publications address the financial end of the process, but few deal with *everything else* that one should consider before leaving (or gradually transitioning) out of the workplace. And don't think that because you're 30 or 40 that this book isn't for you. It's very much for you! Planning for retirement shouldn't start 3-5 years before it happens. You'll not only enjoy this book but truly benefit from it."
"I've been following Mr. Hughes's retirement advice for awhile and find it to be fresh, informative and unique. Having it in a book makes it convenient and essential reading. I highly recommend this for anyone considering retirement or lucky enough to already be there!"
"Having recently entered the 'Renaissance' period of my life, Dave's book is particularly relevant to my situation. It is very thought-provoking on how to make the most of this great opportunity of being free from the confines of a job. It is an enjoyable book and prompted many discussions with my wife on what we do from here."
Share on Pinterest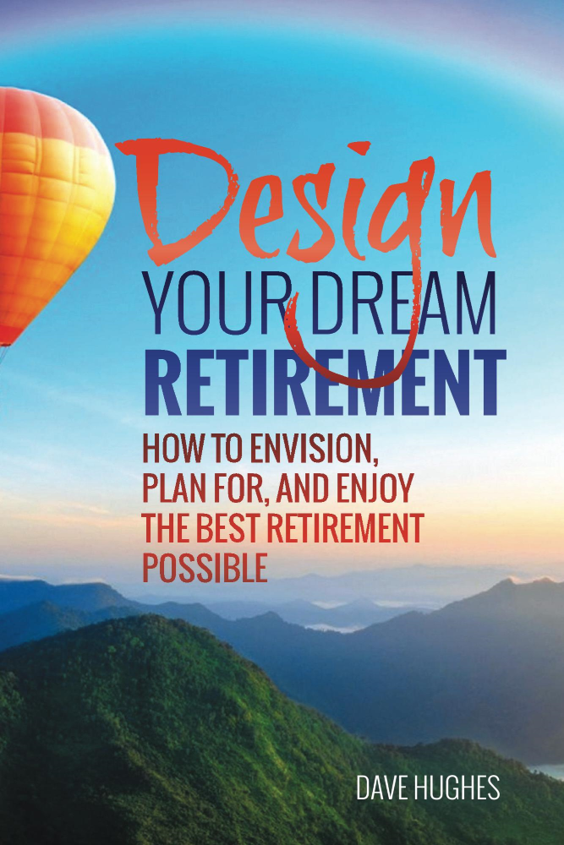 Buy in bulk!
Financial advisors and retirement workshop leaders, this book would be an excellent and much-appreciated gift to your clients!
Contact Dave for a quote for bulk orders of 10 or more copies (paperback only).