If warm, sunny weather, reasonable cost of living, and excellent yet inexpensive health care are among your top criteria for selecting a place to retire, Malta might offer just what you're looking for. Since English is one of Malta's two official languages and it has perhaps the easiest immigration requirements in Europe, Malta might be well worth your consideration.
Malta is frequently mentioned on "places to retire" lists and websites, so it's been on my radar. A couple months ago, I had the opportunity to visit Malta, albeit for only one day, as part of a Mediterranean cruise. I found it, or at least the capital city of Valletta and the neighboring countryside, to be attractive and charming. It is one of the world's oldest recorded civilizations and is home to nine UNESCO World Heritage sites. Valletta oozes 16th century charm, yet still feels like a modern, vibrant country.
No place is perfect. Although Malta is lovely and offers many benefits, it's not paradise. It has its problems and downsides, which this article will cover.
First, let's learn more about Malta. Then we'll take a look at what's great and not so great about life here.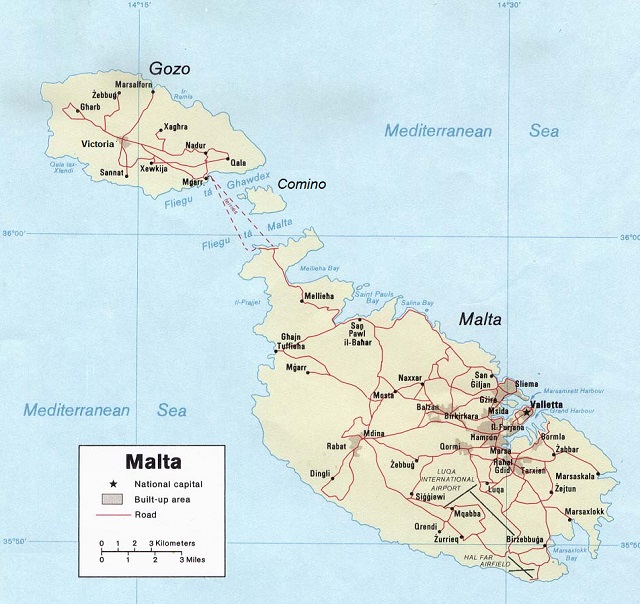 Malta's Geography, Facts, and History
Malta is a tiny island nation located in the middle of the Mediterranean Sea, just 58 miles (93 km) south of Sicily and 241 miles (388 km) east of Tunisia.
Its population is about 475,000, and the total size is 122 square miles (316 square km). That's about the same size and population as Atlanta, Georgia. So imagine Atlanta being an island nation, and that's Malta.
The Republic of Malta consists of three islands. The main island is also called Malta (93 mi2). Gozo (26 mi2) is located a 25-minute ferry ride to the northwest, and tiny Comino (1.4 mi2) lies between the two.
Gozo's population is just over 37,000. It's much less densely populated than Malta island, and features numerous beaches and resorts. Gozo is considered one of the top diving destinations in the Mediterranean.
Comino has a population of 3 and is primarily a bird sanctuary and nature preserve.
Malta was a British colony between 1815 and 1964, and became a republic in 1974. It joined the European Union in 2004, and is its smallest country. Its capital, Valletta, occupies less than one square mile and is the smallest capital city in the EU. The largest city is Birkirkara and the economic center is Sliema.
English and Maltese are the two official languages, and English is written and spoken widely throughout the nation.
What's Great about Malta
1. Warm climate and nice weather
Not surprisingly, given its location in the Mediterranean Sea, Malta is one of the sunniest and warmest places in Europe. It rarely rains in May through August, but about one-third of the days in the winter months see some rain. Winter low temperatures will occasionally dip below 50oF (10oC), while summer highs rarely exceed 93oF (34oC). Humidity is fairly high, ranging from 65% in July to 80% in December.
If you enjoy proximity to the ocean, you are never far from the sea at any point. There are many beautiful beaches, although they are often crowded.
2. Low-cost, high-quality healthcare
Malta has both a public healthcare system, known as the government healthcare service, and a private healthcare system. Public healthcare is free for Malta residents and EU citizens, including a full range of treatments and medications. The quality of healthcare is excellent. The only issue with the public system is the wait times. If you are seeking non-life-threatening medical care, you could wait months for an appointment. Wait times in the medical facilities are often long. Some people choose to pay for private care just to receive their care sooner.
Foreign residents are advised to obtain private health insurance, but this is extremely inexpensive. You can buy a simple in-patient plan for as low as €90 a year. You can obtain full coverage for around €350 a year, allowing you to see doctors at one of the many private clinics and hospitals in order to avoid the queues at the public facilities.
3. Reasonable cost of living
Aside from healthcare, overall cost of living is only slightly higher than the U.S. average, according to data from Numbeo.com. The cost of living on Malta is lower than in most other places in Europe. Predictably, gasoline is much higher, but because the island is so small, you won't be driving great distances. Since public transportation is available throughout the islands, you could easily get by without a car. Most other utilities are lower. Restaurant prices are only slightly higher, while grocery prices are slightly lower. Rent is slightly cheaper except in the most expensive areas, but prices to buy real estate are significantly higher.
4. Safety
Crime is very low, with the notable exception of government bribery and corruption. More on that below. Crime is practically non-existent on Gozo.
5. Ease of Immigration
This is, perhaps, Malta's biggest selling point.  It offers the easiest and fastest path to immigration in Europe.
Of course, if you are a citizen of another EU country, you can live in Malta.
Malta does not have a visa specifically designed for retirees, but it does offer a unique Global Residence Program for non-EU citizens. You can qualify by renting a place to live for as little as €800 per month. This is the only country in the EU that grants a residency visa for simply renting an apartment or house. You don't even have to live there the majority of the year.
Once you have a Malta residency visa, you have access to the rest of Europe. For some countries with much more restrictive immigration policies, this offers your easiest and cheapest access. You also have access to Malta's free public health care, as discussed above.
If you're wealthy, it is possible to obtain full citizenship through the Individual Investor Program. This controversial program, established in 2014, requires an investment of a little over €1,000,000, consisting of purchasing property for at least €350,000, contributing at least €650,000 to the National Development and Social Fund, and several other requirements. Possessing a Maltese passport affords you all the benefits of citizenship in an EU-member country.
The percentage of expats living on Malta is steadily increasing. In 2005, the foreign population was about 12,000 (3%); in 2016, it was over 30,000 (6.7%).
6. Laid-back lifestyle
Life here is generally slow-paced and relaxed. The proximity to the sea from almost any point on the island and 300 days of sunshine is conducive to reduced stress and a pleasant retirement lifestyle. There are lots of community celebrations and colorful festivals.
7. Culture
For a nation of less than half a million people, Malta has a lot of culture to offer. There's an annual jazz festival, theatre, and many historical sites to discover. Malta was designated the Culture Capital of Europe for 2018.
What's Not So Great about Malta
1. Traffic
On Malta island, roads are narrow and often poorly maintained. As the population has increased, so has the number of cars filling the roads and vying for limited parking spaces. Although there are buses that will take you almost anywhere, they have to sit in the same traffic. During rush hours, the buses can be very full, and they might simply pass bus stops because they have no more room for passengers. This is not the case on Gozo, as you'll read below.
The upside is that since speeds are slow, there are very few serious accidents. Malta ranks among the lowest in the EU for traffic fatalities.
Depending on where you are coming from, driving in Malta may take some getting used to. Due to its British past, cars drive on the left. You will need to drive defensively and never assume that other drivers will behave in a predictable way. It's common for drivers to ignore traffic rules, such as using turn signals, yielding on roundabouts, and not talking on mobile phones. Drunk driving is common and enforcement is rare.
2. Banking
Since Malta has a history of being a haven for money laundering and other off-shore banking practices, you might be treated very suspiciously in your dealings with a bank. Some expats have experienced difficulty just opening a bank account or getting a checkbook or debit card. Obtaining a credit card can be even more difficult. Others report less difficulty, so it's probably a combination of factors such as which bank you are using, what country you are from, your financial condition, and your credit score.
3. Pollution
Pollution is worse in Malta than in the US and most of Europe. Water quality is very good, but air quality, litter, overall cleanliness, and garbage disposal complaints are worse. Dust blows in from nearby Africa, degrading the air and making it necessary to clean your home more frequently.
4. Laid-back lifestyle
The relaxed pace of life that was listed as an advantage above has its downside as well. Service can be leisurely and wait times can be long. Expats report that people often seem to have a total disregard for other peoples' time. This can be seen from businesses requesting to meet you in person rather than discussing matters over email, to bus drivers taking their time having a chat with a friend while traffic backs up behind them.  It's not uncommon for repair people to stand you up for a service appointment repeatedly.
5. Government corruption
Since Malta gained its independence from the United Kingdom in 1964, both of its ruling political parties have allegedly maintained very close ties to the island's most powerful families. The lines between police, justice, and business are often blurred. In addition to legitimate industries such as tourism and shipping, part of Malta's economic success has been based on off-shore financial services, tax avoidance models, shell companies, crypto-currencies, and online gambling. Various Maltese entities were implicated in the leaked Panama Papers.
Investigative journalist and popular blogger Daphne Caruana Galizia, who regularly wrote about the questionable activities of some members of the government including the Prime Minister, was murdered in a car bombing in October, 2017. The assassination may have silenced Garuana Galizia, but it called more attention to the shady side of the government, both among Malta's citizens and among other EU nations. Three people have been arrested in connection with carrying out the bombing, but who ordered it is still unknown.
While this situation will probably have little direct impact on your day-to-day life as a resident of Malta, it has created a divisive atmosphere.
6. It's still an island
Living on an island isn't for everyone. Depending on your desires for entertainment, culture, and exploration, the small size of the island may feel restrictive. This will be especially true if you settle on Gozo.
If one of the reasons you want to retire to Europe is so that you can travel around the continent, Europe's extensive train system is unavailable to you. Aside from taking a ferry to Sicily, you'll need to travel by airplane to reach anyplace else you want to go. Fortunately, direct flights to most of Europe's major airports are available several times a day for $250 or less, round trip.
Where to Live in Malta
Most expats who come to Malta for employment will generally settle in Sliema, St. Julian's, and neighboring communities. The majority of international companies are located in this area, and there's an abundance of restaurants, shopping, and services. These cities are the most cosmopolitan and fashionable areas of Malta. For this reason, the cost of living tends to be more expensive than elsewhere on the island. St. Julian's, and especially its party district Paceville, are considered the hub of entertainment. The nearby suburbs such as Gzira, Msida, Swieqi, and Ta Xbiex are less expensive yet still provide access to Sliema and St. Julians. So while this area is where the entertainment and shopping action is, it might not be as conducive to a relaxing retirement as other parts of the island.
The capital city of Valletta is an incredibly beautiful town that has preserved a lot of the medieval feel of its history, with its limestone buildings and fortress walls. Cars are not allowed in parts of the city, making it safe and pleasant (albeit hilly) for pedestrian traffic.
Since Valletta is a cruise ship port and a focal point for historical places, it is popular with tourists. While there are businesses operating in Valletta and an abundance of cafes, bars, and restaurants, you can expect to deal with hordes of tourists nearly all year round. Valletta merits repeat visits to discover its history and enjoy its ambiance, but with a population of just under 7,000, it may not be the best place to live. If you are attracted to Valletta, the neighboring towns of Floriana and Pieta might be good choices.
The central region of Malta, anchored by Birkirkara, is the most densely populated region on the island. With Birkirkara being the country's most populous city, there's been a lot of development in the area. The biggest advantages of living in the central area are lower cost of living, as well as the ease of reaching everywhere else on the island.
Mellieha, in the northwest corner of the island, is where you'll find a large number of villas, holiday homes, and beautiful beaches. Santa Maria Estate is popular with older expats, particularly Brits. Since it is more quiet and relaxed than the areas mentioned above, Mellieha can offer a fantastic quality of life for those not looking to go out a lot, but rather to enjoy a more leisurely lifestyle.
The island of Gozo is a lovely place that offers a calmer alternative to Malta island. Assuming that you are retired and you don't need to worry about finding a job, living in Gozo can be very rewarding. The capital of Gozo, Victoria, is centrally located, and with a population of 7,000, it's the largest city on the island.
The cost of living on Gozo, including rent, is among the lowest in the country. The bus service on Gozo is better than on Malta, and nothing is more than 15 minutes away. The perimeter of the island is dotted with seaside villages such Xlendi, Marsalforn, and Mgarr. The total population of Gozo is around 31,000, and the area is 67 km2 (26 miles2), so the population density is about 1/3 of that on Malta island.
Gozo is more relaxed and crime is practically non-existent, but living on such a small island isn't for everybody. The ferry ride from Gozo to Malta takes less than 30 minutes and the tickets are inexpensive, so traveling to the main island is not difficult.
~~~~~ continued below ~~~~~
Equality / LGBT Considerations
Over the past few years, Malta has experienced a definite and positive shift towards greater cultural acceptance of LGBT people in all aspects of life. It is now regarded as one of the most progressive countries in Europe.
In June, 2017, the Labour Government presented a bill in Parliament, amending Maltese marriage law to give equal rights to same-sex couples and opposite-sex couples. (Malta previously had civil unions.) Despite being a heavily Catholic country, the bill passed the Parliament by a 66-1 vote. The bill was subsequently signed by the President and became effective on September 1, 2017. Adoption by LGBT couples and individuals is legal, and the government has passed legislation that is favorable towards the Transgender community.
The gay scene includes frequent special events and regular nights at a small handful of gay bars and gay clubs. Visit https://gayguidemalta.com/ for more information.
Conclusion
If you're looking for cheap top-quality healthcare, easy immigration, reasonable cost of living, sufficient culture, warm climate, and proximity to the ocean, all in an English-speaking country, Malta is well worth considering.
It's not perfect. There are some good expat websites and personal blogs that provide a lot of illuminating insights into what life as an expat in Malta is really like. Do your research, and verify all of the immigration information presented here on the government's website, since laws may change and the requirements have been summarized here in the interest of readability and brevity.
As with any move to a new and dramatically different location, you should schedule two or more extended visits, preferably at different times of the year, before you decide to move. And of course, rent for at least a year before you buy.
What do you think? Do the pros outweigh the cons?
Does the idea of living on a fairly small island, even one with the benefits that Malta offers, appeal to you?
If you have been to Malta, what are your impressions?
Please feel welcome to comment below.
Other articles about retiring overseas:
Can You Really Save Money by Retiring Overseas? Should You?
10 Great International Retirement Destinations
Fabulous Places to Retire: Spain
Fabulous Places to Retire: France
Fabulous Places to Retire: Uruguay
Fabulous Places to Retire: Colombia
Fabulous Places to Retire: Portugal
Share on Pinterest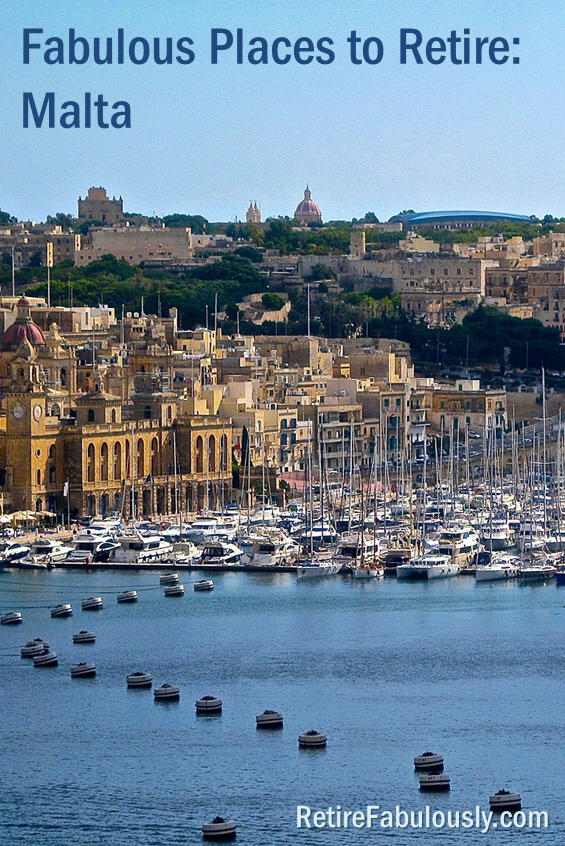 ---
© 2018 Dave Hughes. All rights reserved.
Photo credits:
Valletta harbor with Barrakka Gardens: Antheah
Map: Wikimedia Commons
Sliema: strecosa
Comino rock formations: Waldo Miguez
Boats in Valletta harbor: Efraimstochter
Narrow street in Valletta: Gabriel Le Naour
Malta countryside: strecosa