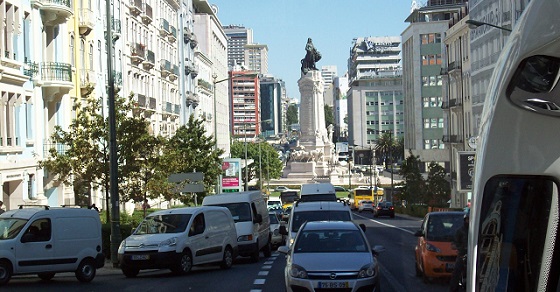 If you dream of retiring to Europe, Portugal is well worth your consideration. It is the least expensive country in Western Europe, its immigration requirements can be satisfied by most retirees, and the country enjoys mild, sunny weather.
Portugal has long been a favorite of expats from Great Britain and other European countries, but it has only recently begun to attract more attention in the US and Canada.
Low cost of living is not the only benefit Portugal offers. It also offers beautiful landscapes and architecture. The Algarve region at the southern end of Portugal boasts some of the best beaches in Europe. High-speed internet is available in 90% of the country and 4G service in 95%. Portugal has been rated the 17th safest country in the world.
Portugal's location at the southwest corner of the European continent means that you will have to travel farther to reach destinations beyond Spain, but you can still travel freely to most of the rest of Europe. Once you become a resident of Portugal, you can travel visa-free to all 26 European countries in the Schengen Area.
English is widely spoken in the Algarve, and to a lesser extent in Lisbon and Porto, and not so much in the more rural areas. Expats report that it is easier to make friends in Portugal than in many other expat destinations, and it is easier to get by with English while you are coming up to speed on Portuguese. Cultural adaptation seems to be easier in Portugal than in many places.
The most frequently heard complaints about living in Portugal are the government bureaucracy and the very lengthy time it takes merchandise ordered overseas to make it through customs. It could take months.
Three areas are particularly worthy of your consideration: Lisbon, Porto, and the Algarve. Aside from these three, there are numerous mid-sized cities along the coast from Lisbon to Porto that seem charming.
Lisbon
Lisbon is Portugal's largest city, its capitol, and the country's hub for business and finance. If you prefer living in a larger city for the wider range of activities and the cultural amenities it has to offer, Lisbon would be your best choice.
If you prefer suburban living, Cascais is located on the coast just west of Lisbon. Many expats have located here. Suburbs such as Cascais offer more room and less bustle than Lisbon, but it's just a 30-minute train ride into the city when you want to go there. Cascais is the most expensive place (relatively speaking), so you might consider towns like Oeiras, Parede, and Caixas, which are on the same train line but more affordable.
If your plans call for exploring the rest of Europe, you will be able to do this most conveniently if you are based in or near Lisbon, because you will be close to the airport. You can find inexpensive, frequent flights to most other cities in Europe.
Porto
If you prefer a medium-sized city, Porto, in the northern region of Portugal, is worth checking out. It's also the center of Portugal's wine region and the namesake of Port wine.
The city features stunning architecture and old-world charm, but there are also areas with new development. Interestingly, the older properties with character are being bought up by expats while the locals are migrating to the newer developments. There are numerous smaller towns near Porto, both along the coast and inland, where housing prices are lower and the pace is more relaxed.
The Algarve
The Algarve is the southernmost region of Portugal, and it's the region that has attracted the most attention as a retirement destination. It's the sunniest and warmest spot on the European continent. The 100-mile coastline offers beautiful beaches, plentiful golf courses and spectacular cliffs and caves. There are no large cities, only a string of smaller oceanfront towns such as Faro, Lagos, Portimao, Ablufeira and Tavira.
The region has long been a tourist destination for the rest of Europe, especially England, so you would have to contend with the influx of tourists during summer vacation season. Because of its history as a vacation destination, English is widely spoken here.
Climate
The climate and weather in Portugal is usually excellent, generally being neither too hot nor too cold. The climate varies from north to south and from the coast to inland regions, but in general Portugal offers warm and sunny summers, mild winters, and pleasant but rainy autumns and springs.
In the northern region, including Porto, the summers are sunny and pleasantly warm without becoming sweltering hot. Further inland, where it's more mountainous, the winters are colder than in the rest of Portugal, with occasional snowfall in the Serra da Estrela Mountains.
The central region of Portugal, including Lisbon, experiences a combination of elements from the Mediterranean and Atlantic climate which means mild winters and hot and dry summers. The inner regions of central Portugal can get very hot during the summer with temperatures over 85° Fahrenheit, whereas the coastal areas are cooled by ocean breezes.
In the Algarve, summers are particularly dry and sunny with 12 hours of sunshine each day and an average temperature range of 68-82° Fahrenheit. The constant sea breeze helps to keep temperatures at pleasant levels.
Cost of Living
The cost of living in Portugal is, on average, 30 percent lower than in any other country in Western Europe. A retired couple could live frugally on a budget of as little as $1,500 per month, and live quite comfortably on a budget of $2,000 a month.
Prices are highest in Lisbon, particularly for rent, but prices are still about 80% of the U.S. midpoint. Almost everything is cheaper, especially once you leave the tourist areas. The only items that are significantly more expensive in Lisbon are automobiles ($8-10,000 higher), gasoline (200% higher), and the cost to buy (not rent) an apartment. Given that public transportation is good, you could easily get by without a car. You can compare prices with your city at Numbeo.com.
Surprisingly, the cost of living in the Algarve is still remarkably low, even compared to the rest of Portugal. Prices in Faro, for example, are 16% lower than Lisbon. The overall cost of living is just 70% of the U.S. average. You would probably be more inclined to own a car in this region, so you might need to factor the costs of gasoline and car ownership into your budget.
Fortunately, you'll get a tax break if you move to Portugal. Any income from pensions, Social Security, and other foreign sources (such as your investments) will be free from local taxes for ten years if your home country has a double-taxation treaty with Portugal, as the United States, Canada, and the United Kingdom do.
Healthcare
Portuguese healthcare was ranked by World Health Organization as the 12th best system in the world, out of 190 countries. (The United States ranked 37th, by the way.)
Like most European countries, Portugal has two separate healthcare systems — a publicly financed National Health Service that is available to all citizens, along with a private healthcare network available on a fee basis, which is what non-citizens would use. Expats in Portugal should purchase international health insurance; in fact, it is required for visa applications.
Doctors are generally trained to North American or European standards, and many speak English, especially in the tourist destinations.
Ease of Immigration
Portugal welcomes immigrants and their requirements for visas and permanent residence are low enough for most retirees to meet.
The process and the paperwork can be lengthy and tedious, but it's doable. Specific instructions may be found here.
You will benefit from hiring a reputable immigration attorney who knows the process thoroughly and can ensure that the process runs smoothly.
You can qualify for permanent residency in Portugal simply by showing a reliable income, either earned or passive, of at least €1,100 per month. This requirement is not specific to retirees; you can apply and qualify at any age. To maintain residency status, you must be physically present in the country for 183 days or more every year.
Portugal also offers a Golden Visa program, in which you qualify for residency by buying real estate. The required investment amount ranges from €500,000 to as little as €280,000 for a renovation project in an identified low-density or depressed region. Under the Golden Visa program, you only need to be present in the country for a minimum of one or two weeks a year.
Of course, it's not a good idea to buy real estate in a foreign country before you have lived there for at least a year. You will want to be sure that you are going to enjoy living there, and you will need time to explore various places to live, become familiar with local laws and prices, and establish relationships with reputable realtors, attorneys and financial institutions.
Once you have been a legal resident for six years, you can apply for Portuguese citizenship. This will open the door to moving elsewhere in Europe, if that's your ultimate goal. The US and Portugal allow dual citizenship.
LGBT Friendliness
Portugal was the sixth country to legalize same-sex marriage. Generally, Lisbon, Porto and the Algarve are tolerant and accepting of LGBT people. Once you leave these areas for the countryside, people tend to be more conservative and not as welcoming.
You can find an LGBT community and LGBT-owned businesses in these three areas. Lisbon and Porto each host an annual LGBT film festival, and there are several LGBT-owned bed and breakfasts in the Algarve.
~~~~~ continued below ~~~~~
These two websites offer extensive resources about moving to and living in Portugal as an expat:
https://www.liveandinvestoverseas.com/country-hub/portugal/
http://www.expatexchange.com/portugal/liveinportugal.html
Other articles you will enjoy:
Can You Really Save Money by Retiring Overseas? Should You?
10 Great International Retirement Destinations
Fabulous Places to Retire: Spain
Fabulous Places to Retire: France
Fabulous Places to Retire: Uruguay
Fabulous Places to Retire: Colombia
Fabulous Places to Retire: Malta
Please feel welcome to comment below.
Share on Pinterest

---
© 2017 Dave Hughes. All rights reserved.
Updated January 8, 2020.
Photo credits:
Lisbon: Dave Hughes
Lisbon: Dave Hughes
Porto: nathsegato
Algarve beach town: angel48
Algarve beach and caves: moniek58
Benagil Cave, Algarve: Bruno Carlos. Some rights reserved.
Porto and River Douro: nuno_lopes
Porto at night: Another_Simon
Lisbon: Dave Hughes