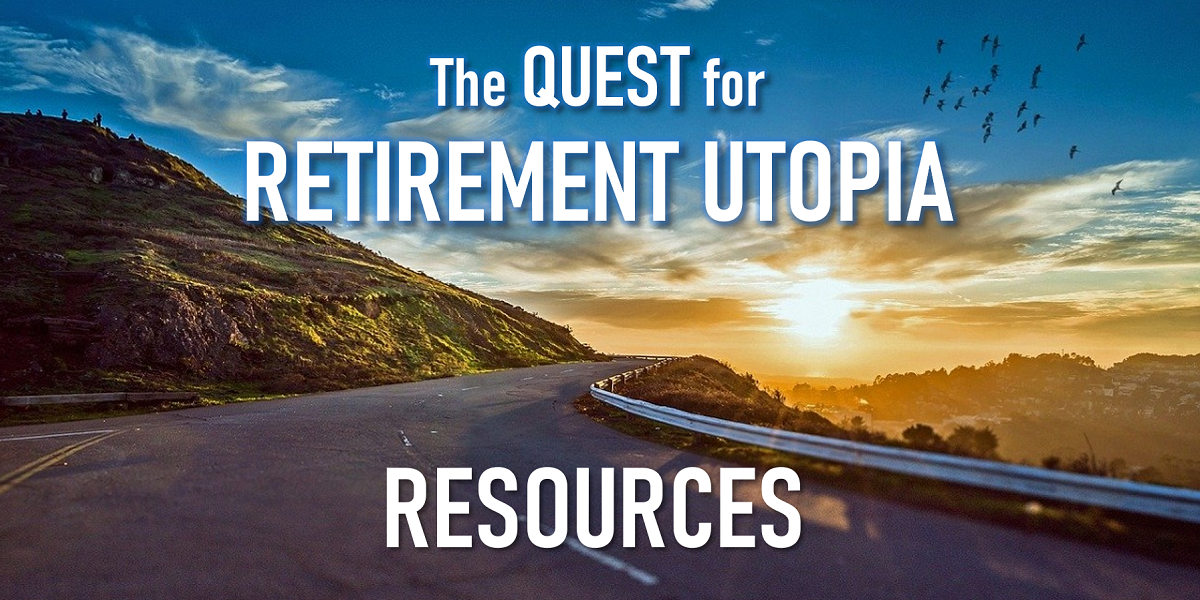 On this page you will find dozens of useful resources to assist you in your search for the best place to retire.
This webpage is a companion to my book, The Quest for Retirement Utopia: How to Find the Retirement Spot That's Right for You.
You can buy the book from any of these online vendors:
Paperback

eBook

Buy Direct and Save


(Kindle, eBook & PDF)


Other Vendors
DISCLAIMER: While the resources listed on this page are well-established websites and I have exercised care in selecting them, there is no recommendation or guarantee implied, and I cannot be held responsible for any problems that may arise if you use one of these services. I have not received any form of compensation from any resource listed on this page.
---
Jump to United States Resources
Cost of Living/Quality of Life  |  Best & Worst States & Cities  |  Tax Info  |  55+ Communities  |  Healthcare  |  RV Living  |  Other
Jump to International Resources
Cost of Living/Quality of Life  |  Expat Guides & Forums  |  Insurance  |  Housesitting & Rentals  |  Foreign Property  |  Culture  |  Visas & Residency  |  Country Info  |  Other
Jump to LGBT Resources
---
What's Most Important to You?
100 Questions to Answer Before You Move is a self-assessment questionnaire that will help you identify and clarify your priorities for what you should look for in a retirement destination.
The Retirement Visualization Guide will help you envision what your retirement might look like. It will help you brainstorm possibilities, clarify your values and priorities, and how you'll spend your leisure time. This will help you decide on the best places for you to live.
What to Look For When You Visit a Potential Retirement Destination is a checklist you can use when you visit a place you think you might want to live.


Cost of Living and Other Quality of Life Data Sources and Comparison Tools
City-Data.com
– almost everything you could possibly want to know about a city, a town, or even a neighborhood.
Sperling's Best Places – offers comparisons between any two places for cost of living, crime, climate, healthcare, and more.
World Population Review's Cost of Living by State, with several sortable categories and some city data.
TopRetirements.com – Offers descriptions of active adult communities, city and state info, interesting articles, and a Retirement Ranger that suggests locations based on criteria you enter (one-time $25 fee). This website has a very engaged reader base that offers insightful comments on most articles.
MarketWatch's Where's the Best Place for Me to Retire tool allows you to enter up to 5 must-have and 5 nice-to-have criteria, then it will return a list of places that meet your criteria.
Best-Place-to-Retire.com has a "Best Place to Retire" quiz that collects a lot criteria with ranked importance, but may return some questionable results. This website offers community and retirement-related information about many communities throughout the country.
Niche.com contains a plethora of user-submitted comments about what it is like to live in a place. It is not retirement-specific.
Community Crime Map – excellent resource for evaluating crime at the neighborhood level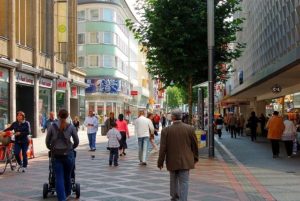 Walk Score – offers a rating of any area in terms of walkability, bikeability, and availability of public transit.
EPA's Smart Location Mapping – a different index of walkability.
Walk Score and the EPA's Smart Location Mapping have drawn criticism with regard to their accuracy.
State of American Well-being 2017 State Rankings (Gallop) – Some aspects of "well-being" can be attributed to your surroundings and some states are better for this than others. But most factors related to your well-being are within your control, no matter where you live.

Best and Worst States Lists, and Some Best and Worst City Lists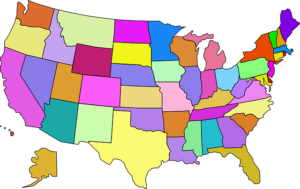 States: WalletHub  |  Kiplinger  |  Rich State, Poor State (economic outlook) 
TopRetirements state guides offer a summary of climate, economy, taxes, home prices, and some recommended locations for each state.
MarketWatch's Retire Here, Not There series offers a profile of many states, although the articles were written between  2013 and 2015.
Cities:  WalletHub  |  Sperling's Best Places 

Tax info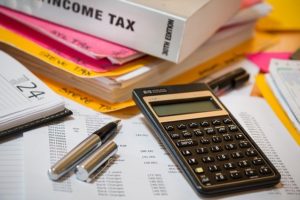 The Tax Foundation – I especially recommend their PDF booklet, How Does Your State Compare – 2019
tax-rates.org – federal, state, county, and city tax information, including income tax, sales tax, and property tax rates.
Smart Asset provides a map with state ratings for tax-friendliness, a brief overview of each state's tax structure as it applies to retirement income, and a calculator that lets you figure out how much state tax you would owe throughout the country.
Kiplinger provides a map of all states rates from most to least friendly for retirees. This has a tool that lets you compare several states – very useful!
TheBalance.com: State Income Taxes in Retirement (article)
Federation of Tax Administrators – Links to every state tax agency's website

55+ Active Adult Communities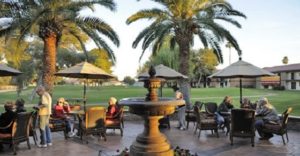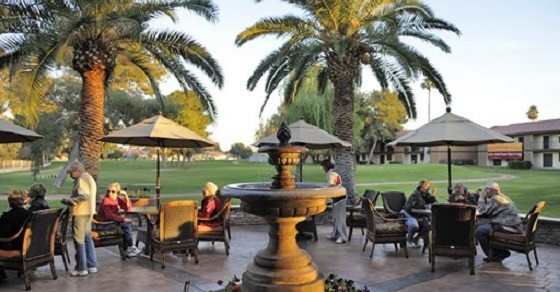 TopRetirements.com – Active adult communities, city and state info, interesting articles.
55Places.com – Active adult communities
RetirementLiving.com – Active adult communities, Independent living communities, In-home care, Continuing Care Retirement Communities (CCRC), Assisted living communities, Nursing care facilities and Alzheimer's care facilities
Recommended book: Leisureville: Adventures in America's Retirement Utopias, by Andrew D. Blechman. (This book was retitled Leisureville: Adventures in a World Without Children for the paperback and Kindle editions.)

Healthcare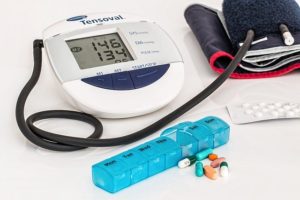 U.S. News Annual Rankings of Best Hospitals by Region and State  |  U.S. News Healthcare Quality Rankings (Medicare, hospitals, and nursing homes)   
HealthGrades Hospital Quality in America (WebMD) 
Genworth Cost of Care Survey – lists the costs of various types of care by state and by region within state. Offers a comparison tool to compare any two locations.
Long-Term Services & Supports (LTSS) State Scorecard – a joint effort by AARP, the Commonwealth Fund, the SCAN Foundation, and the AARP Foundation, this scorecard looks across all categories to measure state-level LTSS system performance from the viewpoint of users of services and their families.
Best and Worst States for Healthcare (Wallethub)
Best States for Healthcare (2020, MoneyRates)
Best quality of life for retired and elderly Americans (USA Today)
The Healthiest States for Seniors (2017, MedicareSupplement.com)

RV Living
RVer Insurance Exchange's 2019 Guide to Health Plan Options for RVers – a comparison of insurance options
Healthcare & Health Insurance for Full Time RVers (Technomadia)
Several good health insurance blog posts (WheelingIt)
Where to find free camp sites: FreeCampgrounds.com and FreeCampSites.net
Excellent article about camp site rates (Wand'rly)
Websites about full-time RV living: Wand'rly  |  Camper Report  |  About RVing
How to Enjoy US National Parks Responsibly – a thorough and insightful guide that also enumerates the many benefits of spending time outdoors and provides some useful resources for making the most of our wonderful national park system.

Other
The Milken Institute's Best Cities for Successful Aging Report:  2017  |  2014
Best and Worst Run States in America
State Economic Health (Mercatus Center at George Mason University) – A state's economic health can impact tax rates, employment, and other factors which can determine quality of life in the coming years.
State Median Age Map (Business Insider)  |  List of U.S. States and Territories by Median Age (Wikipedia)
The Physical Activity Council's report on shifting recreational trends (referenced in Changing Retirement Trends chapter)
What You Need to Know When the HOA Takes Over from the Developer (TopRetirements)


Cost of Living and other Quality of Life Data Sources and Comparison Tools
Numbeo – My favorite international comparison tool. It compares Cost of Living, Property, Crime, Health Care, Pollution, Traffic, and Quality of Life. The data is crowd-sourced, but it usually seems pretty accurate.
Expatistan – this website offers both rankings and a comparison tool.
WorldData's rankings of every country for Cost of Living and Quality of Life.
OECD Better Life Index – an interactive tool that will recommend countries to live in based upon your weighting of quality of life criteria (not retirement-specific).
Mercer's Annual Cost of Living Survey
Expat Guides and Forums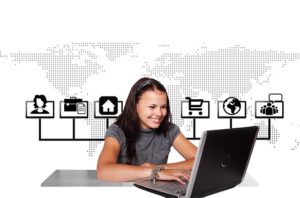 Expat Exchange – Possibly the most complete resource for expats. This website covers nearly every country where expats live. It contains lots of good articles and country forums in which individual residents share their advice and experiences. This website contains a lot of useful information about healthcare, real estate, shipping possessions, mail forwarding, banking, etc. It has a section that is specifically focused on retirement.
Expat – This website has forums for practically every place on earth. It claims to have 2.5 million members in 500+ cities in 197 countries. Most content is user-supplied, and the website contains lots of articles in the Magazine section. Not specifically focused on retirement.
Expatica – This website serves all expats, not just retirees. It provides expat guides for France, Spain, Portugal, South Africa, and several other countries that don't offer retirement visas, as well as a Global guide. Their information is very thorough.
Transitions Abroad – This site is a little more focused on working and teaching abroad, but it has a lot of good information about living and traveling abroad. There are plenty of articles about the expat experience.
Just Landed – Offers thorough, comprehensive expat guides to almost 70 countries as well as expat groups, a directory of companies providing services to expats, and property information.
Internations – This website offers guides to 200 cities and claims to have expat groups in 420 cities. In each, there are various events and activity groups. You will need to provide an email address to access the information. They produce an annual report called Expat Insider that rates and ranks practically every country in the world based on surveys from over 20,000 expats from all over the world.
Expat Info Desk – expat guides to 26 countries in Europe, Asia, Oceania, and North America, and lots more information. Note that some information is now outdated.
Best Places in the World to Retire – Despite it's name, this website only contains comprehensive information on Mexico, Belize, Nicaragua, Panama, and Portugal. It has a Worldwide section with some good information of general interest, including plenty of stories from expats about their experiences.
Ask an Expat (SpendLifeTraveling.com) – Interviews with expats living in places all over the world. Many are working people, so not every place is a place you can get a visa after you retire.
Association of Americans Resident Overseas (AARO) – An international, non-partisan association with members in 46 countries, founded in 1973. It provides its members with updates on key issues, alerts on the need to take action, and access to a network of experts. As part of its advocacy work, AARO actively educates Congress, the media, and the public on such vital topics as taxation, absentee voting, citizenship, representation, Social Security, and Medicare. As a service to its members, it also gives them access to a reasonably priced health insurance plan.
American Citizens Abroad (ACA) – educates both the US Government and US Citizens living and working overseas on critical issues impacting the overseas American community. They have a good Resources page.
The Migration Policy Institute's Immigrant and Emigrant Populations by Country of Origin and Destination – an interactive map that lets you discover how many people have moved between any two countries. This data covers all immigrants, not just retirees.

Insurance
Companies offering international health insurance:
AARO Health Insurance Plan for Expat Americans (requires membership in AARO)
Aetna International
Allianz Care
BUPA Global
Cigna
GeoBlue
World Nomad – travel insurance that is well-suited for visiting multiple destinations while researching places to live.
There are probably other good companies as well, including some that serve specific countries.
I have not researched any of these companies or compared coverage or prices.
No endorsement, recommendation, or guarantee is implied.
WeExpats Insurance is a global insurance broker that focuses on health products for expats. Every year they assess all the providers out in the market to help their clients get the best coverage, for the lowest cost. They also have a support staff to help with emergencies and filing claims.
Articles about finding international health insurance:
How to Choose Between Local or Expat Insurance (Expatica)
How to Choose the Best Expat Insurance (Expatica)

Housesitting & Foreign Rentals
HouseCarers.com
HouseSitMatch.com – specializes in homes with pets.
HouseSittersAmerica.com – United States only
LuxuryHousesitting.com
MindMyHouse.com
NomadRental.com – curated serviced apartment hotels for remote workers, digital nomads, and adventurous travelers.
TrustedHousesitters.com – specializes in homes with pets.
While these are well-established websites, there is no recommendation implied, and I cannot be held responsible for any problems that may arise if you use one of these services.

Foreign Property Resources
Realtor.com International Listings – Skewed towards higher-end listings, but there are some lower-priced listings as well.
Global Property Guide – Lots of information about local real estate markets, laws, taxes, etc.

Learning About and Adjusting to Other Cultures / Dealing with Culture Shock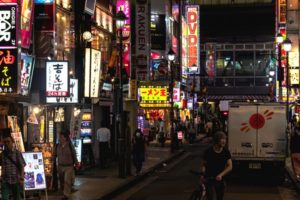 Culture Shock: 10 Tips for Coping as a New Expat (Country Navigator)
How to Manage Culture Shock (Expatica)
Expat Living: The Stages of Culture Shock and How to Avoid Them (Rebecca and the World)
Moving Abroad: Expat Culture Shock (Expat Exchange)

Other Research Resources
U.S. State Department's International Travel website – Thorough information on a nation's security, political stability (or lack thereof), health (including recommended vaccinations), travel information, and more.
Smart Traveler Enrollment Program (STEP) – The State Department will send occasional travel advisories, which are useful for monitoring safety concerns for a country you are considering moving to. When you travel to the country or move there, you should register your trip.
World Wide Tax Rates – and other financial news.
Trading Economics – an excellent source for information and forecasts for a country's exchange rates, inflation rate, and overall economic health.
Social Security Payments When You are Outside the United States
The Ultimate Moving Abroad Checklist (Expatica)

Visa and Residency Information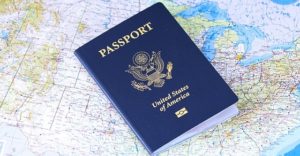 Escape Artist has a good summary of residency options for many countries of interest. Note that it often addresses residency options for retirement, but this is not its exclusive focus. 
Austria  |  Chile  |  Costa Rica  |  Ecuador  |  France  |  Italy  |  Malta  |  Mexico  |  New Zealand  |  Panama  |  Portugal  |  Spain  |  Thailand  |  Uruguay

Mexico
Mexperience.com – The entire website is excellent (and free from marketing propaganda). Considerations for Retirement in Mexico is essential reading.
Expats in Mexico
US State Department's Mexico information page
US State Department's Travel Advisory website – Generally, if there are Level 4 restrictions in place for travel by U.S. government employees, you should probably not travel or live there.
Costa Rica
A Little Adrift: Cost of Living in Costa Rica – a reality-based first-hand assessment of what it's like to live in Costa Rica. It contains a lot of links out to other articles and books.
Panama
A Little Adrift: Cost of Living in Panama – a reality-based first-hand assessment of what it's like to live in Panama. It contains a lot of links out to other articles and books.
Ecuador
Gringos Abroad – plenty of first-hand information and stories written by people who actually live there.
Uruguay
Retire in Uruguay (Escape Artist)
Uruguay Relocation (Fischer & Schickendantz)
Chile
10 Tips for Living in Chile (Expat Exchange)
How We Chose Chile as Our Expat Destination (Escape Artist)
Portugal
United States Citizens Moving to Portugal: Demystifying the Paper Trail (Expat Exchange)
Spain
Moving to Spain (Bill Detrich) – A very detailed account of the entire process, with dozens of links to other articles and resources.
France
How to Retire in France (Investopedia)
Best Places to Retire in France for Expats (Grey World Nomads)
Malta
Where to live in Malta (Expat-Quotes)
36 Shocking Pros and Cons to Living in Malta (TheRealMalta.com)
Germany
How to Retire in Germany – A complete Guide (Transfer Wise)
A Guide to Retiring in Germany (Expatica)
Italy
7 Tips for Obtaining Residence in Italy (Expat Exchange)
Canada
The Citizenship and Immigration Canada website provides an online questionnaire that will help you can assess whether you might qualify for a visa. Generally, retirees from the US can stay in Canada for up to 180 days a year, but will not qualify for permanent residency. 


National Resource Center on LGBT Aging 
SAGECare provides competency training on LGBT competency to senior care providers. This searchable provider directory lists facilities and agencies that have completed training.
HRC Municipal Equality Index (MEI) – examines how inclusive municipal laws, policies, and services are of LGBTQ people who live and work there.
HRC Healthcare Equality Index (HEI) – the national LGBTQ benchmarking tool that evaluates healthcare facilities' policies and practices related to the equity and inclusion of their LGBTQ patients, visitors and employees.
Gay & Lesbian Medical Association (GLMA) – includes a provider directory.
Prime Timers Worldwide – a network of social clubs for gay and bisexual men, with chapters throughout the U.S. and Canada.
EqualDex – monitors LGBT rights in every country.
The Williams Institute's Social Acceptance of LGBT People in 141 Countries
---
(c) 2020 Dave Hughes. All rights reserved.
Image credits:
Highway into the sunrise: Jan Alexander
American flags: Clarence Alford
Laptop with spreadsheet: Pexels
Pedestrians: Jörg Möller
State map: OpenClipart-Vectors
Calculator: Steve Buissinne
Outdoor tables and palm trees: Scott Jacob. Some rights reserved.
Blood pressure monitor and pill box: Steve Buissinne
Motorhome: Siggy Nowak
International flags: Marmit
Woman using social media: Gerd Altmann
Woman receiving blood pressure test: Hamilton Viana Viana
Living room: bedrck
Asian street: Rémi Bertogliati
Passport: cytis
Rainbow flags: Jasmin Sessler