You know it's out there somewhere – the perfect place to retire. A place that's comfortable, classy, rich with amenities, and located in a beautiful area with perfect weather and scenic views.
Could such a place actually exist? Or is there always going to be someplace else where the grass is greener?
Of course, no place is perfect. And what may seem like Retirement Utopia to you might be completely undesirable to someone else.
But I recently visited a place that had so much going for it, I found myself wondering if I had found Retirement Utopia.
In March, 2015, my husband and I took a mini-vacation to the beautiful wine country in Sonoma and Napa counties, north of San Francisco. In addition to tasting a heady array of delicious wines (and coming home with far more than we had anticipated), we took the opportunity to visit and tour Fountaingrove Lodge on the north edge of Santa Rosa. To say we were impressed would be an understatement.

Fountaingrove Lodge is one of only a few retirement facilities developed with the LGBT community in mind as its primary clientele, and certainly the only one in its class of service. Straight allies are welcome, and indeed a few live there. (This article provides an overview of the other options currently available to LGBT seniors in the U.S.)
Fountaingrove Lodge was completed and welcomed its first residents in late 2013. It consists of 63 apartments in the main lodge and six freestanding bungalows. There are ten floor plans: three with 1 bed/1 bath (833-950 sq. ft.), four with 2 beds/2 baths (1180-1500 sq. ft.), and three with 2 beds/2 baths and a den (1651-2001 sq. ft.). As of our visit, the facility was about 70% filled.
One thing that makes Fountaingrove Lodge unique among LGBT-focused options is that it is the only Continuing Care Retirement Community (CCRC). That means that as residents progress from being active and independent to requiring various levels of assisted living and skilled nursing care, their needs can be met while they remain in their home. Only those who require memory care would need to move to another facility on the same property.
The apartments are spacious, beautiful, and well-designed. Every unit has a patio or balcony, and most of the views are breathtaking. The kitchens are full-sized and feature granite countertops and high-end appliances. The common areas are tastefully designed and immaculately maintained. Perhaps our tour took place soon after a weekly cleaning, because everything was so spotless we wondered whether anyone actually lived there.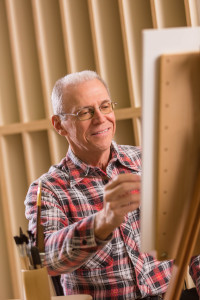 Speaking of common areas, there's a formal dining room, two private dining rooms that can be reserved for special occasions, a bistro, a cocktail lounge, an art studio, a wood shop, a high-def movie theater in which every seat is a reclining lounger, an activity room, a great hall with a small stage, a fitness center, a wine cellar, a library, a salon and day spa, a pet park, resident gardens, a pool, a bocce court, and a bank. There's an indoor parking garage as well as individual garages that residents can rent.
Recognizing that residents probably won't want to eat every meal in the formal dining room (after all, each apartment has a full kitchen and there are plenty of restaurants in Santa Rosa), Fountaingrove Lodge has devised a plan in which residents receive a certain amount of monthly credits that provide for a flexible combination of lunches, dinners, and guest meals. Daily Continental breakfasts are included in the monthly fee and are not part of the meal credit plan.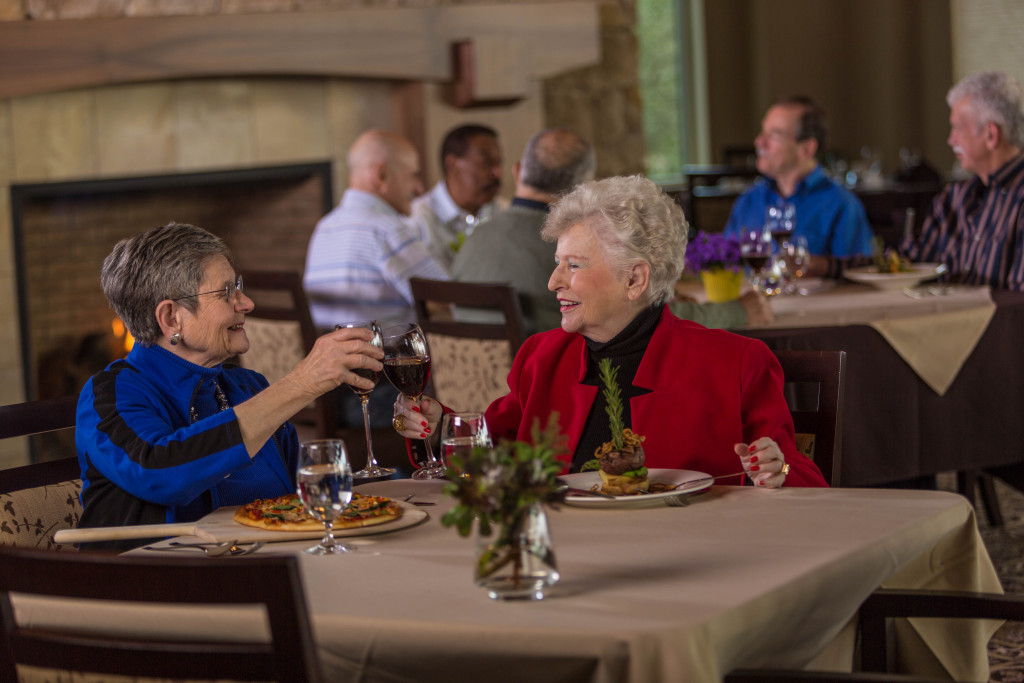 Everything is tasteful and up-scale. No corners have been cut. The thought that kept occurring to us as we toured the Lodge is, "they have thought of everything."
No doubt you're wondering how much this luxury living in a nearly perfect environment costs, and that's where the reality check sets in. Fountaingrove Lodge isn't "too good to be true," but it is too good to be inexpensive.
~~~~~ continued below ~~~~~
To live at Fountaingrove Lodge, you would pay an entrance fee and a monthly fee, both of which vary based on the size of your apartment. This payment structure is a common feature of CCRCs.
You can choose among an entrance fee that is fully refundable when you vacate your apartment (either when you choose to move or after you pass away, in which case it passes to your estate), one that is 50% refundable when you leave, or one that is partially refundable during the first five years and non-refundable thereafter. Fully refundable entrance fees range from $359,500 to $875,500 for the apartments in the main lodge. The bungalows are somewhat higher. Partially refundable fees range from $147,800 to $422,800.
The monthly fee, which covers weekly cleaning, the meal credits described above, a full schedule of activities, and a bevy of other services, ranges from $3,395 to $5,525 for one person. For a second person, add $975. The only utilities residents are responsible for are telephone and premium cable channels. When assisted living care services are needed, those may add to the monthly fee.
These fees are within the ranges of other CCRCs around the country, and keep in mind that real estate is expensive in Santa Rosa. Still, this is a lot of money. It's probably out of range for people who aren't in the upper-middle class strata and haven't saved well for retirement.
Hopefully, the success of Fountaingrove Lodge will encourage more developers to create CCRCs and other senior community options for LGBT seniors around the country at a variety of feature levels and price points. 
There are a few government-subsidized low-income homes around the country, and a couple stand-alone housing developments and mobile home parks, but there are still many gaps in what's currently available. With more LGBT baby boomers entering their retirement years, hopefully more options will become available.
Jeff and I have always envisioned aging in place in our home for as long as possible. We favor single-family homes over multiple-unit buildings. But I must admit that our tour through Fountaingrove Lodge had me rethinking my preferences, envisioning new possibilities, and running numbers in my head.  Living there seems like it could be very nice.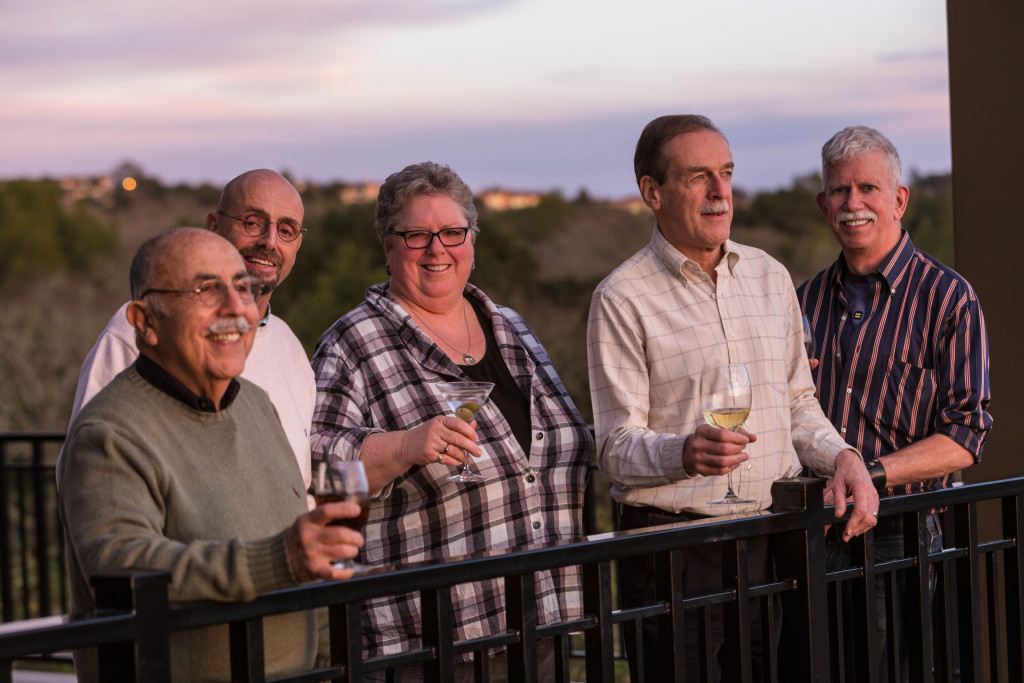 For more information:
Oakmont Senior Living (Fountaingrove Lodge's developer/builder/managing company)
Articles about Continuing Care Retirement Communities:  AARP, A Place for Mom

(c) 2015 Dave Hughes.  All rights reserved.
All photos are provided by Fountaingrove Lodge and used by permission.  All rights reserved by Fountaingrove Lodge.
I received no compensation or other considerations for writing this article.