Living a fabulous retirement – or enjoying your life at any age – does not necessarily require having a large amount of money to spend lavishly. It means designing a life for yourself (and your spouse, if you have one) that is happy and fulfilling.
This doesn't require a lot of money in many cases. On my list of 100 Things You Can Do After You Retire, 62 of those are things you can do for little or no money. Some might actually make money. It's true that the best things in life are free; for others, there are discounts.

In this article, I'll suggest 100 strategies you can employ in your day-to-day life to reduce or eliminate expenses that will have minimal impact your quality of life, so that you can have more to spend on what really brings value to you. Only 8 of them relate specifically to senior citizens; the remaining 92 can be utilized by anyone.

Many of these suggestions may seem obvious to you, but knowing something and actually doing it are two very different things.
I hope that you are able to find at least a few ideas here that will help you stretch your dollars further and make your life better.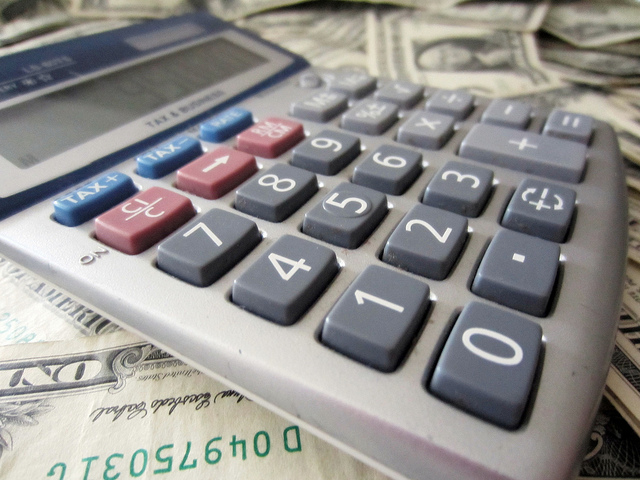 Do you know where your money goes?
You may not be fully aware of where your money goes each month. During your working years, as long as your spending does not exceed your earnings, you can get by without having to worry too much about adhering to a budget.
If you don't know where all of your money goes each month, the first step is to figure this out. Go back through your bank statements and credit card bills for the past six months to a year, and record how much you are spending for various categories of expenditures. You may need to closely track your spending habits for a three to six-month period. For more on how to do this, see this article.
This may be an eye-opening experience. You may not fully realize how much you are spending each month eating out, making impulse purchases, buying coffee at Starbucks, and so on.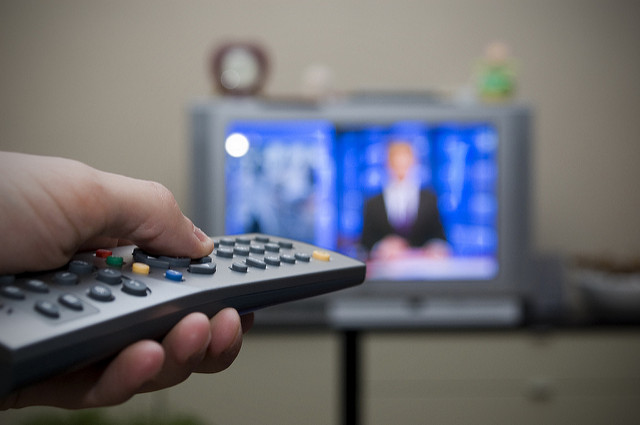 What can you reduce or eliminate?
You might be surprised to discover how many of your expenditures are frivolous and provide only momentary gratification. You can reduce or eliminate these expenditures without significantly impacting your quality of life.
1. Cable TV. Television is a passive activity. Get out and enjoy some activities that bring you physical activity, mental stimulation, human contact, and fulfillment.
There is some worthwhile programming on television, but most of it has little lasting value. For the TV you do watch, consider an internet streaming service such as Hulu, Netflix, or Amazon Prime.
2. Landline phone service. Consider ditching your landline and using only your cell phone. These days, most calls we receive on our landline are unwanted robocalls. Besides, in the current era of email, texting, and Facebook messaging, people don't talk on the phone nearly as much as they used to (sadly).
3. Expensive cell phone plans. While modern cell phones offer many capabilities such as maps, internet access, and texting, consider what you actually use and what you could do without. AARP's Consumer Cellular plans start at under $10 a month. However, these plans do not work outside the U.S. If you're not old enough for AARP yet, check out Tello or Ting.

4. Expensive cell phones. While the newest models may tempt you with larger size, more memory, a better camera, or other slick new features, resist the urge to upgrade your phone frequently. When you do, opt for last year's model. The price will drop significantly when a new model comes out. If the battery starts on your older phone starts dying you can replace the battery for much less than buying a new phone.
5. Gym memberships. If you use the gym regularly, then your membership fee provides good value. But if your road to the gym is paved with good intentions yet you rarely go, cancel it.
Consider which gym amenities you use, and consider whether you can achieve the same results elsewhere. For example, if you use the treadmill, you could gain the same benefit by walking outdoors. In inclement weather, you can walk through the local mall.
Some health insurance plans offer free or reduced gym memberships through the Silver Sneakers program.
6. Subscriptions. If you find that you don't regularly read the magazines or newspapers you subscribe to, don't renew them next time they come due. Most of their content is available online.

If you subscribe to anything else that arrives at a regular interval, such as books, music, recipes, or wine, take a critical look at how much value you are getting. You will probably be better off buying these items when (and if) you need them. Subscription deals always work in favor of the seller.
7. Cars. After you retire, you can probably get by with just one car or perhaps no car at all. When you add up the cost of gasoline, maintenance, and insurance, it becomes apparent that a car is a pretty expensive convenience.

Ridesharing services such Uber and Lync offer a good alternative to owning a car. Paying for Uber, Lync, taxies, or bus passes may seem like a lot of money trickling out of your pocket, but when you consider the money you're not spending on gas, maintenance, and insurance, it's probably much less expensive. You can rent a car when you want to take a weekend trip or have a special need.
If you are considering moving after you retire, consider locations that are highly walk-able, bike-able, or have good public transportation. (See WalkScore.com)
8. Buy a new car for less. AARP offers an auto buying program, as do wholesale clubs such as Costco and Sam's Club. If you're still working, your employer may offer a car buying service as a benefit, and that may be available to retirees too. These programs offer negotiated pricing on cars, which eliminates the need for haggling with a salesperson. If you have more than one of these programs available to you, get a quote on your desired vehicle from each of them. They will probably be different.
Carvana and CarMax also offer no-haggle buying and they deliver the car to your door. They offer a seven-day money-back guarantee in case you decide you don't like the car.
Also consider buying a used car from a rental car company.
9. Improve your mileage by keeping your tires properly inflated, keeping the air filter clean, using cruise control, avoiding hard stops, and removing the cargo rack from the top of the car when you're not using it.
10. Get insurance quotes at least every two years. Insurance companies know that once you sign on with them, you are likely to automatically renew each year. They often quote low rates when you initially inquire, but those rates slip up a little bit each year.
While it's easy to get quotes online, it may help to speak to an agent to ask if there is anything else they can do to lower your rates.
11. If you don't drive a lot, switch to per-mile auto insurance. Some carriers, such as Allstate, offer plans that charge based on the miles you drive. The level of coverage is the same, but you will probably pay much less.
12. Cancel collision coverage for older cars. You will only be reimbursed for the car's blue book value if it's totaled. For an older car, that may be only a few hundred dollars. It's probably less costly to absorb that cost if it happens than pay a higher premium for collision coverage.
13. Switch to automatic bill pay whenever possible. You'll save on postage stamps and late fees, should you ever forget a payment.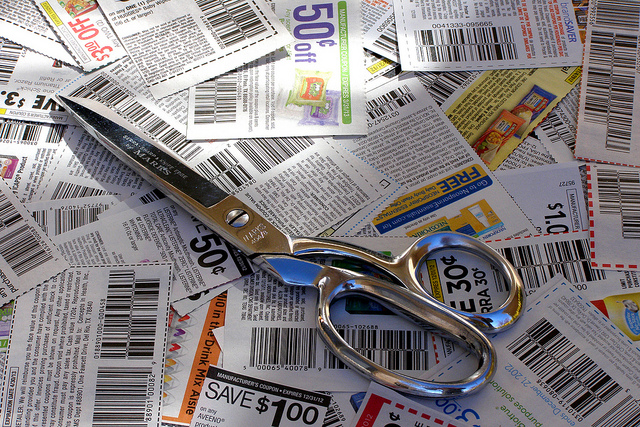 Become a smarter shopper!
14. Use coupons. While it can be a hassle to cut out, collect, and track coupons, they really do save money. Many stores now let you add coupons to your loyalty account on their website, eliminating the need for paper coupons. You can also visit websites such as Coupons.com.
15. Shop online. It's easier to compare prices, which can help you snag better deals. While you can't see and touch the item in person, you gain the benefit of reading other people's reviews of the product and comparing prices and features from multiple sources side-by-side. Most reputable websites offer sufficient return policies.
16. Find coupon codes. If you see a box for a promotion code or coupon code during the checkout process, go to CurrentCodes.com or use Google to search for a coupon code. Read more on how to find and use online coupon codes here.
17. Stock up on things when they are on sale – as long as they are things you regularly use. Don't stockpile things that may go bad before you get a chance to use them. Don't buy things only because they are on sale.
18. Check out grocery store loyalty programs. Many stores offer special deals to customers who belong to their loyalty program. In some markets, stores offer discounts at local gas stations or they will contribute money to a non-profit of your choice based on the amount of your purchases.
19. Buy flour, spices, snacks, etc. from the bulk food bins. Plastic storage containers and Ziplock bags are your friends! Sometimes, ethnic spices are significantly cheaper if you go to a store that is operated by and caters to people of that ethnicity (e.g. Mexican, Indian, etc.).

20. Buy store brands instead of name brands. The store brands are often made by the major producers anyway.
21. Make a shopping list and stick to it. Don't be swayed by impulse purchases.
22. Plan your meals based on the weekly grocery store flyers.
23. Check your receipt! Watch the monitor screen at the cashier station and check your receipt before you leave the store. Stores are three times more likely to overcharge than to undercharge. You might be surprised how often sale prices and loyalty card discounts are not applied properly. It happens to me once or twice a month.
24. Avoid shopping malls. Mall stores rarely offer good deals on anything. Rent in shopping malls is high, and the stores thrive on price-insensitive shoppers who browse for recreational shopping.
25. Look for the best value. For most items you buy, whether it's appliances, clothing, cars, food, or anything else, the best value is often not the cheapest option. If the item wears out or breaks quickly you haven't really saved money. Conversely, the most expensive options are usually loaded with features and add-ons you don't need. The sweet spot is usually somewhere in the middle. Value is where price meets quality.

Consumer Reports (either the magazine or the website) is an excellent resource for finding the best value for many items that you purchase. This is one subscription that is worth holding on to.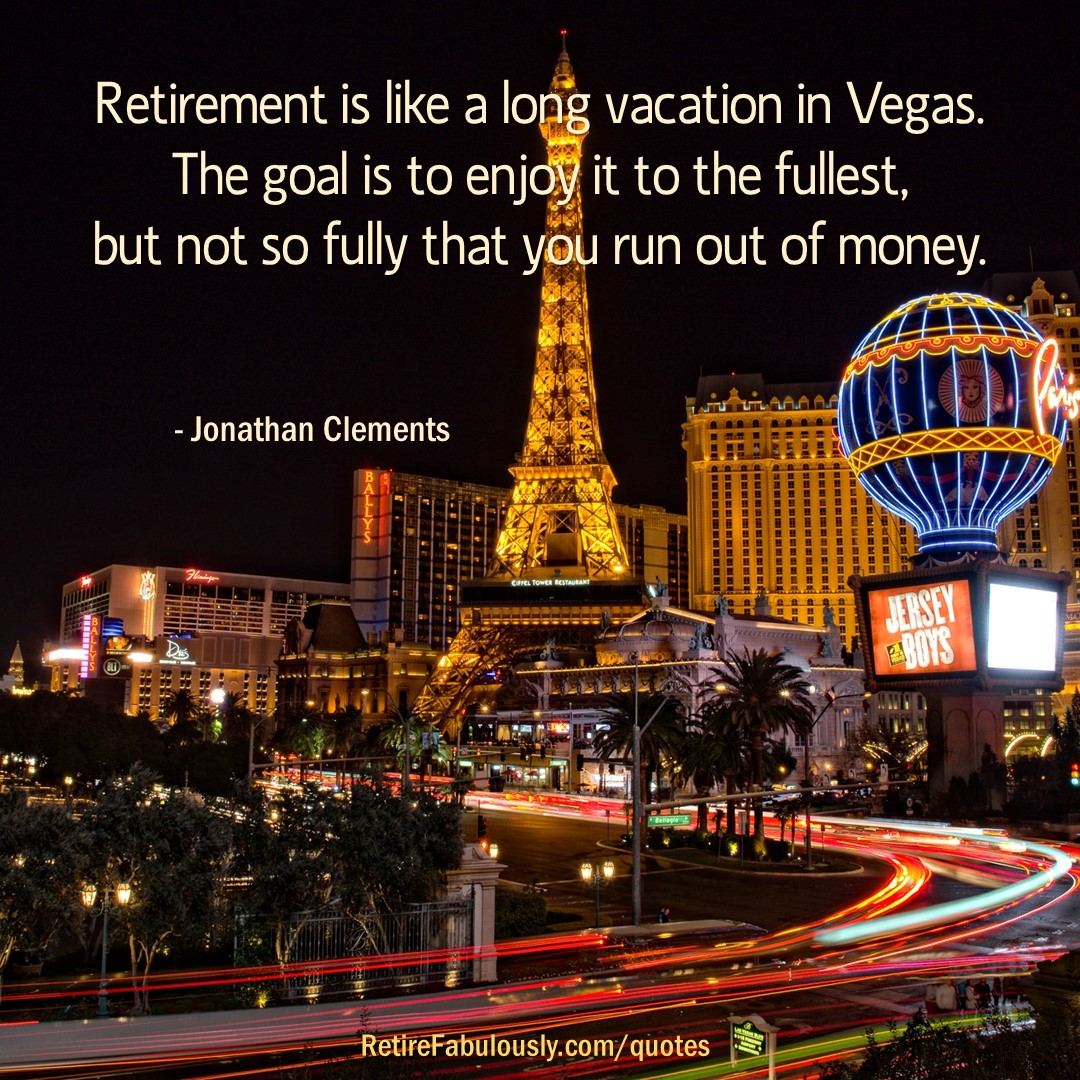 26. Buy eBooks books rather than physical books. eBooks are much cheaper, they don't take up space, they are easier to travel with, and you save on shipping. If you don't have a Kindle device, Amazon offers a free Kindle reader app for most modern computers, tablets, and smartphones.
27. Don't buy salon products for everyday use. These are high-profit items for the salon. Products available in the national chains work fine.
28. Refill liquid soap dispensers and cleaning products. Many products come in larger sizes designed for refilling your smaller dispensers or spray bottles.
29. Buy dryer balls instead of fabric softener. They work surprisingly well.

30. Use Microfiber towels, mops, and dusters. They are washable, so they can be reused hundreds of times. They will trap dust, liquids, oils, and bacteria when moistened with water, so you'll also save on cleaning products.
31. Make your own cleaner. Mix a 4:1 ratio of water and vinegar with a splash of dishwashing liquid in a spray bottle. It will clean most stains as well as surfaces such as mirrors and countertops.
32. Don't buy extended warranties. Salespeople push these because they make more money for the store. If an item you buy has a manufacturing defect, it will go bad during the standard warranty period. The four major credit cards may provide extended coverage. Sometimes warehouse clubs such as Costco do too.

33. Shop around for pharmacy prices. The prescriptions you need are not the same price everywhere. Sometimes, supermarket pharmacies are the cheapest. They may offer you a significant shopping credit ($50-$75) to transfer your prescriptions. Try using RxSaver, available as an app or a website.
34. Ask your doctor about cheaper alternatives. For medications you take regularly, ask your provider to write the prescription for a 90-day supply, and ask if there is a generic equivalent. For some medications (such as Omeprazole for GERD), a prescription is cheaper than over-the-counter products.
35. Find the cheapest gas prices. Add the GasBuddy or Gas Guru app to your phone. They will show you the prices at all gas stations in your area.
36. Look for higher interest rates on savings accounts. You can probably find a better deal from an online bank. Check BankRate.com and DepositAccounts.com for banks that pay the best rates.
37. Use a credit card that pays rebates. Target's RedCard gives you 5% off at Target. Costco's Visa card gives you 4% back on gas, 3% back on restaurant and travel purchases, 2% on items purchased at Costco (stores and online), and 1% off for everything else. The American Express Blue Cash Preferred card returns 6% from purchases at any US supermarket.

DiscoverCard offers 5% back from certain national merchants that rotate quarterly. For example, for January-March you get 5% back on purchases from grocery stores, Walgreens, and CVS. Other quarters feature gas stations, wholesale clubs, restaurants, Amazon, and more.

You probably don't want to have a wallet full of cards, so compare the deals and choose one or two cards that work best for your spending patterns.
Disclaimer: these deals were in effect as of January, 2021. They may change.
38. Consider cancelling your AAA membership. Your auto insurance carrier or credit card may offer roadside assistance plans that are comparable to what AAA offers. On the other hand, if you utilize AAA's travel services and discounts, it may be worth keeping.

Lower prices and discounts are everywhere, if you know where to look for them.
One of the best perks of growing older is the senior discounts! Don't be bashful or self-conscious about asking for them.
39. Shop for groceries on Senior Day. In many markets, the major grocery chains offer a 10% discount to people over 55 on a certain day every month. Find out what's available in your area.
40. Shop at dollar stores and discount outlets. Maybe it's not elegant, but dollar stores and discount outlets such as Big Lots, TJ Maxx, Marshall's, and Home Goods offer fantastic values. The downside is that their inventory is not consistent; they stock whatever their buyers have been able to score deals on. Be careful not to buy things just because they are cheap; buy only what you know you need and are likely to use. You can find great values on clothing and appliances at Goodwill and similar stores, too.
41. Research senior discounts online. SeniorDiscounts.com and TheSeniorList.com are two good sources.
42. Take advantage of AARP discounts. AARP offers a wide range of discounts and benefits, as well as informative reading and resources on their website. Visit their site occasionally to refresh your memory on everything they offer.

43. Get your hair cut at a local beauty school or barber college. The students' work is supervised and an instructor will perform touch-ups if needed, so you will end up with a decent haircut.
44. Ask about open-box items. When you are shopping for appliances, home entertainment electronics, or computers, ask if the seller has any display items or items that have been returned unused. You will realize significant savings. Similarly, when you buy online, consider buying refurbished items. They are usually as good as new and still carry a warranty.
45. Buy at the end of the season. Items such as seasonal clothing and outdoor furnishings will be cheapest at the end of the season, if you're willing to store them until next year.
46. Shop estate sales, second-hand shops, and Craigslist, especially for items like furniture, tools, and decor. The hunt can be fun! Be careful though – you may end up purchasing a lot more than you set out to buy.
47. Shop ReStore for building materials, appliances, and home furnishings. These stores are run by Habitat for Humanity, with 900 locations across the US.

Why pay for what you can get for free?
48. Free Education. edX.org offers free online college courses from prestigious institutions including most Ivy League schools, MIT, Stanford, and dozens of others from around the world. If you prefer in-person learning, some colleges and universities offer seniors the opportunity to audit classes that aren't full at no charge.
49. Libraries. Use your local library for books, music, and movies. Plus, the free OverDrive app allows you to read e-books from your library's collection on your computer, tablet, or phone without even setting foot in the library.

50. Free e-books. Gutenberg.org offers nearly 60,000 public domain e-books.
51. Free movies. Kanopy.com partners with public libraries and universities to stream movies that are in their collections. You won't find first-run big-name films here, but you will find plenty of intelligent movies, documentaries, foreign films, classic cinema, independent films, and educational videos to keep you inspired, enriched, and entertained. Some of these movies were originally shown on networks such as HBO and PBS.
52. Volunteer to be an usher at a theatre or concert hall. After patrons are seated, you can enjoy the performance for free.
53. Free museum passes. In some cities, such as the Phoenix metro area and New York City, libraries offer free passes to local museums. See what's available in your library.
54. Free wi-fi. If you are a light internet user, you may be able to get by without internet service to your home unless you are using an internet streaming TV service. Starbucks and other coffee shops offer free wi-fi, and some restaurant chains are following suit. Your local library probably offers free wi-fi. Many cities are now offering wi-fi hotspots throughout the city.
55. Get reimbursed for ATM fees. Most online and some traditional banks will reimburse you for fees incurred when you use another institution's ATM. But you have to ask. Better yet, compare the fee structure at several banks and switch if you can save money on fees.
56. Free alternatives to Microsoft Office. LibreOffice and Apache OpenOffice are free, and they are mostly compatible with Word, Excel, and PowerPoint.
57. Free tax preparation from AARP. If your tax situation isn't complex, the AARP Foundation offers free tax preparation for people with low to moderate incomes.
58. Free mulch. Many cities and counties offer free mulch or free compost; just search for your community name and "free mulch."
59. Free photo editing software. You can do a lot with Gimp, which is free, as opposed to paying for Photoshop or similar software.
60. Free repairs. If you have clothes, furniture, electrical appliances, bicycles, crockery, appliances, toys, etc. that need repair, don't just throw them away. Repair Café has over 1,500 locations worldwide that are equipped with tools and staffed by volunteer experts who will work with you to fix your broken items.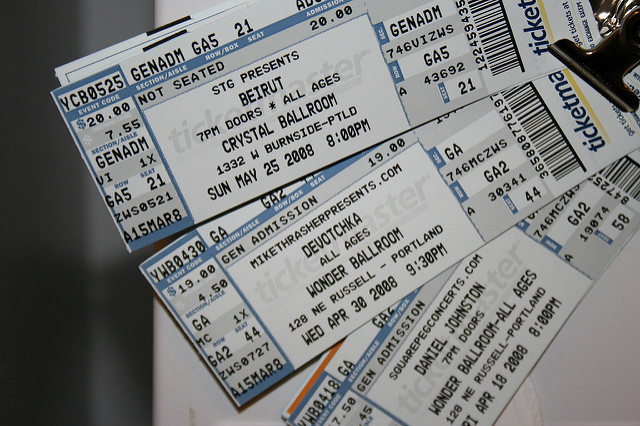 Seek out discounts for local entertainment
61. Discounted or free tickets. Goldstar.com offers substantial discounts to local productions and some national touring acts that run the gamut from the symphony orchestra, opera, professional theatre, and concerts to stand-up comedy in many major cities. Check out VetTix.com if you're a veteran.
62. Colleges and Universities. Local colleges and universities offer many types of performances that are usually free to the public. They are usually of good quality and the students will appreciate having an audience to perform for.
63. Museums. Many museums have free days or evenings on a weekly or monthly basis.
64. Theatres. Theatres may offer deeply discounted admissions to pre-opening night dress rehearsals or abbreviated lunchtime performances.

Other tips for enjoying a quality life while spending less
65. Eat at home. It's no secret that eating in restaurants is much more expensive than preparing food at home. Plus, restaurant food is rarely dietarily responsible, so you can eat healthier at home.
66. Use ceiling fans more. You can then set the thermostat on your air conditioner a little higher so it will run less.
67. Consider renting rather than owning. Okay, this one may be controversial. It goes against everything we have been taught about the value of home ownership. If you currently own your home, it's paid off, and you plan to stay there – great. But if you are going to relocate or downsize after you retire, it may be cheaper to rent.

When you own, you will occasionally have to cough up money for major repairs. If you are renting, you just call the landlord.

The other reason why renting might make more sense is that a large chuck of your assets won't be tied up in your house. If you sell your home when you move and then rent in your new location, you can invest the proceeds from the sale of your house and have more money to live on each month.
68. Change your car's air filter yourself. It's easy, you'll save on labor, and you'll probably pay less for the filter at an auto parts store than what your dealer or auto maintenance shop charges.
69. Do minor home repairs yourself. You can find how-to videos on YouTube for almost every conceivable task. Most projects are easier than you think. If there are several videos for the same project, watch them all. Sometimes the instructions vary considerably.
70. Save on wine. Store brands such as Kirkland (Costco) and Trader Joe's are usually very good and much cheaper than comparable products.
If you live near a Total Wine store, sign up for their Discovery program. For $50, you get two bottles of wine each month (that they select) for six months, a value of approximately $120. It's a great way to discover new wines while saving money. They also offer $100 and $150 tiers if your tastes run towards finer wines.

Save money when you eat out
Sometimes it's nice to eat out, just to get out of the house and save yourself the effort of cooking and washing dishes.

Note: Eating in restaurants during the pandemic is risky. Consider using take-out or delivery. Please stay safe!
71. Opt for counter-service restaurants. You'll save money on tipping.
72. Avoid appetizers, alcohol, and desserts. These are the higher mark-up items. You can enjoy an appetizer before you leave the house and a dessert once you return.
73. If you enjoy having a cocktail and appetizer, check out the restaurant's happy hour. Often, the happy hour specials are available only in the bar area, so stop there first, then proceed to the dining room for dinner.
74. Eat out at lunch rather than at dinner. Many restaurants have a cheaper lunch menu.
75. Look for coupons and deals through sites such as Groupon and Living Social.
76. Sign up for the email or text message lists of the restaurants where you dine most often. They often send special offers to their subscribers. They send emails or texts often (sometimes daily), so be selective. Sometimes, restaurants announce special deals on their Facebook page.

77. Get free food for your birthday! Thrillist has a list of 100 restaurants that will give you free food on your birthday if you belong to their email list or loyalty program. Sometimes the deals are good anytime during the month of your birthday.
78. Dine at a culinary school. The ambiance may not be quite the same, but you can enjoy high-end meals for a fraction of the cost.
79. Look for restaurants that offer senior discounts. Some restaurants offer senior discounts. Don't be bashful about asking! Some servers may be hesitant to ask your age or they may simply not be thinking about it. Your AARP card will gain you at 10% discount at Outback Steakhouse, Carrabba's Italian Grill, and Bonefish Grill, while Denny's offers at 15% AARP discount. Visit TheSeniorList.com for a listing of restaurant chains that offer senior discounts.


Save money when you travel
80. Travel with a water bottle. You can carry it through security empty, then fill it at a water fountain. Gift shops charge high prices for bottled water, and you can save money throughout your trip.
81. Pre-book your airport parking. Some airports offer a discount for booking your parking in advance. Also consider parking at an offsite parking facility. ParkRideFlyUSA.com lets you reserve in advance and offers a discount to AARP members.
82. Ask friends or neighbors to take you to the airport. Of course, you should be willing to provide this service for them too.
83. Avoid foreign transaction fees. Many credit cards impose a 3% surcharge on overseas transactions, but some do not. Websites such as NerdWallet and WalletHub publish articles with the best choices for these cards.
84. Get cash from ATMs overseas. Fees at currency exchange booths are much higher than the fees you will incur at an ATM. If possible, use an ATM belonging to a bank as opposed to no-name ATMs in tourist areas that may also charge higher fees.
85. Fly on Tuesday, Wednesday, or Saturday. Generally, fares are cheaper on these days because there is less demand. If you can travel with a flexible schedule, you can often save money.
86. Opt out of rental car insurance. Your auto insurance policy probably covers rental cars. Check with your auto insurance carrier to be sure. This advice applies only in your home country. If you rent a car in a foreign country, definitely opt for the insurance.
87. Use your AARP card for a discount on car rentals.
88. Buy zip-up compression bags. You put your clothes in a bag and squeeze the air out. You'll be surprised how much more you can fit into a suitcase, so you can save on checked luggage.
89. Buy an America the Beautiful senior pass. If you're a US citizen aged 62 or over and you plan to visit some of the US's wonderful national parks, you can buy an America the Beautiful Senior Pass for $80 that's good for the rest of your life. Each pass covers entrance fees at national parks and national wildlife refuges as well as standard amenity fees (day use fees) at national forests and grasslands, and at lands managed by the Bureau of Land Management, Bureau of Reclamation, and U.S. Army Corps of Engineers. One pass covers up to four people in a car.
90. Use senior discounts when traveling by train. Amtrak offers 10% off for those over 62 and Via Rail Canada offers 10% off for those over 60.
91. Book unused timeshares. Many people have purchased timeshares but don't always use them. You can book these unwanted weeks at Trading Places International or RedWeek.
92. Try house sitting. Some people who need to leave their homes unattended for extended periods of time seek house sitters who will keep their home occupied. In some cases, caring for pets is part of the deal. Several websites serve as matching services, and many list both foreign and domestic locations.
HouseCarers.com
HouseSitMatch.com – specializes in homes with pets.
HouseSittersAmerica.com – United States only
LuxuryHousesitting.com
MindMyHouse.com
TrustedHousesitters.com – specializes in homes with pets.

Spending money now can save you a lot over time
93. Cell phone protection. Buy a protective case and a screen protector for your cell phone. You'll avoid getting a cracked screen and your phone will last longer. Insurance that will repair or replace a damaged cell phone may or may not be worth it, depending on the nature of your activities and the conditions in which you use your phone.
94. Own a stand-alone freezer. This allows you to purchase food when it's on sale, and you can buy the larger quantities they sell at Costco and Sam's Club.
95. Buy a vacuum sealer for storing food. Ziplock bags are fine for short-term storage, but vacuum sealing will preserve your food longer and your food will survive months in the freezer without getting freezer-burned. You can then save money by buying larger quantities of meat in value packs.
96. Consider solar panels. If you plan to stay in your current house for at least ten years, you will probably save money with solar panels. We have them, and we have never regretted the purchase. We save about $2,000 per year on our electric bill. Some months, our bill is less than $20.
If you are planning to stay in your house less than ten years, leasing solar panels may be a more economical option.
97. Buy a tankless water heater. They are up to 30% more efficient because they heat water on demand, whereas traditional water heaters keep water hot all the time.
98. Install a programmable thermostat. You can set the temperature lower while you sleep or during times you are regularly out of the house.
99. Replace your incandescent bulbs with LEDs. LED bulbs used to be expensive, but the price has come down in recent years. They use much less electricity.
100. Use rechargeable batteries. You will quickly recoup the cost of a battery charger with the savings from not buying disposable batteries.
Of course, two of the most significant steps you can take are downsizing to a smaller home and moving to a place where the overall cost of living is cheaper. There are plenty of articles on this website and all around the internet dealing with these topics.
One strategy for living cheaply during retirement that you often read about is retiring overseas to a country where the cost of living is significantly cheaper than the United States (usually in Latin America or Southeast Asia). Can retiring overseas really save you money? (Maybe, but not always.) Is this option right for you? (For many people, it's not.)
What are your tips for cutting costs? Please share in the comments below!
Share on social media!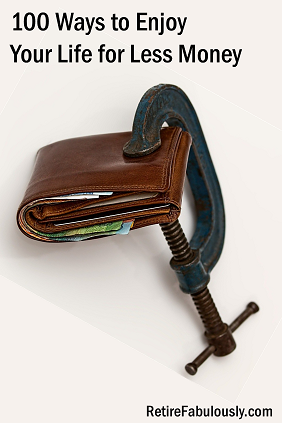 ---
© 2021 Dave Hughes. All rights reserved.
Disclaimer: I have done my best to include only reputable, reliable resources in this article, but I have not used them all nor vetted each one personally. I cannot guarantee that you will have a positive experience, nor can I be held liable for any consequences you may encounter as a result of using these resources.
Photo credits:
Wallet in clamp: Steve Buissinne
Calculator and money: 401(K) 2012. Some rights reserved.
TV remote: flash.pro. Some rights reserved.
Coupons: Chris Potter. Some rights reserved.
Grocery store: Steve Buissinne
Library: Don Shall. Some rights reserved.
Tickets: Robin Zebrowski. Some rights reserved.
People with wine glasses: krakenimages
People in restaurant: Free-Photos
Boat on canal (Copenhagen): Kristijan Arsov
Coin stacks and plants: Nattanan Kanchanaprat