Many Lesbian, Gay, Bisexual and Transgender (LGBT) elders report serious concerns about aging and retirement, according to the nonprofit group Services & Advocacy for GLBT Elders (SAGE).
For years, LGBT retirees have suffered indignities during their final years. For example, same-sex partners have been denied the opportunity to share the same room, staff members who personally object to homosexuality have treated LGBT elders insensitively, and finances and benefits normally given to heterosexual partners have been withheld from surviving same-sex partners. Many seniors feel they need to go back into the closet when they entered the senior care system.
The loneliness and isolation that can accompany aging is often compounded by discrimination and the fact the LGBT people are less likely to have children and may be ostracized by their families. 
While the situation has improved in recent years, there is still a demand for supportive retirement communities for LGBT people. Here are the LGBT-focused retirement communities and homes that are currently operating in the United States.

Residential Neighborhoods
If you are active and independent, you have several options for owning your own home in an LGBT-centric residential development.
Carefree Cove in Boone, North Carolina, is a gay and lesbian residential community in a mountain setting. The development features log cabin-style homes and still has a few available lots as well as several resale homes.
Birds of a Feather is a gated gay and lesbian community in a rural, mountainous area near Pecos, New Mexico, about a half hour east of Santa Fe. Lots are still available.
The Palms of Manasota in Palmetto, Florida, is the oldest and best-known LGBT retirement community in the United States, located between Sarasota and St. Petersburg. It was launched in 1994, and residents began moving in in 1998. The community filed for bankruptcy in October, 2011, but they have apparently emerged and the community still exists. 
Apartments
Rainbow Vista in Gresham, Oregon, offers studio and one-bedroom apartments for independent living. They provide no medical or assisted living services. Communal facilities include a large event space, a comfortable area for chats, a video theater with large screen TV and surround sound, an exercise room, a game room with a pool table, and a music room.
A Place for Us in Cleveland, Ohio offers one- and two-bedroom apartments. Amenities include a fitness center, meditation room, laundry facilities on every floor, and a library.
Living Out in Palm Springs, California broke ground in late 2021 and expects to open for move-in in March, 2023. Living Out will offer 122 luxury apartments on more than 9 beautifully landscaped and amenity-appointed acres, within walking distance of Palm Canyon Drive. Reservations are being accepted now.
Co-Housing
Village Hearth Cohousing in Durham, NC is the first 55+ cohousing community in the USA created by and for LGBTQ people and their friends and allies. There are 28 homes in 4-unit buildings and a common house, on 15 wooded acres.
Mobile Home / Manufactured Home / RV Parks
The Resort on Carefree Boulevard in Fort Meyers, Florida, is a women-only community of manufactured homes and recreational vehicles (RVs).
Discovery Bay Resort is a small women-only development featuring small manufactured homes of about 400 sq. ft. (also known as Park Models) and RVs. It's located on the North Olympic Peninsula, about halfway between Sequim and Port Townsend, Washington. No contact information is available.
The Pueblo is a women-only mobile home and RV park in Apache Junction, Arizona. They don't have a website, but the Pueblo Home Owners Association has a Facebook page.
Continuing Care
Fountaingrove Lodge in Santa Rosa, California, is a luxurious, full-featured LGBT retirement home. It's also the only LGBT Continuing Care Retirement Community (CCRC), meaning that you can move in being fully active and independent, then age in place as you require more levels of assistance. It's a bit pricey, but so are most CCRCs – and you get a lot of amenities and luxury for your money. Fountaingrove Lodge offers a full schedule of activities, fitness center, restaurant-style dining, maintenance, and housekeeping. I toured Fountaingrove Lodge; you can read about that here.
~~~~~ continued below ~~~~~
Assisted Living
The nation's first assisted living facility for LGBT seniors is Stonewall Gardens in Palm Springs, California. Stonewall Gardens offers an on-site nurse, meals, and a 24-hour staff that assists with daily living needs such as medication management, dressing, grooming, bathing, and personal assistance.
The Connie House, in Boynton Beach, Florida, is a home in a residential neighborhood with four semi-private bedrooms. It's staffed 24 hours a day, and all meals and services are provided.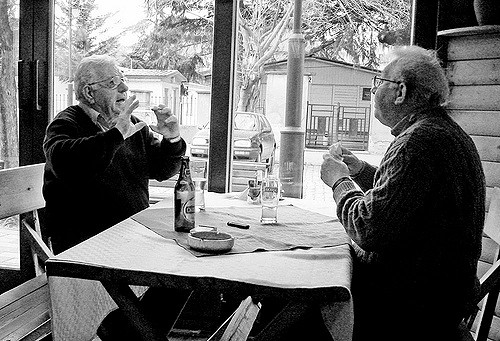 Low Income Subsidized Housing
Low-income retirement apartments for LGBT seniors have opened in several major cities. These facilities are government-subsidized and require low income qualifications for entry. In many cases, rent is calculated on a sliding scale based on a percentage of the renter's income. Affordable facilities are in high demand, and most of these places were filled via a lottery system prior to opening. They are fully occupied and their waiting lists are usually full or closed. The demand clearly exceeds supply.
Triangle Square in West Hollywood, California
John C. Anderson Apartments in Philadelphia, Pennsylvania
55 Laguna in San Francisco, California
North Park Senior Apartments in San Diego, California
Stonewall House (formerly Ingersoll Senior Residences) in New York City (Brooklyn), New York
Crotona Pride House in New York City (Bronx), New York
Bay Shore Senior Residences in Bayshore (Long Island), New York
These low-income LGBT residential facilities are in various stages of planning or construction:
Mary's House for Older Adults in Washington, DC
The Residences at Equality Park in Wilton Manors, Florida
The Pryde in Boston
Until the day comes when LGBT seniors can fully avail themselves of all of the options available to other seniors without fear of being ostracized or discriminated against, it's good to know that the options highlighted in this article exist. With an estimated 10,000 people turning 65 every day, it's clear that more retirement communities that can meet the needs of LGBT seniors are sorely needed.
Please feel welcome to comment below.
Share on Pinterest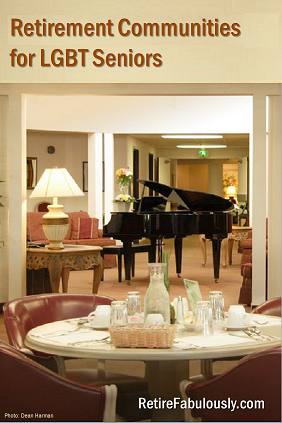 ---
© 2021 Dave Hughes. All rights reserved.
Originally published on November 16, 2016, reprinted from my blog on U.S. News – On Retirement.
Updated in February, 2018 to add a couple of links.
Updated on August 23, 2019 to update links, remove Argyle Apartments in Los Angeles and add Village Hearth Cohousing in Durham, NC and The Residences at Equality Park in Wilton Manors, FL.
Updated on October 20, 2020 to update links, remove Seashore Point (Provincetown, MA) and Spirit on Lake (Minneapolis, MN), and move Village Hearth Cohousing (Durham, NC) to open.
Updated on October 2, 2021 to add Bay Shore Senior Residences.
Updated on December 9, 2021 to add Living Out apartments and reformat the article into subheadings for housing categories.
Updated on August 16, 2022 to add The Pryde. Moved Crotona Pride House to open. Removed Town Hall in Chicago, as it appears to be no longer LGBT-centric.
Updated on May 7, 2023 to add The Connie House.

Photo credits:
Dining room and piano: Dean Harman. Some rights reserved.
People in dining room: Fountaingrove Lodge. Used by permission; all rights reserved.
Two men having a conversation: Daniel Coy. Some rights reserved.