If you have read some of my past articles about places to retire or read my book, The Quest for Retirement Utopia, you have probably noticed that I'm not a big fan of 55+ active adult retirement communities. Based on numerous comments, survey responses, and emails I have received, many Retire Fabulously! readers aren't, either.
That's not to say that this type of community isn't a good fit for some people. Obviously, this segment of the real estate development industry would not have grown and proliferated as much as it has over the past 60 years if these communities weren't appealing to a substantial number of people. If the concept of living in a seniors-only enclave with most of your physical activities and social groups located within its gates appeals to you, and you feel that you would fit in well with the prevailing demographics of the other residents, then this might well be the best solution for you. These communities are often safe, relaxed, and nicely landscaped. In many cases, they are also remote.
Based on my observations of the generational and societal shifts taking place (at least in the United States), a growing percentage of current and future retirees want to stay in the mainstream. Many of us prefer to live among people of all ages and be closer to the wider range of options that medium to large cities have to offer in terms of activities, cultural amenities, restaurants, shopping, education, volunteer opportunities, and proximity to medical services. We want to stay engaged.
According to a 2003 study by the Brookings Institute, 80 percent of retirees still live in suburbs and rural areas. The percentage may have changed since 2003, but it's probably safe to say that many retirees still live in these areas and depend on cars for many of their daily needs.
Over the past 25 years or so, a new trend has been emerging that provides a lot of benefits and appeal to retirees who are still able to live active and independent lives. It's called New Urbanism.
New Urbanism is a planning and development approach based on the principles of how cities and towns had been built for the last several centuries: walkable streets, housing and shopping in close proximity, and accessible parks and public spaces. Pedestrian and bike traffic are prioritized, and most day-to-day needs should be accessible within a short walk. Public transit should be easily available to travel beyond that.
In other words, it's an attempt to develop multi-use communities that have a small-town feel as a sort of cocoon within a larger metro area.
The New Urbanism design is structured to provide radial access to your surroundings with a distinct urban core. Common characteristics of New Urbanism communities are a town center with shops and offices, a variety of dwelling types, playgrounds and parks that are accessible by walking, and narrow tree-lined streets designed to favor pedestrians. Businesses located in the town center are built close to the streets and parking lots are behind the buildings to keep car traffic separated from pedestrian-focused streets.
This community design trend is also referred to as Traditional Neighborhood Design (TND). From what I've read, there is significant overlap between the two philosophies. A TND community doesn't have to be urban, it could be located in a suburban setting.
Among the earliest communities designed and built with these principles in mind is Disney's Celebration, built near Orlando in 1994. It consists of about 2,500 homes that surround a Town Center – a small, pedestrian-friendly shopping area.
One of the first and most notable communities is Seaside, on the Florida panhandle. It was the setting for the movie The Truman Show. Prices there are very expensive.
The New Urbanism concept is geared for all age groups, but it serves many needs for seniors. Walking every day is one of the easiest and best ways to remain in good shape, both physically and mentally. Frequent contact with neighbors helps eliminate isolation and loneliness.
You have probably noticed that a lot of new development has taken place in urban areas of major cities, reusing and revitalizing areas that had fallen into disuse or decay with new apartments and condos. These new projects may lack some of the characteristics of New Urbanism such as a park or a "town center" design, but they still have benefits to offer.
Many of these new housing structures are designed to appeal to Millennials and Gen Z'ers, but they are also growing in popularity with Baby Boomers. TenantCloud, a property management software service, claims that nearly one-third of all applications for urban apartment rentals are placed by renters over age 60.
In a survey conducted by architecture firm Perkins Eastman in 2019, 26% of client firms that build and redevelop properties for seniors says they believe Baby Boomers will want to live in proximity to an urban location or town center, up from 19% in 2017.
Some New Urbanism developments include a senior housing complex.
For example, Highland Gardens Village in Denver was built on the grounds of the old Elitch Park amusement park. Cottage Hill Senior Apartments is situated among other apartments and townhomes, single-family homes, businesses, medical and dental offices, and parks with walking trails. Downtown Denver is a short bus ride away.
Simply building a senior housing structure in the middle of a city doesn't necessarily constitute New Urbanism. These places often lack characteristics such as a small-town, neighborhood feel, pedestrian-focused streets, diverse residents, and green spaces.
Senior-focused retirement communities can be difficult to build within larger cities, due to high cost of land or lack of available space. Once built, they may be unaffordable to all but the most affluent retirees. Some of today's most walkable big cities, such as San Francisco, New York, and Boston, are also the most expensive.
Making urban communities more age-friendly may require extensive infrastructure improvements, such as wider sidewalks, bike lanes, more public transportation options, and longer pedestrian walk signal times, which cities may not be willing or able to provide. Sometimes zoning laws stand in the way of multi-use developments.
For further reading, visit www.cnu.org and www.newurbanism.org.
Here are several lists of NU/TND communities. Note that there is no official designation for what qualifies as a New Urbanism community and what does not. Some of these places embody some, but not all, of the principles of New Urbanism or Traditional Neighborhood Design.
https://en.wikipedia.org/wiki/List_of_examples_of_New_Urbanism
https://www.topretirements.com/blog/great-towns/frustrated-about-finding-your-ideal-retirement-community-how-about-a-new-urban-community.html/
http://www.tndtownpaper.com/neighborhoods.htm (includes locations outside the U.S.)
https://www.cnu.org/resources/project-database
Could you see yourself living in one of these New Urbanism/Traditional Neighborhood Design communities?
Please feel welcome to share your thoughts in the Comments, below.
Share on social media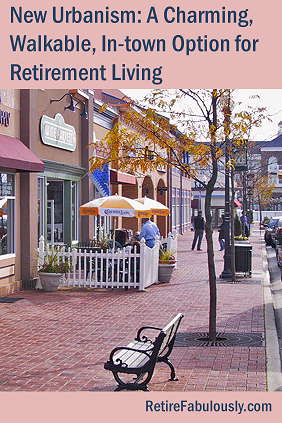 © 2020 Dave Hughes. All rights reserved.
Photo credits:
Retail shops in downtown Kentlands, Gaithersburg, Maryland: Brett VA. Some rights reserved.
Tree-lined street in downtown Celebration, Florida: Rick Webb. Some rights reserved.
Houses and green space at Highland Gardens Village, Denver, Colorado: Placematters. Some rights reserved.